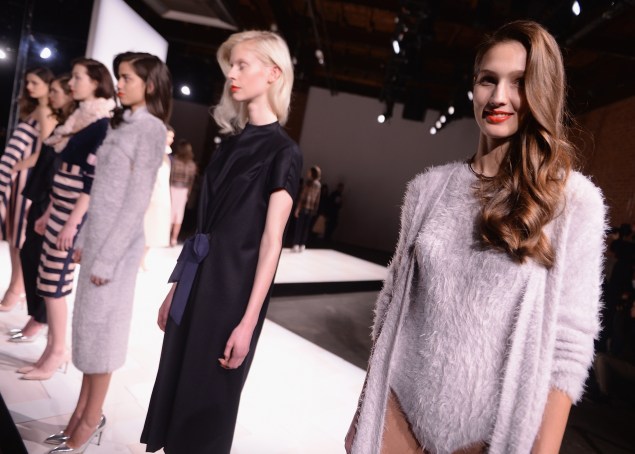 The first social media meme of Fashion Week is here, and it's snuggly.
Kaelen debuted a furry fashion onesie in pale grey mohair yesterday, with a matching oversize cardigan. Countless editors, bloggers and other social-media-happy show attendees took a moment to Instagram or Snapchat the truly unique look.
The outfit capitalizes on the matchy-matchy trend, with a nod to pop stars' disdain for pants and skirts while performing over the past few years. Perhaps this is what Beyoncé would wear when performing at a ski lodge?
It's unlikely that the leotard will be seen without anything covering its bottom half on the streets, although the first street style type to resort to wearing it solo deserves a trophy. Instead, we could see people treating the fur onesie as a top with an extra snug fit. It would look great under a ballooning A-line skirt, and the leotard aspect means the wearer would seldom have to adjust the fit of the top.
If the leotard was styled under pants or a skirt for the presentation, though, it would not have made as much of an impact. Aspiring stylists, take note: perhaps the best way to draw attention to a sensible piece is to keep it simple.