When I was about 13 years old, I was among the small army of white boys who wanted to be a game developer. So I taught myself C++ and started building simple game engines when I ran into a problem I've mostly avoided my whole life: I was a totally incapable artist.
But every game needs art, so to make place-holders, I'd draw up some chunky pixel art in Microsoft Paint. Buildings were big blocks of grey in various sizes, and the main character was a literal stick figure, gliding across the screen devoid of any animation. After a project was done, I'd hop on to one of the early game developer communities and pony up a couple hundred bucks to have a real pixel-painter come in and make me something presentable.
That was the way game development was, even at the AAA level, for many years. Developers and engineers built the game, tested it, and then paid a team of artists to come in and give it a coat of paint. But in the past few years, a slew of games have risen to the top of the mobile game market and become mainstream breakouts, all because they've been prioritizing art, sound and design. The games have become hits largely from just being pretty.
So to that point, let's fast-forward a decade or so until last week, when I missed the train stop for the first time all year because I was caught up in the most beautiful iPhone game I've ever played.
Herding Llamas
Alto's Adventure, which launched last week to instant success, is a forced runner (a game where you have to keep moving while avoiding various obstacles) where you play as a snowboarder chasing after your escaped flock of llamas. It's not terribly original—developer Ryan Cash spent untold hours studying other games in the genre and committing some acceptable thefts for his own game—but for a forced runner, Alto's Adventure is remarkably soothing.
Most games in the genre have cartoony graphics and vibrant, computer-generated music that make you feel exhilarated and anxious. But the stylistic elements of Alto's Adventure are all delicate—the sun rises and sets behind what is presumably the Andes mountains, the snow crunches softly on impact and birds flit away as you go flying past them.
Each of the elements of Alto's Adventure's design are carefully crafted. Mr. Cash hand-selected British artist Harry Nesbitt for the animations, and worked with a composer who had never before made music for games to find just the right theme. And each sound effect got the same meticulous treatment.
"The grinding sound used to be much more metallic sounding, but it's supposed to be a bunting line, so we'd fine-tune," Mr. Cash told the Observer. "So [the sounds designers] would send us six different options, and then we'd pick one that was the best, and they'd make four variations on that for us to choose from."
Alto's Adveture, beyond being a major design triumph, is also a mainstream breakout. It's been written about obsessively as an escapist masterpiece, and has been comfortably nestled in the top five paid apps in the iOS App Store, between other major hits like Head Up! and Minecraft, and it's only the latest case of a series of art-led success stories.
High-Design Hits
One year ago, a small company called UsTwo games released Monument Valley, a beautiful puzzler where you lead a princess named Ida through a series of Escher-like landscapes.
It's a short game. You shell out five to ten bucks, and you only get an hour or two out of it. But it's also the kind of game you can hand to just about anyone and say, "You have to play this," and it'll be a hit with just about anybody—veteran gamers, kids, people who would never touch mobile gaming, you name it. Monument Valley has seen nothing but rave reviews and blockbuster sales, and constantly makes the roundups of top mobile games.
Mr. Cash cites the success of the Monument Valley team as a big affirmation that his own project might find an audience. The two games share a set of aesthetic features with a number of other hits, like minimalist geometric shapes and peaceful, natural landscapes.
"I've always been an outdoors person, and so are [the rest of the team members]," Mr. Cash said, "We wanted a natural, out-door sort of vibe, that just feels very natural with softer colors."
There are a number of major stylistic successes that have traded in on these features, like the adventure game Sword & Sworcery, or even puzzlers like TwoDots. These are the kind of games where the words "zen-like" gets thrown around in a lot of reviews.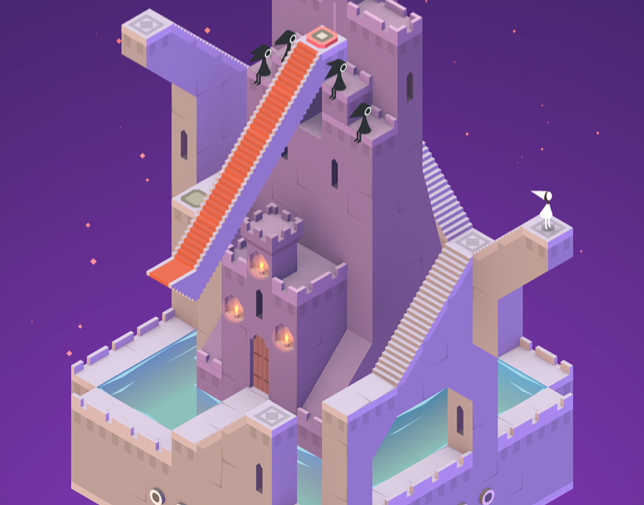 But that whole style goes against the common principles of many of mobile gaming's biggest successes. Candy Crush, the goose that keeps laying golden eggs for publicly traded game company King Digital, banks on casino-style visuals, cracked-out color schemes and addictive puzzler gameplay to take customers for everything they've got. Alto's Adventure instead is soothing and escapist—the kind of game you'd play to truly unwind. And once you shell out a couple of bucks for Alto's Adventure, there's no more paying.
"Just the idea of people strapped into slot machines that way is such a turn-off," Mr. Cash said, "We don't want any part of that."
Instead, the more high-design indie games in the Monument Valley category are more anesthetic than stimulating. The serene visuals and music are often paired with in-game stories about self-reflection, loss, companionship and discovery, like in the case of Journey, a PlayStation 3 sensation about a long trek through a desert toward a mountain, told entirely through visuals.
The games may be shorter, less complicated, less immediately addictive and less naturally stimulating than the freemium puzzler counterparts like Candy Crush, but that doesn't mean they're not huge successes. In fact, excellence in design can contribute as much to a marketing strategy as it does to the gaming experience.
The Art of the Sale
Even without the argument for higher beauty in a new medium, there's plenty of other incentive for game developers to bring high-design into their games. The best incentive of all, really: sales.
Take the case of Darrin Henein, a developer for Mozilla who has spent the past few years developing Lastronaut, an action-packed scroller that he's about to launch on the App Store. Mr. Henein is a designer first, who had to teach himself game development skills to build Lastronaut. Mr. Henein didn't just write most of the code and compose the game's three music tracks. He also made all of the art himself.
The art for Lastronaut is inspired by the nostalgic look of 8-bit graphics from the early days of gaming. Aside from the Monument Valley/Alto's Adventure camp of indie visuals, it's one of the dominant visual trends in video games. But painting pixels one by one is a hell of a lot of work, too.
"Animating vector graphics is just point-and-click," Mr. Henein told the Observer. "With pixel-based graphics, you're animating it like a Disney movie, where you're drawing every frame from scratch."
So what's the point? It's all about advertising: Mr. Henein knows that his graphics have to be on point. Right now, he's going through the process of getting his game approved for the App Store, and knows that companies like Google and Apple want well-designed games for the front pages of their stores—coveted space, and the main gateways for people looking to buy games on smart-phones.
This is where having an art-focused approach comes in handy for marketing. Paul Murphy, the co-founder of the development house behind TwoDots, told the Observer that the best-performing advertisements that a game has are the ones that use actual in-game art as part of the ad, as opposed to art inspired by the game.
"Video games can be notorious for showing advertisements with totally animated cut-scenes that aren't reflective of the gameplay," Mr. Murphy said. "Then you play it, and you're like, 'Where the hell is that beautiful animation I saw?'"
Instead, Mr. Murphy says that you have to think of design as a number one priority so that you can front-load those images. And with that priority, designers take on a bigger role in the way a game is made.
"One of the reasons we started this company two years ago was because we felt that strong game design and visual design appeared to be mutually exclusive," Mr. Murphy said. "We thought that was crazy."
Whether or not he was right, he was successful. The company behind TwoDots (and its prequel, the simpler Dots) outgrew and broke away from its home within NYC's Betaworks, and is working on further projects. Besides getting the opportunity to make something gorgeous, brave and experimental, going after people's design sensibilities is just good business.
"Are the Beatles creative and interesting and experimental?" NYU's Frank Lantz asked us when he opened up an art-minded incubator for game developers in New York. "Yes. Do they make a hell of a lot of money? Yeah they do."
Escaping Legacy
Even if a developer isn't sold on the classic triumph-of-design narrative, the biggest case for games that push the visual envelope is this: It's the best way to reach the biggest games market in history. Where once upon a time, games belonged to kids with souped up PC's or expensive consoles, developers have inherited a new potential audience of everyone with a smartphone. And if developers want to reach them, they're going to need to let go of old conventions.
"It's very easy for game developers to look at the industry and think there's only one way things must be done," Monument Valley's lead designer, Ken Wong, told the Observer. "Without games like The Room or Sword & Sworcery, we wouldn't have made Monument Valley. It took those guys having the balls to say, 'mobile gamers want quality experiences.'"
Still, there's a certain style that's seen as the quintessential video game style—the 8-bit style of games like Super Mario Bros. or Space Invaders, which has come to define the look of gaming as much as green courier text on black backgrounds has become the default text for hacking. Mr. Wong still goes to gaming conventions where all of the promos, posters and fliers all use those visual conventions, as if to make sure you know it's a gaming convention.
"What you're saying then is that the aesthetic of games hasn't evolved much since the 1970's," Mr. Wong said. "There's such a wide possibility of gaming, and the only way to change that is to make different experiences."
Visual style, whether it's in clothing, art, or games, is a way of determining who belongs to a culture, and that means developers need to stop using a narrow set of design elements to cater to one or two niche audiences. The days where gaming is for young, middle-class white men from 90's nerd culture are long over—even if the old guard won't let go—and falling back on old conventions limits a game's appeal to the audience enamored with those iconic styles. By Mr. Wong's calculation, fighting to impress console-warriors with a new Call of Duty game that has ultra-realistic graphics is just a failure to go after the audience a game designer could potentially reach.
"We've gotten past the point of making games as realistic as possible, or making them cartoony and for kids," Mr. Wong said. "There's a big audience that wants beautiful games."
That audience is larger than ever, and doesn't just include the 13 year old white boy I was, concerned more about sick game mechanics than who it might appeal to in the end. If I could go back and do it all again, maybe I wouldn't have just given up and handed the job off like it didn't matter. The App Store rankings are talking, and they say that style most definitely matters.