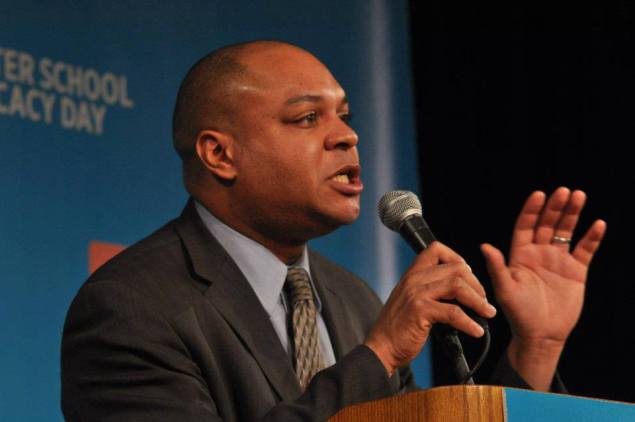 Former Assemblyman Karim Camara, a Brooklyn Democrat, is set to lead a new agency created by Gov. Andrew Cuomo, the Office of Faith-Based Community Development Services. But Mr. Camara's appointment could run afoul of the New York State Constitution, legal observers say.
The legal quandary, first noted by the website NYTrue.com, arises not from any question of the separation of church and state, but an obscure portion in the State Constitution that may forbid sitting members of the legislature from leaving their posts to take positions in newly-created state organizations.
It is unlikely Mr. Camara's appointment will ultimately be blocked, but legal scholars at least see an opening for a lawsuit.
"I haven't done the research, but the plain text appears to present a thorny legal issue," said Jerry Goldfeder, a Democratic election attorney.
Article III, Section 7 of the State Constitution states: "No member of the legislature shall, during the time for which he or she was elected, receive any civil appointment from the governor, the governor and the senate, the legislature or from any city government, to an office which shall have been created, or the emoluments whereof shall have been increased during such time."
The legal question lies specifically in the phrase "during the time for which he or she was elected." If this is interpreted to mean the full term the lawmaker is elected to, regardless of whether he or she resigns, Mr. Cuomo's appointment could be on shaky ground. Mr. Camara was re-elected last fall and was slated to serve through December 2016 until his resignation yesterday.
If the language is interpreted to mean that Mr. Camara's "time" for which he was elected ends the moment he resigns, Mr. Cuomo is on firmer footing. Dani Lever, a spokeswoman for Mr. Cuomo, said the appointment is constitutional.
"Former elected officials, like Mr. Camara, have served and continue to serve in the administration," Ms. Lever said. "Mr. Camara will advise the administration on the State's Faith-Based Community Development Initiative and we look forward to him serving in the administration."
Sarah Steiner, a Democratic election and criminal attorney, said Mr. Cuomo's interpretation was "reasonable," even if the language of the Constitution is "ambiguous."
"A term of office exists until it expires or until you resign from it. He can't say, 'Oh never mind, I take back my resignation. I'm going to be the assemblyman.' He's resigned. His term is over," she said.
Only a lawsuit could hold up Mr. Camara's appointment and it does not appear any are planned. A special election for Mr. Camara's Flatbush-based seat is scheduled for May 5.