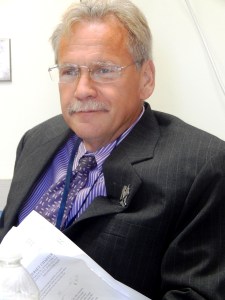 TRENTON — The Assembly Judiciary Committee sent one of New Jersey's staunchest environmental advocates into a fury today after it passed A3547, a bill that would potentially end the state's ability to enforce riparian laws — or rights that determines ownership of lands bordering tidal waters — after a certain period of time.
In a biting screed of a statement on the committee's move to release the bill shortly after a hearing this morning, Jeff Tittel, Director of the New Jersey Chapter Sierra Club, called the bill a "riparian rip off" for barring the state from claims to riparian land or compensation. Under current riparian law, residents whose property borders tidelands pay the state, which claims ownership of those lands and holds them in trust.
But under the new legislation, sponsored by Assemblymen Jay Webber (R-26) and Bob Andrzejczak (D-1), a residents who have owned tidal property for more than 40 years can claim ownership of the property outright, extinguishing their obligation to the state.
"This bill is a riprarian rip off," Tittel said. "This bill prevents public access and will cost the people of New Jersey money. This is an outrageous giveaway, not only of public rights, but of public money. This bill takes the side of landowners and others who have filled in lands they had no right to fill in, over the public trust."
Tittel said the bill "undermines the Public Trust Doctrine," a common law doctrine of property law that "dates back to the Roman Empire" and that establishes certain public rights to access and use navigable waters and waters subject to the ebb and flow of tides.
"This Doctrine helps to create the Hudson River walkway, beach access, and fishing access along the Bays. Money from the sale of these properties has been used for education. We are concerned that this legislation would be used to extinguish our rights to use these resources that belong to all of us, including public access to beaches, fishing, and access to public walkways," Tittel said.
Committee members said they would consider addressing critics' concerns for the bill in an amendment, but Tittel remained skeptical.
"These lands are technically owned by the people of New Jersey and are held in the public trust. This bill sells out the people of New Jersey and our school children. This bill is robbing our school children at a time when we do not have enough money to fund education. This law violates our trust and sides with, in many cases, wealthy property owners against not only the environment and people of New Jersey. This legislation is unwarranted, unconstitutional, and unneeded," he said.