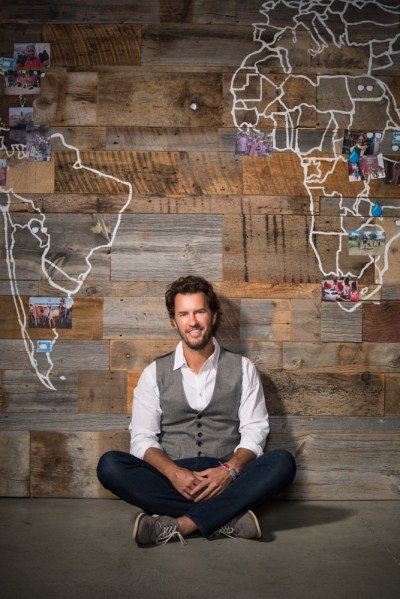 "We want it to feel more like a gift to the neighborhood than a retail opportunity," said Blake Mycoskie of his new coffee shop on Elizabeth Street. The 38-year-old Texan behind the rapidly growing TOMS brand makes no secret of his ambitions, often citing Virgin supremo Richard Branson as his role model. With some recent estimates valuing TOMS at a cool $600 million, that doesn't seem an impossible dream. But he also wants to make a difference, and those who scoff that you can't do good and make money at the same time should take a look at his "One for one" business model, which he's just expanded to include premium coffee.
For every bag of TOMS Roasting Co. coffee sold, his company pledges to provide clean water for a week in the countries where the beans were grown. For every cup sold in the growing chain of TOMS coffee shop/stores, someone in the developing world will get clean water for a day. It's feel-good consumerism where everyone wins. We get a fine cup of artisan-roasted coffee, the growers and their communities get access to clean water and sanitation—and TOMS gets loyal customers so evangelical about the brand that it has expanded rapidly without ever needing to advertise.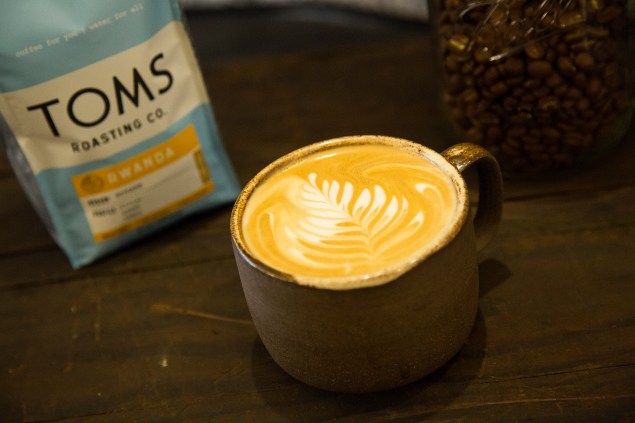 Mr. Mycoskie is a serial entrepreneur who started his first business—an on-campus laundry service—after dropping out of university in Dallas. He expanded into seven other universities before selling the business and going on to launch a successful new venture selling huge, L.A.-style billboards on the sides of buildings in Nashville to the country music industry. After selling that business, in 2001 he took time out to enter the second season of The Amazing Race with his sister, Paige, missing the $1 million prize by just four minutes. This in turn inspired another business idea, a reality TV channel that gave him his first taste of failure: He lost money this time, heavily.
Still, by 2006 he was deep into his next venture, creating software for learning drivers, when he took a holiday in Argentina. He learned to play polo and got comfortable in the local shoes, alpargatas—basically an espadrille-style flat with canvas wrapped around a rope sole—then had an eye-opening trip out of Buenos Aires to impoverished rural villages where children had to walk to school barefoot. So he had some alpargatas made in cool colors, then took them home to Los Angeles, pledging that for each pair he sold, he'd give shoes to a child in need.
The idea took off in a big way, and in 2011 the brand branched out into eyewear, pledging again that for each pair sold, TOMS would restore sight to someone in the developing world, funding everything from spectacles to cataract operations. In the last two years, the company announced that it has given away more than 10 million pairs of shoes. It's also gifted clear vision to more than 250,000 people since 2011.
Now, Mr. Mycoskie wants to expand even more quickly, launching a new product every year. The proud father of a new baby boy—he was still on paternity leave when we spoke, spending time with his son and wife Heather in their new home in Topanga Canyon—told the Observer his next venture will be tote bags. Tea and chocolate are likely to follow, but he's also looking for collaborative partnerships with established brands to launch everything from hotels to wine, financial products to ticket agencies. "That's what is going to drive me going forward," he enthused, "being the new product inventor/evangelist at TOMS."
The first New York coffee shop/store opens in Soho this month, so I visited their first shop in Venice, Calif., to see what New Yorkers can expect. It's a relaxed, friendly place furnished in boho chic style, with lots of objects picked up on travels in the developing world (some of them for sale) and materials such as old doors and windows recycled and repurposed. With a noticeboard advertising community events from knitting and craft circles to story time for toddlers, this is a place where people bring their dogs, their kids or their laptops and hang out, as well as somewhere to call in for a quick takeaway.
Mr. Mycoskie always stays in Soho or the Lower East Side when in New York, so it was a natural choice when looking for a venue for the first TOMS café/store in the city. "I love Elizabeth Street and all the restaurants in the neighborhood, so I was very excited when something came available on that street. I feel like it really fits our brand. It's more important for us to create community outposts than traditional retail stores. We want people to come and make it their daily office, a place for meetings and a hangout space."
With a long marble countertop for coffee and pastries, a book exchange and a recycled brass and glass factory door leading out into a relaxed, heated courtyard space at the back, the store will hold a wide variety of community events and also serve as a venue for local nonprofits to come share their story.
"What we've found is, the more we focus on making it a great community space, welcoming and less commercial, the better the sales actually are! The irony of that is pretty interesting." He added, "People are yearning for this kind of space, especially in a city like New York where people typically live in smaller spaces. They like to get out of their apartments."
As for the coffee, Mr. Mycoskie told us it is grown with love. "I met this one farmer in Rwanda who had just 110 trees, and he talked about them like they were his kids!"
The TOMS team, led by master roaster Angel Orozco, plans to forge long-term relationships with small farmers, working with their co-ops to get the best quality beans possible, then roasting them with similar care. Whereas established chains such as Starbucks and Peets blend their coffee and roast it in the same way to produce a cup that tastes the same, every time, TOMS is part of the new "third wave" of coffee roasters who offer beans all grown in the same area, roasted to bring out their unique flavor.
"We're looking more for bean profile than roast profile," explains Mr. Orozco, a Guatemalan with a lifetime's experience of dealing with coffee from the farm to the cup. "So you get the characteristics of the coffee rather than the characteristics of the roast. Coffee is a fruit, and from the sourcing to the roasting to the preparation, we want to ensure that those fruit notes come through."
"We hope to get people to think about coffee more like they think about wines," adds Mr. Mycoskie. "Super premium, single origin … People will start to know exactly what they like: If they like it a little bit darker, or more citrusy. I think that's exciting."
TOMS coffee is available by the bag at Wholefoods Supermarkets, or online via the TOMS Roasting Club. The café/store opened on February 26 at 264 Elizabeth Street and Houston.