We have a new Top Chef. 
It is time for an orderly and peaceful transition from the reign our previous Top Chef. (That was Nicholas Elmi, by the way, in case blocked last year's finale out of your mind after Nicholas, who never even put salt on his food, beat fan favorite Nina.)
If you don't want to know who won tonight—who gets the $120,000 (furnished by Healthy Choice, as Padma has repeatedly reminded us) and the name recognition that roughly translate to "Oh, didn't they win Top Chef?" when a chef opens a restaurant in your rapidly gentrifying 'hood, then read no further.
In a way, last year's finale of Top Chef is both tough to top and astoundingly easy to top. On the plus side, last year's was super suspenseful. The judges hemmed and hawed for hours, literally hours (that went unseen for us, but still), arguing over who should win. It's the kind of exciting, agonizing in a wonderful way television that was unlikely to recur. But on the other hand, a lot of people were miserable with the outcome last year. I was perplexed when Nicholas won. I mean, I understood how it happened. Nina didn't have her best day. But she had outcooked him all year. It didn't even feel like he deserved to be there.
There was perhaps the chance of intense suspense this year: Mei and Gregory are well-matched chefs, no doubt about it. All year they have gone head-to-head (Mei points out in the finale that often, Gregory wound up on top, his mid-season slump notwithstanding). They have been the best since the beginning, which made the returns of people like George and Doug so welcome—we needed something to mix up the obvious top talents. But in the end, the two best chefs made it to the finale. And in the end, it didn't wind up being as suspenseful as it could have been. But unlike last year, going in to tonight it felt like if either chef would've won, it would've been fair. People would've been happy.
But the night belonged to Mei. To me, that was clear before judge's table. It was clear when Gregory put down his third plate—after a pretty meh response to his second plate—and the judge's said it simply did not work. In the kitchen, we had watched Gregory fuss with a carrot sauce designed to bring a fish dish together. He had forgotten vinegar and sugar. He added sugar, then it was too sweet. He added salt. He was out of time. Tom Colicchio noted he hadn't made dessert, but he might as well have—it was that sweet, and hopes of it being balanced by a tomatillo sauce were dashed when judges said the tomatillos just didn't pop.
Still, on balance, Gregory had a great meal—he still could have won. His first course, octopus with Mexican fruits like prickly pear, was a tremendous hit. It looked gorgeous. I wish I was eating it. His second course was a shrimp stock with green chorizo and some shrimp heads, and here Tom noted the danger of working with new ingredients. (Gregory opted to go all Mexican rather than his usual Asian flavors…again, bold move that often does not pay off.) The shells were scratchy. It didn't quite come together. Then there was the sweet fish dish. But he redeemed himself at the end, with an impressive mole that the judges adored over a perfectly cooked short rib (after weeks of people screwing up short ribs).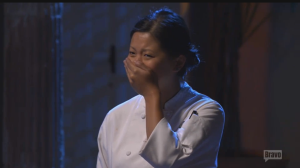 But matched up against Mei, his bad carrot sauce was enough to sink. Her meal was not without flaws. She served octopus too, and hers was not as good as Gregory's, a little overcooked. But her second dish, a congee (traditional rice porridge) made with Mexican flavors and carnitas, was much better than Gregory's soup. Her third dish, like Gregory's wasn't her best—but her under-rendered duck with kimchee and Mexican corn fungus (yes) was not as problematic as his sweet fish dish. And like Gregory, she delivered her best dish last—and ought to get extra points for doing dessert.
About that dessert: they loved it. It was a toasted strawberry yogurt curd (did not know that was a thing!) thing, with frozen lime yogurt pebbles and a bunch of other insanely good looking things. In a show where dessert is often a downfall, Tom was perplexed at her choice to make a dessert. He took it back and called it the best dessert he'd ever had on Top Chef—and one of the best desserts he had ever had.
There was some argument at judge's table (which get to see again, since the judge's argue in private while the contestants stew, unlike much of the season). Richard argued that Gregory's menu was more inspiring—that he had better ideas. But Gail notes that despite Gregory's "brilliant" global mind for food, "I don't think it was as successful as Mei's." And even Richard had some big, and hilarious, props for Mei. ("But Mei. Dat conjee, tho.")
So in the end it's the eternally unsmiling Mei, who has been dying to prove to her disapproving parents that she had made the right choice. She gets the validation she's looking for. Who knows if it'll impress mom and dad, but hey, can't argue with that sweet Healthy Choice cash. It's fun that she gets to win with her pal Melissa on her side as sous chef (and a pastry chef who got eliminated months ago and whose name you do not remember). Would it have been nice to see Dougie, the clear fan favorite, win? Sure. Would Gregory have won if he'd stuck to his Asian style? Maybe. Would George have made a great comeback story? Yeah. But Mei earned it in a season of some pretty great chefs, and honestly, she was the bitch I loved to root for.
So ends a season of Top Chef that had its ups and downs. Some episodes were downright slow. It was sort of clear from the start who would be in the finals, and nobody else ever really stepped up with some wow factor. Changing up the judge's table/stew room situation often sucked the tension out of an episode. Bringing back George definitely reinvigorated the show, but with Last Chance Kitchen already a thing, how often can Top Chef play the returning contestant card? The aggressively branded Boston stuff felt hackneyed. Richard Blais should have been a fun addition as a judge but honestly every time he was talking I was wishing it was Gail Simmons or Hugh Acheson instead.
But in the end I just kept watching. And until Padma stops making weirdly sexy food jokes and Tom gets too preoccupied with his restaurants and other new show and Richard Blais gets too preoccupied with his hair and liquid nitrogen (which I assume he uses in his hair), I'll probably just keep watching the next season, too.