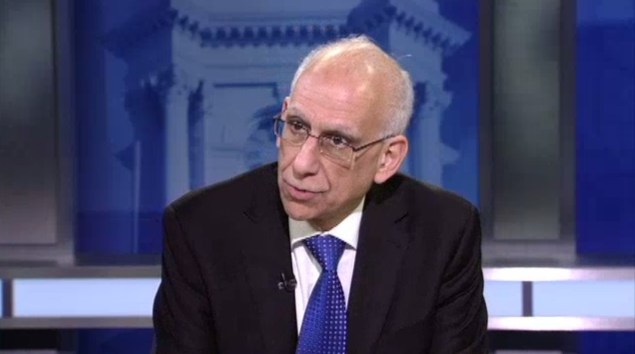 A pair of top de Blasio administration officials last night emphasized the "cautious" nature of the mayor's $77.7 billion preliminary budget, pointing to the way it had accounted for the potential of another economic downturn.
"If you characterize this budget, you say it's a cautious one," Anthony Shorris, the first deputy mayor, said on NY1. "It takes into account the fact that, as you say, not only is the economic expansion an imperfect one, anyway … but it's been actually long as they relatively go and that means any prudent planner would figure sooner or later something might come to pass that changes the direction of that expansion."
Mr. Shorris, along with Mayor Bill de Blasio's budget director, Dean Fuleihan, also underscored with NY1 host Errol Louis the "risks" the city may face in unpredictable funding from the state and federal governments. Mr. de Blasio, in presenting his budget yesterday, lamented a shortfall in the Metropolitan Transportation Authority's budget and called on the state to better fund New York City public schools.
Mr. Fuleihan, echoing Mr. Shorris' characterization of the budget as "cautious," said it had reserves at "historic highs." The budget socks away $750 million a year, up from a typical rate of $300 million, he said.
"Very targeted spending, large reserves, out year gaps that while still significant, and risk are lower than any gap of the past 12, 13 years," Mr. Fuleihan said, explaining money-saving qualities of the preliminary budget. "The mayor has personally told the agency heads, the commissioners, that he expects to see savings."
"We didn't dictate to them because we know they're all in different situations. We didn't want to do that and the pattern before has been to do that," Mr. Fuleihan continued, referring to the city agencies' savings plans. "There are all sorts of ways to find, that actually weren't changing the nature of a program, that weren't finding efficiencies and productivity measures."
"We have asked specifically, come back to us with those," he added.
Mr. de Blasio's preliminary budget, a first draft of sorts before the executive budget is revealed in April, has funding for his priorities, including $340 million for the second year of a prekindergarten roll-out and $190 million for after-school programs. It also built on some of his successes, holding to a pattern for municipal labor contracts he first established in a deal with the United Federation of Teachers last May and spending $5 million to expand staffing for the popular IDNYC program.
On the public safety front, the budget tucked in $11.3 million to add 45 new ambulance tours and $6.7 million to add 149 new EMS dispatchers in an effort to reduce response times, as well as $10 million to expand the Police Cadet Program, which reaches into community colleges to identify young students who would make good police officers—a program that has shrunk in recent years while Mr. de Blasio and others have called for greater police-community relations.
After the City Council gives their response to the mayor's preliminary budget and the mayor presents an executive budget, the two sides usually reach a deal before the budget takes effect July 1.