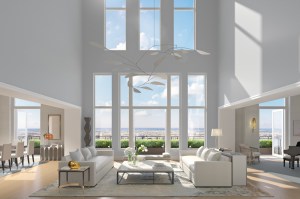 With the long-robust home prices in Tribeca, one would have thought that all of the former factories were turned into condos ages ago. But the still-transitioning bookbinderies and coffee warehouses are a boon to the bankers and foreign buyers angling for a foothold in one of the city's most desirable neighborhoods.
"The word 'loft' triggers a buying frenzy in people," said Julie Park, an agent with The Level Group who specializes in Tribeca. "I don't know what it is. Everyone in New York wants more space and the word 'loft' appeals to people."
Part of the reason for Tribeca's high prices is its historically short supply of homes to buy. "There's been a pent-up demand because not a lot of new product has entered the market in the last few years," said appraiser Jonathan Miller, CEO of Miller Samuel Inc. In 2015 and 2016, new condos and conversions will add hundreds of units to the mix. And what properties they are, featuring sprawling layouts and perks like white-tiled parking garages, spas inspired by Turkish hammams and price tags to match. They exceed $60 million on these pages, which preview some of the more interesting projects in the pipeline.
Buyer beware—of other buyers. "Bankers are getting their bonuses, if not now, in the next month," said Ms. Park. "One of my Hong Kong buyers tried to put an offer on a $5 million three-bedroom and we couldn't even get into a showing to see the place. For anything under $10 million is a seller's market."
Even she concedes: "The prices are really outrageous."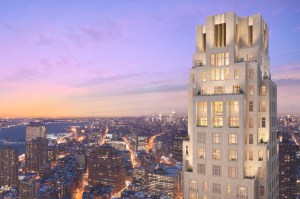 30 PARK PLACE
Project: Silverstein Properties has just topped out the tallest residential building downtown, an 82-story giantess with 157 condos atop a 189-room Four Seasons Hotel. The off-the-beaten-path property that Larry Silverstein vows will be "the top hotel and condominium building in Tribeca" was designed by Robert A.M. Stern and features one- to six-bedroom residences with bay windows, nearly 14-foot ceilings and the inimitable Stern touch: Architecture that feels fresh but like it's been there forever.
Amenities: Aside from access to the full suite of Four Seasons hotel perks (room service, spa, 75-foot swimming pool), condo dwellers have their own hangout on the 38th floor. It has a fitness center with yoga studio, conservatory with baby grand, a kids' playroom and a separate catering kitchen and dining room.
Percentage sold: 60 percent.
Available units: From 1,108 to 5,937 square feet, $3.1M to more than $60M.
Web: thirtyparkplace.com
443 Greenwich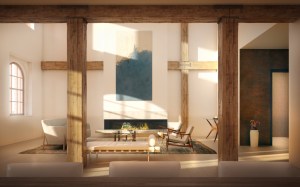 Project: Metro Loft Developers and CetraRuddy architects are currently transforming a Tribeca bookbindery into 53 units (45 lofts and eight penthouses) that mix elegantly aged beams, arched windows and contemporary accents. Anticipated move-in: Spring 2016.
Amenities: A 5,000-square-foot interior garden with sassafras and red maple canopy trees and an enticing "meadow of spring flowers" designed by landscape architect Hank White. Also: A dinner-party-worthy, 15-spot parking garage with white-tiled ceilings, a terra cotta-tiled floor and electric charging station for each car. To avoid elevator gridlock, the building has nine lifts that open directly into each spot.
Percentage sold: 40 percent.
Available units: From 2,414 to 8,600 square feet, $7M to $51M.
Web: 443greenwich.com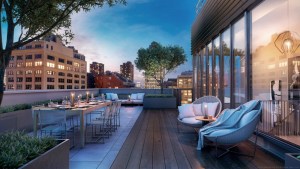 11 Beach
Project: HFZ Capital Group is converting a 10-story, L-shaped loft building built in 1910 into 27 homes, ranging in size from three to five bedrooms, including lofts, penthouses and townhouses. Exterior renovations are by BKSK, while "Danish born, Downtown bred" cool purveyor Thomas Juul-Hansen is doing the interiors. Three townhouse triplexes feature private spas and 50-foot lap pools.
Amenities: An origami glass pyramid that invites sunlight into the gym and a terra cotta-clad inner courtyard. Also, a roof garden, fitness center and children's playroom.
Percentage sold: 50 percent.
Available units: From 3,104 to 6,169 square feet, $6.5M to $22.5M.
Web: 11beachst.com
Cast Iron House, 67 Franklin St.
Project: Developed by Knightsbridge Properties and designed by architect Shigeru Ban, Cast Iron House converts a 19th-century, neoclassical James White building into 11 interior duplexes with two modern "floating" ones on top.

Amenities: Fitness center, kids' room, dance/yoga studio and a hydrotherapy spa inspired by a Turkish hammam.
Percentage sold: N/A.
Available units: From 2,850 to 4,897 square feet, $5.95M to $11.25M.
Web: castironhouse.com
15 Hubert
Project: Housed in a commercial building erected in 1867, 15 Hubert is a collection of 12 condo lofts with 11-foot ceilings, designed by CetraRuddy Architects and offering "everything people want in Tribeca living from industrial, contemporary design elements to large open floor plans and high ceilings," says Louise Phillips Forbes, a broker with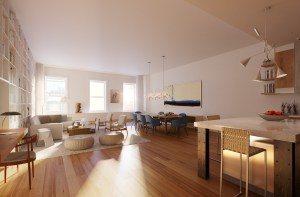 Halstead Property.
Percentage sold: N/A.
Available units: From 2,300-plus to 2,800-plus square feet, $3.1M to $6M.
Web: 15Hubert.com
Sterling Mason, 71 Laight St.
Project: One half is a restored coffee-and-tea factory. The other is an exact twin clad in metal. While there are a lot of similar buildings around Tribeca, Morris Adjimi's inventive replication takes industrial luxe to a new level.
Amenities: Private courtyard designed by Deborah Nevins & Associates; private garage with 12 parking spaces; four elevators; and a building-wide water filtration system.
Percentage sold: 88 percent (28 of 32).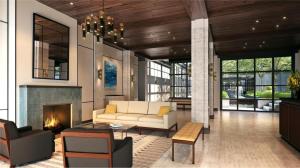 Available units: From 3,708 to 6,609 square feet, $9.65M to $24.5M.
Web: thesterlingmason.com
52 Lispenard
Project: Essex Development's 52 Lispenard features only seven units—garden duplexes, full-floor lofts and a penthouse—in a restored 1867 cast-iron loft building. Units are smart-wired and feature gel-burning fireplaces.
Amenities: Part-time doorman, partial green roof.

Percentage sold: N/A.
Available units: From 2,500 to 4,700 square feet, $6.65M to $11M.
Web: 52lispenard.com
The Woolworth Tower
Project: One of the most anticipated Manhattan addresses to debut in years stretches the boundaries of Tribeca, but who are we to argue? Opening in fall 2016, the neo-Gothic Woolworth Tower, developed by Alchemy Properties and designed by Thierry Despont, will feature 34 residences starting on the 29th floor. The building verily drips with historical import, starting in a lobby with coffered ceilings imported from five-and-dime magnate Frank Woolworth's offices.
Amenities: A residents-only pool, sauna and hot tub; fitness studio; wine cellar and tasting room; infinite supply of cachet.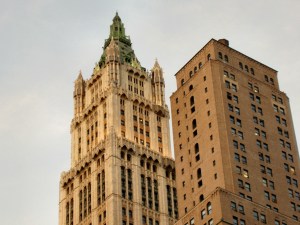 Percentage sold: N/A.
Available units: $4.6M to $28.8 M (square footage not available).
Web: thewoolworthtower.com