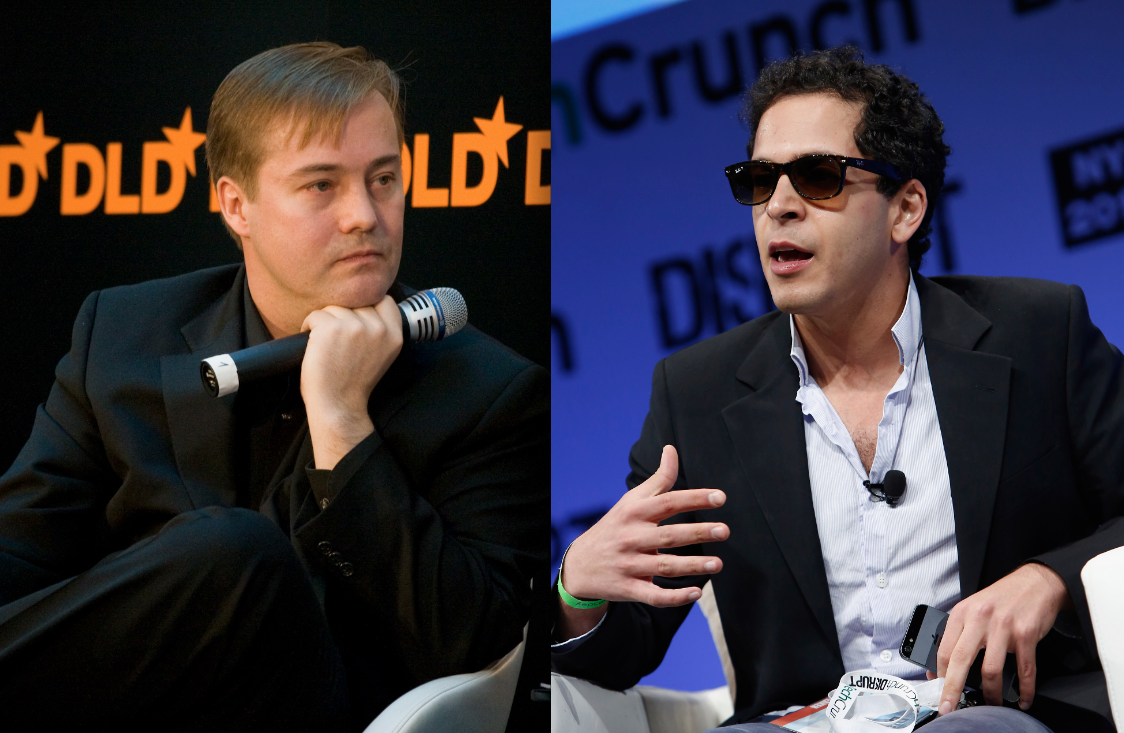 In Jean-Paul Sarte's classic play No Exit, three strangers die and go to hell—a version of hell where they are simply in a room, fighting and grating on each other's nerves until the end of time. Two of tech's own pariahs have been fighting it out for months in the same dance on Twitter, that great modern echo-chamber that reinforces Sarte's original idea that hell is, in fact, the ever-presence of other people.
In one corner, we have Jason Calacanis, the early Uber investor and podcaster who tweetstorms bombastic freestyle rap lyrics about his credibility as an investor in "the streets" as his "chip stack" grows—a voracious tech-is-a-meritocracy style denier of white privilege who once hired someone full-time to read the news for him, all because Techcrunch "is a joke."
In the other corner, we have Mahbod Moghadam, the annotation addict and cofounder of RapGenius who was ousted from the company for his antics—which included personally footnoting the manifesto of a mass-murderer, telling Mark Zuckerberg to "zuck" his dick and doing interviews where he called RapGenius "a poem that God has written."
You'd think, given their love of rap lyrics and propensity for pissing people off on Twitter, that they would make natural allies as much-maligned tech personalities. But since November, the two of them have been trading barbs over business, pets, mental illness and Mr. Calacanis' mother.
How to Steal From Whole Foods
The sparring began when Mr. Moghadam published a satirical article at Thought Catalog called "How To Steal From Whole Foods," which has since been removed from Thought Catalog after legal threats from Whole Foods. That article was the first bat signal for Mr. Calacanis, who decided to weigh in with accusations that Mr. Moghadam, who is still recovering from a dramatic brain surgery, is duplicitous and has been faking his illness.
This was going down around the same time that Uber executive Emil Michael had playfully suggested threatening and harassing journalists and their families. Mr. Moghadam then called out Mr. Calacanis for defending that executive, "a guy who physically threatened reporters."
And here we have the blossoming of their stock insults: that Mahbod is a failed founder with a mental disorder, and that Jason is a pudgy, capitalist robber-baron who positions himself as a thought leader with bad blog posts.
Whole Foods would continue to come up for months as a theme in their tweets, but the feud has since begun to include Mr. Calacanis' tech media endeavors and other investments, as well as Mr. Moghadam's ousting from Genius.
Trolling Gemstones
Since then, Mr. Moghadam shows up regularly to take Mr. Calacanis' Silicon Valley thinkfluence down a notch. His eager trolling range from Mr. Calacanis' business acumen…
…to his grammar…
….and even his mother:
Mr. Moghadam suspects that part of his animosity for Jason has to do with the fact that Mr. Calacanis lives in Malibu, where Mr. Moghadam used to live with the Rap Genius crew. Or, shifting into his startup expertise, that Mr. Calacanis makes ostentatious claims about his investment thesis and strategy when it's hard to find the angel investor's value-add to the growing corporation.
"Maybe my beef with jason is based on jealousy," Mr. Moghadam told the Observer. "I miss living in Malibu, I wish I had @Mahbod twitter handle and I really want a podcast. Also, nobody ever bought my blog, even though it was way better than his."
Burying the Hatchet
So is there any hope for these two? Will Mr. Calacanis finally offer to buy Mr. Moghadam's shares of Genius stock—or maybe fund Mr. Moghadam's next company? Why can't they just work it out?
Mr. Moghadam says he's willing to work it out. No hard feelings—just a dollar-for-dollar trade on his residual share in Genius for gift certificates to Nobu in Malibu.
As for Mr. Calacanis, he dropped his troll act for us and, like anybody in startup culture, pretended that there was no such things as animosity, rivalry, vicious rhetoric or competition between founders and investors.
"It's just two dudes busting each other's chops," Mr. Calacanis told the Observer. "Like we did on the stoops of Brooklyn for hours a day when we were kids. There are zero hard feelings, he can call me a fat Greek all day long—there's some truth to it!"
For all of their politicking, they've been at it again in the 24 hours since they talked to us for this story—Mr. Moghadam has already called Mr. Calacanis a Joseph Goebbels wannabe and the "Jabba the Hutt of Malibu":
Maybe the only resolution will be when Mr. Moghadam finds a more worthy target. Apparently, he already has his sights set.
"From the VC wannabe crew, the real douchebag is Mark Suster," Mr. Moghadam said. "I was seeing photos of him hanging out with Chamillionaire the other day and I thought, 'Wow, if it isn't poor man's Ben Horowitz/Kanye.'"