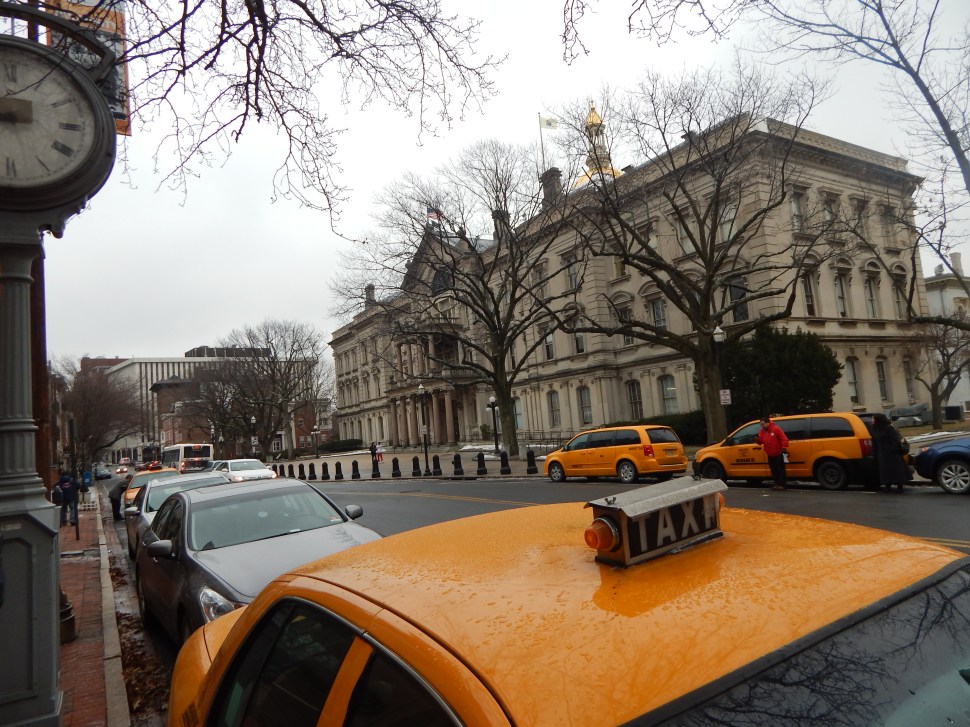 TRENTON — Yellow taxi cabs lined both sides of the street outside the statehouse today as dozens of drivers flocked here to protest the encroachment of ride-sharing services — such as the popular startup Uber — on their business.
Carrying signs that read "Is Uber above the law?" and shouting "Union Power", the group — including taxi drivers mostly from Essex County, near Newark Airport and the surrounding area — met at The Big Easy downtown (formerly Maxine's) before marching up to the statehouse for a 10:30 am Senate Transportation Committee hearing.
"We are here to fight Uber," said Jorge Armengot, an executive board member of United Transportation Alliance of New Jersey. "I raise my kids with my work, and now Uber is taking away all the money."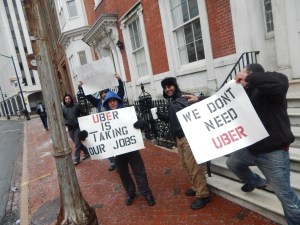 At the heart of their grievances are fledgling companies like Uber and Lyft, two ride-sharing services that broke on to the start-up scene a couple years ago by allowing freelance drivers to use their personal vehicles to transport passengers and get paid for it. With an app that lets users request rides via smartphone and then sends the trip requests to their drivers, the company has become immensely popular around urban centers, partly because it is often able to offer cheaper service than traditional cab and limos.
Critics of the service, however, argue that most of the company's cost savings come from a lack of regulation — a problem they also say compromises passenger safety. For instance, drivers typically do not need to go through background checks or be fully insured in the way traditional cabbies do, protesters said today.
"In many senses, these people are completely isolated," said Hetty Rosenstein, state director for the Communications Workers of America, who helped organize the rally. "There's no employer, there's no insurance, there's nobody responsible for anything. It's like, if that's the future of employment, what does it say about the future of workers?"
"This is disrespectful to what you do. This is all about greed, about money," added Barry Lefkowitz, a lobbyist who's been helping craft legislation on the part of cab and limo drivers to more heavily regulate the new competition.
Legislators, taxi and Uber representatives debated that legislation during the committee hearing today, which was originally scheduled to see a vote on the bills but was ultimately restricted to testimony and discussion. One bill (S2592) would require the ride-sharing companies to apply for permits with the New Jersey Motor Vehicle Commission, forcing them to prove that the company provides insurance of up to $250,000 per incident, as well as $10,000 for medical insurance coverage; another (S2274) would direct the MVC to establish permit and safety requirements for the new companies.
Lyft and Uber representatives defended their services — which are now increasingly referred to as Transportation Network Companies, so called because of their reliance on online-enabled application or platforms to prearrange rides for compensation — as "peer-to-peer ride-sharing." Instead of requiring licensed, full-time cab drivers, Lyft and Uber advocates said their business model allows anyone to use their personal vehicle to pick up riders and make money on the side.
Although Uber began as a more traditional service using black cars and SUVs, it has gained most of its popularity with services like UberX, in which drivers use their personal cars.
"In the future, [these services] should look much like carpooling, where you're taking your private vehicle, you're going along only the normal routes you'd take under normal circumstances and you offer an extra seat to somebody else," said Diana Dellamere, a public policy manager for Lyft, which uses a model similar to UberX. "The key there is that the person looking for the ride there would otherwise be driving — that's not a person who would otherwise be taking a taxi."
But traditional taxi industry reps said the startup services are getting a free ride, so to speak, in states like New Jersey and New York where the new business models have not yet faced scrutiny or regulation. Most argued that this difference in treatment has allowed companies like Uber and Lyft to quickly move into the market and steal business from traditional transportation companies, but that their drivers — because they offer essentially the same service — should nevertheless be held to the same standards.
"The laws that govern limos and taxi cabs in New Jersey were not invented yesterday, were not invented in the last decade — they've been a work in progress by dedicated public officials like yourselves for nearly a century. And they apply just as much today as they did before," said Paul A. Rosenberg, president of Yellow Cab Co. in Atlantic City.
Traditional industry reps said they'd like to see even stricter regulations than those proposed by the legislation currently under consideration, while Uber and Lyft reps said they'd like to see the bills tweaked to allow drivers to continue to operate independently — though they said they wouldn't object to "reasonable" regulations.
"We are encouraged that the New Jersey legislature is considering modifying proposed legislation to allow riders to get a ride whenever and wherever they want with the push of a button," said Matt Wing, an Uber spokesperson, in a statement. "Improved versions of this legislation would also give drivers the ability to earn more while working less. We will continue to work with members of the legislature to advance bills that give riders better choices and drivers greater economic opportunity."