TRENTON — The Wisniewski-Bramnick debate isn't over yet.
Shortly after the conclusion of a League of Municipalities Legislative Day panel talk where the two first sparred, Assemblyman John Wisniewski (D-19) released a statement bashing Assembly Minority Leader Jon Bramnick (R-21) and his suggestion that New Jersey's school funding formula be revised to fund a depleted Transportation Trust Fund.
Wisniewski said the idea — which Bramnick, citing the $1 billion in state savings that could result from tweaking the school funding formula, proposed during the this morning's discussion — should be "dead on arrival."
"For any legislator to suggest that education funding should be sacrificed to fund our infrastructure needs represents, at best, a skewed set of priorities. When that suggestion comes from Republican legislative leadership, it not only reflects the party's lack of commitment to one of the most fundamental responsibilities of government — the education of our children — but is also makes clear the party's refusal to play a constructive role in addressing an issue that threatens public safety and is critical to our state's economic future," Wisniewski said.
He added that Bramnick, as a Republican leader, has a "clear choice: He can play a constructive role in building our state's future or he can choose to abdicate any responsibility for building a better New Jersey and leave it to others to make the hard decisions."
"Sadly, it looks like he has chosen the latter," he said.
But it didn't stop there. The debate also prompted Bramnick to blast out his own statement, calling Wisniewski's outburst a "tirade" and accusing the Democrat, who servers as chair of the Assembly Transportation Committee, of lacking imagination in his search for TTF solutions.
"John Wisniewski does not have veto power over ideas," Bramnick said. "To solve the problem, we need to have a real conversation with everything on the table. Reducing spending should also be on the table and allowing the Legislature to determine how to fund schools not the courts."
"Wisniewski has had 13 years as head of the Transportation Committee to find a solution to the TTF," he added. "Now that the fund is approaching insolvency, the only idea he can come up with is to raise everyone's taxes."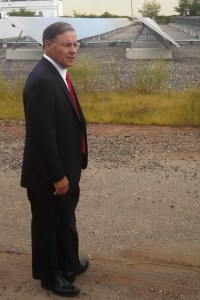 Bramnick said lawmakers "limit the conversation to increasing taxes, we will get the same answer Trenton Democrats have repeatedly given us – more taxes."
"That is why we have higher income taxes, a higher sales tax and higher corporate business taxes. His ideas contribute to residents and businesses fleeing New Jersey," he said.
The panel talk, which brought together public leaders and state lawmakers to debate a host of high-profile issue affecting the state, saw Wisniewski and Bramnick slapping at each other more than once.