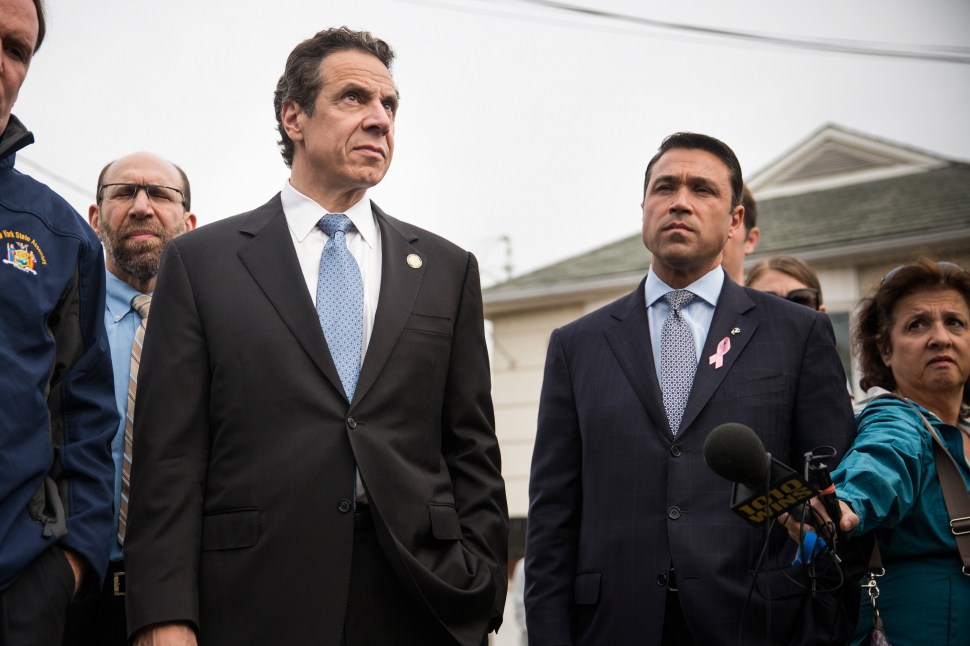 It has been more than a month since Michael Grimm resigned his congressional seat in disgrace after pleading guilty to tax fraud relating to his ownership of a Manhattan health-food restaurant. His seat remains vacant, and Gov. Cuomo has not gotten around to scheduling a special election. Mr. Grimm's former constituents on Staten Island and in South Brooklyn remain unrepresented in the new Congress.
Mr. Cuomo's inaction is inexplicable. And bizarre. Yes, he has been a bit distracted in recent days, fending off questions about Sheldon Silver's indictment and resignation as speaker of the State Assembly while also figuring out how to get ahead of voter disgust with Albany corruption. Still, there's no excuse.
---

Mr. Cuomo's fellow Democrats are still searching for a candidate who might put up a decent fight for the seat

---
Cynics no doubt will note that Republicans have galvanized around the candidacy of Staten Island District Attorney Dan Donovan, a well-known and popular figure, but Mr. Cuomo's fellow Democrats are still searching for a candidate who might put up a decent fight for the seat. Bear in mind that Democrats bungled this race last fall, when they ran a wretched candidate, Dominic Recchia, against Mr. Grimm. Although facing a 20-count indictment (he eventually pleaded guilty to a single charge), Mr. Grimm won handily, and, truth be told, he very likely was the better candidate.
Democrats no doubt are trying to avoid another debacle—they may even entertain hopes of winning this traditionally Republican seat, as they did in 2008, before Mr. Grimm's ascent two years later. But while they sort out the possibilities, the people of Staten Island and South Brooklyn are without a voice in Washington.
With no action from the governor's office all these weeks after Mr. Grimm's departure, eight voters in the 11th Congressional District have filed a lawsuit in federal court. The plaintiffs want a judge to step in and force Mr. Cuomo to set a date. A lawyer for the voters argued, with ample justification, that the people of Staten Island and lower Brooklyn "deserve representation."
It surely is not too much to ask. It's unfortunate that the judicial branch now has to become involved in what should have been a fairly simple and routine exercise.
Mr. Cuomo has been similarly lackadaisical in selecting a replacement as district attorney for Nassau County now that Kathleen Rice has begun her term as congresswoman. What's up with that?
Choosing a replacement for Mr. Grimm will not change the balance of power in Washington or add anything to the state's clout on Capitol Hill. But it will mean a great deal to Mr. Grimm's former constituents.