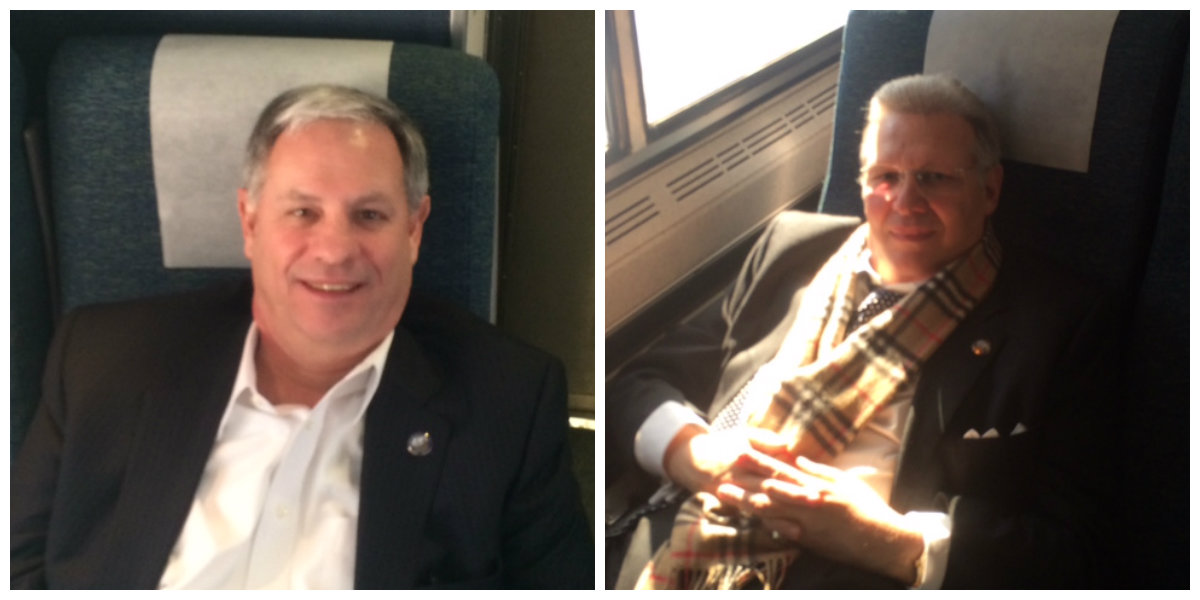 ON THE CHAMBER TRAIN – On the 78th Annual New Jersey Chamber of Commerce Walk to Washington train ride back to the Garden State, two of the most prominent Bergen County Democrats reclined in the first car of the chartered train after a day and a half of doing anything but resting.
In case fellow New Jerseyans failed to understand that Bergen County is still the bellwether county in statewide elections, Bergen County Democratic Chairman Lou Stellato and Bergen County Executive Jim Tedesco hit just about every party in sight during the Walk to Washington trip, including a power political and fundraising cocktail hour for Hillary Clinton 2016 and a fundraiser hosted by New Jersey's two openly gay legislators, both on Thursday night.
According to Stellato, Team Bergen came to D.C. to ubiquitously and quietly do business.
"The mere fact that we're the most populous county in the state makes us a player in all future elections. Plus, having just come off the great win of Mr. Tedesco, our stock rose exponentially," Stellato told PolitickerNJ on Friday. "I don't think there was as much of a fervor a year ago about the Bergen Dems from either the political players or the pundits. We can see things taking shape in the year ahead that will be interesting. I think that there will be more than three [Democratic gubernatorial candidates in 2017]. The more crowded the field, the less cumulative vote that you need. And in some ways, no one wants to be the front-runner, because the front-runner is the one that everybody shoots at. But we know that this is a marathon, not a sprint."
As for Tedesco, he noticed a perceptible positive uptick regarding the reaction to the Bergen Dems' delegation.
"As the new county executive, it was important for me to come down in person," said Tedesco, who was sworn into office in January. "It gave me the chance to thank some of the people around the state who supported me. And it gave other people a chance to come and see me. I don't see any statewide election in which people don't come through Bergen. Our numbers are too strong."
As the Bergen Dems assembled in Union Station in Washington, D.C. on Thursday afternoon moments before they proceeded to go through the evening's parties like a hot knife through butter, Stellato reminded his crew to keep their message sharp.
"We're going to stick together, and we're going to show strength," Stellato, overheard by PolitickerNJ, said sotto voce. "Let's go."