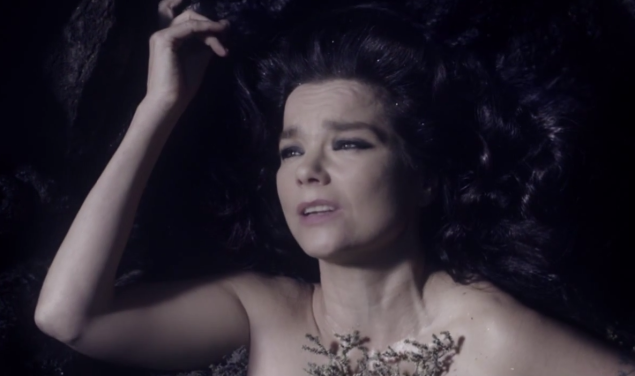 In just a few weeks, a full retrospective of the music, video work, outfits, and visual art produced by Bjork will open at the Museum of Modern Art. While some some have criticized curator Klaus Biesenbach's decision to devote the whole museum to a pop singer, you can't deny Bjork's thrilling oddity, enduring career and bonkers musical vision, which continues with this year's much-acclaimed Vulnicura—it's a classic breakup album, featuring some pretty savage digs at her baby daddy Matthew Barney. Hey, you know who's never had a retrospective at MoMA? Matthew Barney. Burn.
And because Bjork has given us some truly classic music videos over the years (robots! umbrellas! yaks!) we now have a trailer for "Black Lake," a video installation that will be included in the show a video component to the show, which doubles as the music video from the song "Black Lake" off Vulnicura. "Our love was my wound," she sings, and then all of a sudden we see that there is a literal wound in Bjork's stomach with blue blood gushing out between her legs.
Matthew Barney, you made Bjork bleed! Bad Matthew Barney! But then again, she got a MoMA retrospective before you, so, again: Burn.
Watch below.