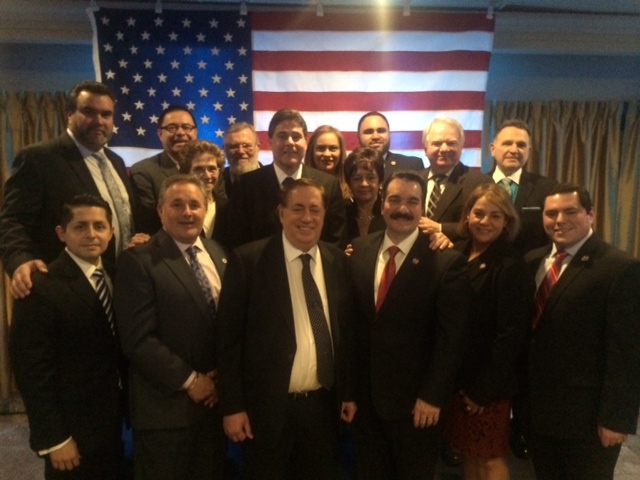 WEST NEW YORK – The crowd of more than 150 people packed into Las Palmas restaurant in West New York knew that Mayor Felix Roque's reelection campaign had begun when the classic Cuban music and Frank Sinatra's "Summer Wind" were shut off.
In an instant, Richard Wagner's "Ride of the Valkyries" blasted out of the speakers as Roque took the stage to a standing ovation. The classic German opera piece became a part of American pop culture when it was in the film Apocalypse Now, used for psychological warfare in wartime. On Thursday night before his supporters, Roque said that he was on his own mission.
"We're delivering on the promise that we made when we ran – continue to deliver high quality municipal services, continue to be a destination to live, raise a family, work, and have a business," said Roque. "This year's budget was approved with a zero tax increase, which delivers on a promise that I made."
Roque's official reelection coming out party included most of his slate. Gabriel Rodriguez and Cosmo Cirillo, sworn in over the past few weeks as West New York commissioners, will be joined by political neophyte Susan Colacurcio, a science teacher for more than 40 years at West New York's Memorial High School.
Pablo Fonseca, Roque's campaign manager, said that the fifth and final slate member will selected next week.
Roque told PolitickerNJ that he wanted his slate to represent the different demographics of West New York.
"I'm working with the older generation of Italian-Americans to let them know we're all part of the same community," Roque said in reference to the addition of Colacurcio to the slate. "I'm going to need another Hispanic, and the person that I'm going to bring in will bring a lot to West New York. She's going to be great for us."
A great assembly of concentrated Hudson political power was prominently arrayed in the Roque room on Thursday night.
State Assembly Speaker Vinny Prieto (D-32), Hudson County Executive Tom DeGise and state Senator Nicholas Sacco (D-32) were all present. So were Adrienne Sires, the wife of former West New York Mayor and now-U.S. Rep. Albio Sires (D-8); Bayonne Mayor Jimmy Davis; state Assemblywoman Angelica Jimenez (D-32); former state Senator Bernard Kenny (D-33); former West New York Mayor Sal Vega; Hudson County Freeholder Junior Maldonado, a supporter of Jersey City Mayor Steve Fulop, and West New York town attorney Donald Scarinci, a close ally of U.S. Senator Bob Menendez (D-NJ).
Roque is not running unopposed. West New York Commissioner Count Wiley has assembled his own opposition slate. Roque, elected in 2011 after a tough fight with Vega, has not always had the smoothest of roads. He politically survived after federal charges were filed against the mayor and his son in 2012 for allegedly hacking a website set up by then-Hudson County Freeholder Jose Munoz that aimed to recall him. Munoz, who earlier on Thursday said that he was not running for West New York commissioner in the May election, testified against Roque and his son at a federal trial. Roque was acquitted of the charges in October 2013; his son, Joseph, was convicted of a misdemeanor. Wiley lies in wait, looking to poke Roque with this past.
But after Roque, a retired colonel in the U.S. Army Reserve, came through his own heart of darkness, DeGise pointed out why he believes that Roque's 2015 campaign ride will not resemble any Apocalypse Now-style hellish trip up a Southeast Asian river.
"Let's face it – about a year and half ago, this was chaos. This was fighting. You were wondering if you were going to be able to bring it all together," DeGise said. "What it took was strong leadership. Colonel Roque was the one to do it. Now, we're seeing the fruits of that. A well-oiled machine is going into reelection mode here."