Today, the first full retrospective of the late conceptual art master On Kawara opens at the Guggenheim, gifting the city with a sprawling and dynamic—by turns profound, witty, swaggering, petty, neurotic, precise, and blissful—examination of time itself. For "On Kawara—Silence," the Guggenheim's iconic spiral ramp is lined with Kawara's date paintings, day after day, year after year, in addition to other documentary projects that charted his habits, wanderings, and thoughts. We took it all in, and it's a joy to see all these different parts of his practice put together: massive date paintings completed in the days leading up to the moon landing, his obsessive daily postcards to John Baldessari and Dan Graham that say nothing but the time he woke up, maps of cities marked with the paths he walked, the lists of people he hung out with on a certain day, and his final works proclaiming "I AM STILL ALIVE," until he stopped proclaiming that, because he wasn't.
"We miss him now, even more than ever," said Jeffrey Weiss, the senior curator at the Guggenheim who oversaw the show, and worked with Kawara on its conception before he passed last August. "We hope the exhibition does justice to the genius of his work."
We believe it does. But the artist has also left the fate of his legacy to audiences—it's up to them to finish the work. One Million Years was created in 1969, and performances of the work began in 1993 at the Dia Center for the Arts in Chelsea. Since then, it's been performed at Documenta 11, in London's Trafalgar Square, at David Zwirner in New York—the Guggenheim will be the 27th venue to host it, and it will be nowhere near the last, as this is a continuing performance that's not even close to being completed.
Here's how it breaks down. One Million Years is a group of twenty four works, and each work contains ten binders full of small printed high numbers that are written as dates. Twelves of these works contain dates in the future (for example, the vicinity of 207,000 A.D.) and some contain dates in the past (for example, the vicinity of 850,00 B.C.) For the performance, two readers—one male, one female)—are given the binder containing the last dates that were read at the last reading, and the two readers recite the years in order, switching off odd and even, for an hour at a time, before a new pair takes over exactly where the previous one left off.
On the day of the show's opening, The Observer strolled into the Guggenheim, took two seats in from of a table smack dab in the rotunda, and prepared to read the years of the One Million Years [Future] binder. We started on the year 207,194 A.D., and went on reading for an hour. The following is a conversation between the two of us about the joys and anxieties that come with having your voice piped through the famous Frank Lloyd Wright spiral.
Alanna:  So how did you feel right before we started? They were very explicit with instructions, but the task we were given wasn't too complicated.
Nate:  I was incredibly excited to read years in the far future for an hour. Like, shadowboxing in the tunnel before the match excited. (I actually was doing some shadowboxing in the Guggenheim. Sorry, Guggenheim.)
Alanna:  You seemed pumped. You got dressed up and everything. That blazer! That tie!
Nate: I mean to be honest that's just the Friday uniform.
Alanna: You started reading first. Was hearing your voice over the speaker jarring?
Nate: The opposite of jarring. At the risk of sounding pompous, it felt like I was born to read semi-arbitrary numbers in the rotunda in the Guggenheim. What about you?
Alanna: I was a little petrified to be honest. What if I got on stage and tried to speak into the microphone and my voice cracked? Or what if I was super loud. My fears were quickly quelled, but I wasn't too thrilled that I had to be on stage in front of the whole museum.
Nate: But today you were center stage! Your mellifluous tones blasting loud out on Fifth Avenue!
Alanna: I liked that actually; the notion that I was this disembodied voice on Fifth Avenue was exciting—the anonymity of it. When I got to the museum and heard voices coming through the speakers outside it was a great intro to the show. When they did it at David Zwirner they had readers sit inside a glass vitrine, phew, I'm glad that wasn't us.
Nate: Oh weird.
Alanna: I kept hearing the organizer's instructions repeat in my head while I was reading: "Make sure to give your partner enough time to finish reading their number, and then read yours." My pauses after you read and I begin ended up being extra long.
Nate: Yeah, me too, and then I would see a friend in the audience and wanted to be like, "Hey, Gideon!" and then get all thrown again.
Alanna: How could you see anyone out there? I kept looking up to see if I recognized anyone, but my eyes were concentrating so hard on the numbers on the page that when I'd look up everything was extra fuzzy. A few times I got a little too distracted by the eye pain and totally lost my place and purpose (to only read the even numbers) and accidentally read yours.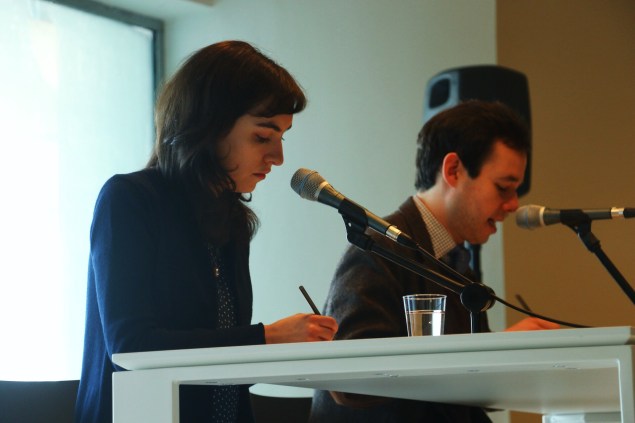 Nate: Yeah, but mostly I was concentrating, as I was pretty conscious of being part of "On Kawara—Silence" and on the opening day, no less! Again, risking pompousness. We were, after all, just reading numbers.
Alanna: It was an exciting pressure. We got to be part of Guggenheim history! Depending on the pace we read, we determined what numbers the people after us had to read. And the numbers we had to read were tough to read in full. Normally I'd never look at 207,604 and read, in my head, Two Hundred Seven Thousand….I had to work extra hard to concentrate on not abbreviating.
Nate: But I think we did do a great job!
Alanna: While we were up there a few visitors came right up to our table to watch us for a few minutes. They snapped me out of the groove—all of a sudden there was this figure standing over us.
Nate: Well it must be an odd thing to see if you weren't expecting it.
Alanna: We were being "viewed."
Nate: And having seen the show the day before, it made the whole experience so much better.
Alanna: The human error involved with reading the numbers allowed, and with another person, is also an apt commentary on the passage of time. The sections of the show where date paintings are paired with images from a day's newspaper felt thematically a lot like our reading. On the page, they were just numbers. But once we read them, they became animated.
Nate: I just got really excited to read certain years. 207,523 A.D. was a big year for me.
Alanna: I think I heard you cheer a few times when we hit a new century.
Nate: I was fistpumping. It was inappropriate.
Alanna: Did you ever want to stop? When we started my adrenaline was going full force, but I was warned that the experience would feel meditative, and I have to agree. About 3/4 of the way through I felt so relaxed. By the time we were done, I felt like I could have kept going for a while.
Nate: I definitely could have kept going. If it were up to me, I'd still be at the Guggenheim, reading years, watching the museumgoers watch me.
Alanna: Would you encourage others to do it? Or do you think it's not for everyone?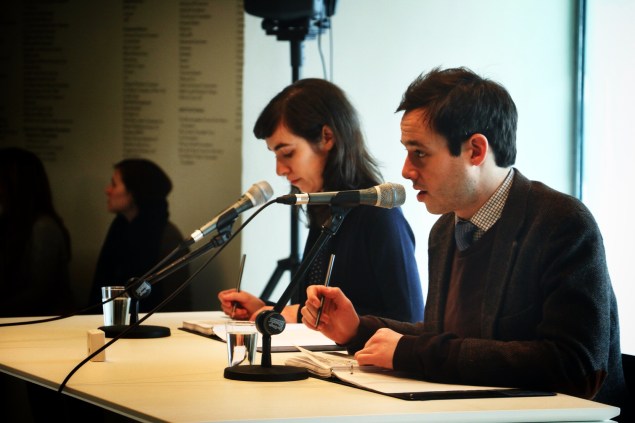 Nate: If someone wants to truly experience the show, absolutely. It might not be one's ideal way to spend an hour, but once you get into it, it's very soothing. Would you?
Alanna:  Absolutely! I think it definitely affected the way I viewed the work in the show. For any museumgoer it's good to feel out of your element every once in a while. That's where you make unexpected discoveries about art. A little bit of performance art could do everyone some good.
Nate: I agree, performance art for everyone. And karaoke is wonderful!
Alanna: Compared with sitting across from Marina, this was a walk in the park.
Nate: Absolutely. But also—karaoke at the Guggenheim. Let's make that happen.