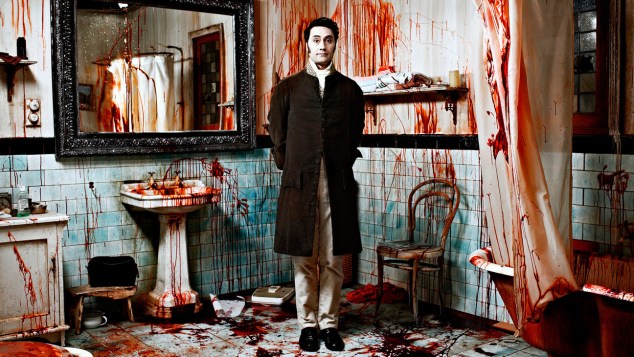 Ever on the lookout for something original, I am delighted to recommend a fresh, unexpected and welcome take on vampires—from New Zealand, of all places. It's called What We Do in the Shadows, and it's unlike anything you've ever seen before.
What the bloodsuckers in this frolic actually do, in or out of the shadows, is make you laugh. This is one of those "found footage" thrillers in the overworked horror-movie genre popularized by The Blair Witch Project about a documentary film crew that sets out to cover a secret society of diverse monsters staging a ball called "The Unholy Masquerade." Each crew member wore a crucifix and was granted protection by the film's major subjects—four vampire roommates who agree to open up their clandestine lives for the first time in order to broaden public awareness.
---

WHAT WE DO IN THE SHADOWS ★★★
(3/4 stars)

Written and directed by: Jemaine Clement and Taika Waititi
Starring: Jemaine Clement, Taika Waititi and Jonathan Brugh
Running time: 86 min.

---
The friendliest and funniest is Viago, who is 379 years old. Then there is Deacon, the gang rebel, who sleeps upside down like a bat. (He's only 183, so he doesn't know any better.) Vladislar, 862, has his own torture chamber, which he doesn't use much anymore since techniques have become more refined in modern times. Besides, who can compete with 8,000-year-old Petyr, whose bald head, talon fingers and long, sharpened fangs are more in the Nosferatu school of terror. 
They are funny, competitive, vain ("I became a vampire when I was 16," brags Vlad, "which is why I always look 16") and terrible at keeping the house neat. They have a unique family politic, but when you have four vampires in the same flat, you're bound to have tension. They do sleep in coffins and set their electric alarm clock for 6 p.m. every night, but they are housemates, as well. One of the drawbacks of having no reflection in the mirror is that you need somebody else to tell you how you look.
Jackie is a human who runs their errands and doubles as housekeeper, providing them with new victims. In return, they promise, someday they'll bite her in the neck and provide everlasting life for her, too. And they always see the bright side of every crisis. After sinking his teeth into a new female corpse so fast that it sprays plasma all over the room, Viago (or is it Vlad?) turns to the camera apologetically: "O.K., so that didn't go so good, I hit the main artery. So yes, it's a real mess. On the up side, I think she had a really good time." Macabre but hilarious, their latest convert, a hick named Nick, tries to bring them up to speed with the Internet and a description of the Twilight series. It all leads up to the top secret Unholy Masquerade Ball where the little family group is set upon by werewolves and it's every fiend for himself. Not for the faint of heart, but I couldn't wait to see what happened next. These vampires are not dull.
Written and directed with an encomium of imagination by Jemaine Clement and Taika Waititi (who also play Vlad and Viago, respectively, and with great relish) the movie is illustrated by the most beautiful artistic images of the medieval underworld, vampire paintings, drawings, costumes, makeup and fashions ever assembled for a horror film, collected from archives, art galleries and research libraries from Austin, Texas, to Salzburg, Austria. When you aren't wincing from horror, there is always something witty to marvel at. In the end, what they do in the shadows is bloody incomparable. You gotta love Viago, a lonely Dracula who turns to the camera in closing and expresses his first happy relationship in four centuries with an old crone who seems quite thrilled with her new status as a vampire: "Some people freak out about the age difference. They say what's this 96-year-old lady doing with a guy four times her age? They can call me cradle snatcher. Who cares? I decided to bite her and now we're gonna be together forever."
Vampires have had a bad rap. But these guys are never mopey, their antics could easily have been written by Mel Brooks, and you gotta admit they're different.