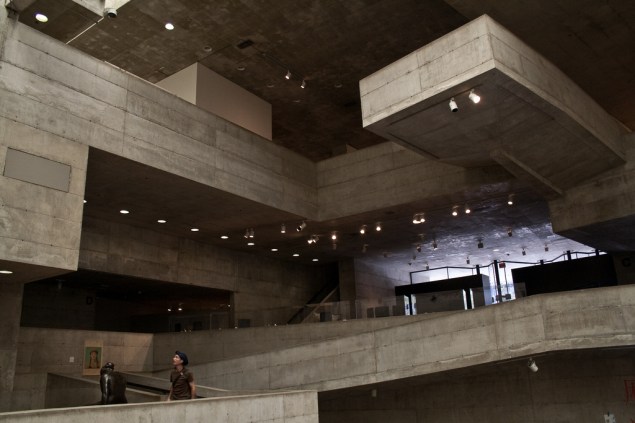 In December, the Berkeley Art Museum vacated its famous Mario Ciampi-designed Brutalist building at 2626 Bancroft Way after recent renovations failed to bring the unusual structure up to earthquake code. The museum plans to move to a new facility in 2016 designed by art world favorites Diller Scofidio + Renfro and local Bay Area firm EHDD, leaving the future of the Ciampi building up in the air.
Architect and conservator Lacey Bubnash reports on Docomomo that while the building is landmarked and listed on the National Register of Historic Places, it is "currently classified as 'poor' in the UC Berkeley seismic safety rating system, meaning significant damage resulting in appreciable life hazards is expected during a major earthquake."
BAM/PFA first opened to the public in 1970 as the University Art Museum. The building is considered one of Mario Ciampi's most celebrated designs, and Ms. Bubnash points out that it was given a 25-year award from the AIA California Council in 1996. It is located adjacent to the University of Berkeley's main campus, and built into a sloping hill, with its façade strongly defined by the step-like shape formed by the roofs of each level. Inside, the asymmetrical, tiered levels and cantilevered galleries open into a cavernous atrium lit by skylights.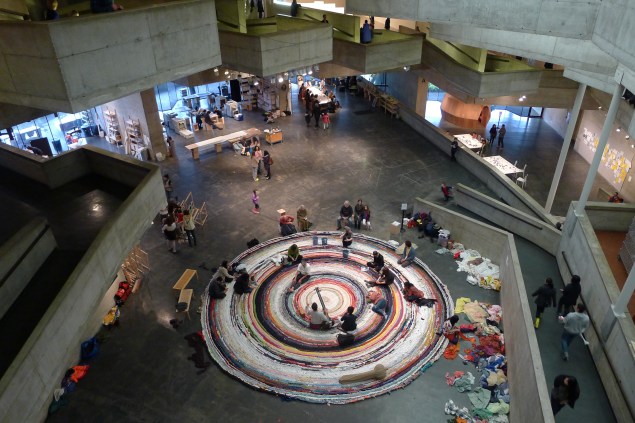 But all of its unique aspects have also made it incredibly hard to earthquake-proof. According to Ms. Bubnash, when it was initially evaluated in 1997 it didn't meet seismic standards. The museum then underwent a partial renovation in 2001 and added structural bracing to its interior and exterior, and, once again, didn't meet University of California Seismic Safety Policy requirements. The building has also provided other challenges over the years, including leaks from its skylights, and museum staff complained that the rigid concrete layout of the galleries wasn't ideal for exhibitions.
But the departure of the Berkeley Art Museum and Pacific Film Archive doesn't spell the end for the Ciampi building: UC Berkeley wants to repurpose it after it undergoes much-needed renovations that will finally bring it up to seismic standards. Plans thus far include closing-in the atrium and galleries.