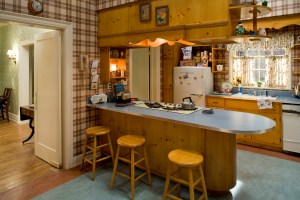 The Museum of the Moving Image, in Astoria, L.I., announced it will salute the final season of AMC's Mad Men with an exhibition of the show's sets, costumes, props, scripts and influences. A concurrent film series, Required Viewing: Mad Men's Movie Influences, will screen ten movies chosen by creator Matthew Weiner that he has said influenced the series and offer a narrative of America in the 1950s and 1960s, including The Apartment, The Americanization of Emily and two Alfred Hitchcocks: North by Northwest (for those of you who always suspected Don had a touch of Cary Grant) and Vertigo. 
The museum's two-month exhibition, March 14 through June 14, will include a talk with Mr. Weiner March 20, a symposium on the advertising industry and, for true cultists of the show (The last seven episodes begin April 5 on AMC), a copy of a Weiner script called The Horseshoe, which he said marks the first appearance of the character who would become the mysterious Mr. Draper/Dick Whitman.
Following the exhibition, the Museum noted, "a number of significant props and costumes" on view in the exhibition will be added to its permanent collection.