On every day of every week, communications arrive in our inbox from the offices of landlords, brokers and public relations agents touting new and forthcoming residential real estate developments, mostly in Manhattan and Brooklyn. With few exceptions, these developments are billed as "luxury."
In some ways, what this says about trends in New York City real estate isn't surprising. Developers are frequently happy to explain that the cost of land in pretty much all of Manhattan—and in great swathes of Brooklyn, too—is such that it often makes the most economic sense to build pricey condos or rentals.
There are, though, some things about the profusion of conversions, refurbishments and even mere re-brandings being described as "luxury" that strike us as odd. One is that the very fact of this cavalcade seems to stifle the notional scarcity on which "luxury" to some extent relies.
Merriam-Webster offers three definitions for the noun form of the word, one of them being something that "is not usually or always available." But "luxury" in New York City nowadays appears to be anything but "not usually available." In large portions of town, it can seem difficult to find housing that doesn't claim the mantle. And as far as considerable segments of the real estate industry are concerned, the idea seems to have grown near-infinitely elastic, practically all-inclusive.
There are, first of all, the "luxury" rentals. (We refer here to homes that residents occupy in the long term, and not to the astronomical rentals that tenants who own other property sometimes live in for brief intervals—like the 4,786-square-foot floor-through at the Pierre Hotel currently on the market for $500,000 per month, or the $125,000-a-month unit Robert De Niro and his wife took at 15 Central Park West while their co-op in the Brentmore underwent renovation after a fire.)
The Shorecrest Towers at Trump Village, a complex of 880 units currently undergoing renovation in Coney Island—a waterfront neighborhood with yet-unproven high-end residential allure—where rents run from $1,500 for studios to $2,831 for three-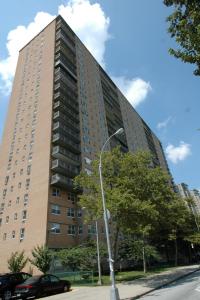 bedrooms, makes its claim to luxury largely on the basis of moderately fine amenities, such as a shared fitness center and rooftop deck, stainless steel kitchen appliances and modern light fixtures lacking conspicuously in tony name brands. The intended effect seems to be to suggest sleek modern city living at a steep discount. (As of February, the average Brooklyn studio rents for $2,300, according to a report prepared by Douglas Elliman.)
But in modern Brooklyn, proximity to Manhattan trumps beach access every time, as evidenced by 123 on the Park, which, as its name indicates, overlooks Prospect Park—and which shares much in the way of interior features with the Shorecrest Towers, including a designer, Andres Escobar. Here, renters of two-bedroom units can expect to shell out more than $4,000 a month. Of course, 123 also flies the luxury banner—though it lacks the indoor pool, the generous portions of marble and cerused oak of, say, a $9,600-a-month two-bedroom currently on the market at 752 West End Avenue, in Manhattan, which likewise emphasizes luxury bona fides in its marketing. (One Hundred Twenty-Three on the Park also boasts shared, forward-thinking amenity spaces, like a billiards-appointed gaming lounge and a yoga room, which have cropped up increasingly of late to draw the cost-conscious and luxury-enthused.)
Others define luxury strictly by the numbers. "Everyone is trying to brand themselves," said Donna Olshan, the president of Olshan Realty. Since 2006 she has published the weekly Olshan Luxury Market Report, a rundown of the last seven days' priciest residential contracts. "I think people are trying to resonate 'exclusive and rich' without saying 'exclusive and rich.' So 'luxury' is sort of a catchall for that. What is the real definition? I don't know. But it's definitely an overused term."
For purposes of Ms. Olshan's report, which consists of a kind of box score denoting tallies for co-ops, condos, condops and townhouses, "luxury" means properties with asking prices of $4 million or more. Kirk Henckels, the vice chairman of Stribling and the director of that firm's private brokerage, uses $5 million as the threshold for his own luxury market analysis. Jonathan Miller, the president of the real estate appraisal firm Miller Samuel, defines the luxury market as the top 10 percent of the whole; apartments costing $10 million or more merit the distinction of "ultra luxury."
"We needed a cutoff," Ms. Olshan recalled. "Below $4 million, we would have had too many properties. It wouldn't have been manageable. It may have been very arbitrary, but we set it there. And I'm glad that we did, because if we'd gone higher, in 2008, when things were a little lean, I wouldn't have been reporting on hardly anything at all."
Frederick Peters, the president of Warburg Realty, who deals routinely in sprawling multimillion-dollar apartments, grows evidently exasperated thinking of "the never-ending press stories about $30 million penthouses in Soho." And when we asked him to limn the parameters of modern luxury real estate, he became wary. "That's not a characterization I like to use," Mr. Peters said. "What I prefer to say is that we provide a luxury experience, which means we're trying to provide a high quality of customer service and added value through our expertise."
Aby Rosen, the developer of a condo conversion at 300 East 64th Street that has been billed as "affordable luxury"—its units are ineligible for Ms. Olshan's report, pricing out at less than $3 million—invited us, through a representative, to check out the building's new "laundry lounge," but declined our invitation to chat about its place in the luxury landscape.
Many brokers that we queried shared a similar reticence on the subject of "luxury"; it was as if such a discussion might bring down a jinx, or else break a spell.
But as in all things, marching orders for the lower echelons, affordable and otherwise, come from the top. Roger Ferris, the founder of Roger Ferris and Partners, an architectural firm trading in townhouse and penthouse renovations for properties that cost their owners well north of $10 million, told us, unsurprisingly, that at the end of the day, "Ego is driving everything." (Mr. Ferris is currently at work in Manhattan on three penthouses and five townhouses.)
In the case of townhouse-dwellers, he said, the contrast between ultra-modern interior overhauls—rear walls of glass, gleaming kitchens, tiered screening rooms and indoor pools sunken deep underground often—has a strong attraction. "The city, for the most part, has a really fantastic fabric of townhouses," Mr. Ferris said. "They tell kind of a historical tale from the outside. And then you can leave history behind and walk into the present, to aspirations for the future."
Townhouses, he pointed out, are not anonymous. "You can say, 'That's my house. That's my front door. That's my facade.' "
Contrast that with a high-rise unit, where anonymity is often the desired state. From on high, with your feet in the clouds, one's existence—and one's holdings—is, in a sense, more unassuming. That is, of course, until guests get off the elevator. "In a penthouse, the whole space often acts as a big, open galley," Mr. Ferris said. "You want to show off your views, with all the aspects of human endeavor laid out before you. It's about what you're claiming, visually, as your own."
What these versions of idealized, up-market New York living have in common is that they hold as their primary claim to prestige the possession of some elemental sense of the city—via brownstone edifice commissioned by the early merchant elite, or sweeping vista of rivers, parks and pedestrians below. Aspirants can approximate superficial bells and whistles. But the true "luxury" product, as it turns out, is the city itself.