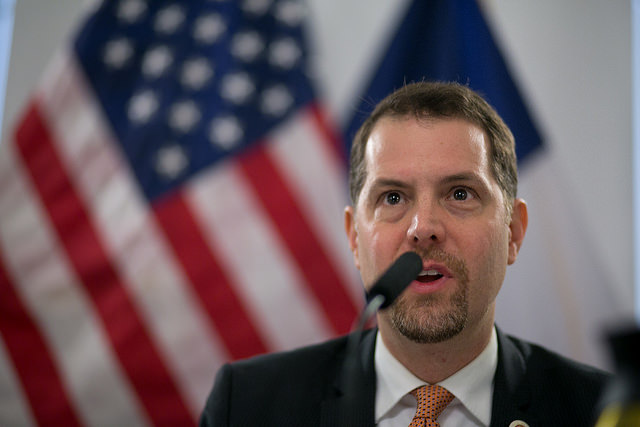 As Council Speaker Melissa Mark-Viverito pushes for the city to expand its use of desk appearance tickets instead of arrests for minor crimes, new legislation being introduced today would track the racial breakdown of the tickets, which order New Yorkers to appear in court.
"The problem is today, we just don't know we don't have this data. At least the public doesn't have this data, and the City Council doesn't have this data," Councilman Mark Levine told the Observer.
Mr. Levine and Councilman Daniel Dromm are introducing a bill today that would require the NYPD to provide quarterly reports on desk appearance tickets, include the race, age and gender of those receiving them, as well as the offenses charged. The desk appearance tickets—which summon someone to court to face a judge at an arraignment or appearance, but spare the suspect from being booked or held prior to court—are often issued for quality of life crimes. And the city last year moved to issue them instead of making arrests for marijuana possession.
But unlike arrests, there is no publicly available information of the demographics of the people receiving the tickets.
"My concern and the concern of many people is that enforcement is falling disproportionately on people of color. You can probably get away with sipping wine on a picnic blanket in Riverside Park, but you may not be able to get away with having a barbecue with beer in Morningside Park," Mr. Levine said.
Enforcement of those quality of life crimes, and the minor crimes Ms. Mark-Viverito wants to see enforced with DATs rather than arrests, is the basis of Police Commissioner Bill Bratton's broken windows theory of policing. But in the wake of the death of Eric Garner, who police were trying to arrest for selling untaxed cigarettes, many advocates have questioned whether the policy is unfairly applied in minority neighborhoods. (Mr. Bratton has said police enforce the crimes where the complaints are.)
"I think this is key to understanding how broken windows is being applied and if it's being applied disproportionately," Mr. Levine said.
Desk appearance tickets are already sharply on the rise: the city is issuing them instead of making arrests for possession of small amounts of marijuana. Mayor Bill de Blasio said it would spare many young New Yorkers, especially those of color, from dealing with an arrest on their record.
The push to end marijuana arrests came in large part from activists and elected officials who said the arrests fell disproportionately on black and Hispanic New Yorkers, despite many whites also smoking the so-called gateway drug. A study from the Drug Policy Alliance and Marijuana Arrest Research Project determined that in the first six months of 2014, 86 percent of people arrested for possessing marijuana in New York City were black or Latino, and just 10 percent white.
But some have argued there won't be much improvement for black and Hispanic New Yorkers if they are still disproportionately receiving desk appearance tickets, rather than disproportionately being arrested. Mr. de Blasio has argued that getting the ticket is a much better outcome than being locked up.
"That mistake will not have as negative an impact on their future, if it is a summons versus an arrest," Mr. de Blasio said in November.
With Ms. Mark-Viverito's push yesterday to issue the tickets for other crimes like turnstile jumping makes it all the more important to fully track information surrounding the tickets, Mr. Levine said.
"It does, I think heighten the urgency in getting data on desk appearance tickets, so if anything I think that the timing is perfect that we're going to be introducing this legislation the day after her speech," Mr. Levine said.
He anticipated widespread support for the legislation, and said he did not think it was inconsistent with Mr. de Blasio's strong support for broken windows policing.
"Even if we want to continue to enforce things like turnstile jumping and public urination, there are few New Yorkers who would support an unfair and inconsistent application of this law," Mr. Levine said. "This, ideally it's about fairness. This bill even more is just about understanding… We can't even talk about remedies until we understand just what the problem is."