Despite the snow today in NYC, believe it or not, it's actually the first day of spring.
With the transition from winter to spring comes the yearly desire to finally clean up your apartment—to transform it from a dark, festering, take-out-container-filled den into a bright and airy paradise worthy of its own Instagram account.
That is, until you remember how laborious spring cleaning can be.
For your domestic convenience, we've assembled a nifty list of gadgets and apps that'll help you get your junk-filled apartment under control.
1. Alfred
This TechCrunch Disrupt-winning app launched in New York last November. For $99/month, the service hooks you up with a butler—or an Alfred, as they're called—to carry out a host of services on a twice-weekly basis. Besides buying your groceries, picking up your prescriptions from the pharmacy and taking care of your laundry, Alfreds will also clean your apartment.
Added bonus: If you sign up this weekend and use promo code BRINGSPRING, they'll send a bouquet of fresh flowers on your Alfred's first visit.
2. Husqvarna Automower
This snow will melt (hopefully soon!) and when it does, a layer of mysterious green foliage will appear. When this happens, it will be glorious, but then you will have to take care of said mysterious green layer. You could do this yourself, or you could have a robot do it for you. The Husqvarna Automower, a super Roomba for your lawn, will give your grass a level trim and even tackle the hills. Simply program the Automower from your smartphone and let it do all the work.
3. Shyp
Need to de-clutter? Sell your unneeded furniture and other miscellaneous objects on Craigslist, and then mail them to their buyers using Shyp. Launched last spring, Shyp lets you mail stuff without having to endure the nightmare that is entering a U.S. post office. All you have to do is photograph the item you'd like to ship, and enter the address—anywhere in the world—where you'd like to send it. Shyp does the rest—they'll send a rep to package the item for you and take it to Shyp's warehouse, where it'll be hooked up with the appropriate mail carrier.
Note: If you don't feel like selling stuff on Craigslist, you can also use Shyp to mercilessly mail stuff back to your parents' house.
4. Tody
Tody, a high-tech to-do list, is great for those who can't keep track of household chores. The app lets users map out different areas of their home (like the kitchen and bathroom), and input the chores they need to do in each of said areas (cleaning the sink, mopping the floor, finally changing the godforsaken toilet paper roll, etc.), plus the frequency with which each chore needs to be completed.
Here's a YouTube demo of how it works:
5. Eye-Vac Pro Electric Dustpan
This gadget from Crawley Jones is perfect for those kitchen messes that arise in between regular cleanings. Simply tuck it in a corner on your kitchen floor (like you would a trash can), sweep crumbs and such in its general direction, and this super dustpan will just suck your messes right up. It's like a stationary vacuum without the hassle and noise of your typical vacuum cleaner.
6. FlyCleaners
Don't even try to pretend your apartment is clean with all of those dirty clothes lying around. And instead of tackling the pile yourself, summon a professional via your smartphone. FlyCleaners provides on-demand pickup laundry and dry cleaning services seven days a week from 6 a.m. until midnight in Manhattan and Brooklyn. Pay by the pound, choose special preferences like eco-friendly detergent and get ready to send off your dirty garments in as little as 20 minutes.
7.  Homejoy
Alfred lets you sign up for twice-weekly apartment cleaning, but what if your home only needs a one-time clean? Billed as the Uber-for-apartment cleaning, Homejoy lets you book on-demand cleaning services for as low as $25/hour.
8. USB Desk Vacuum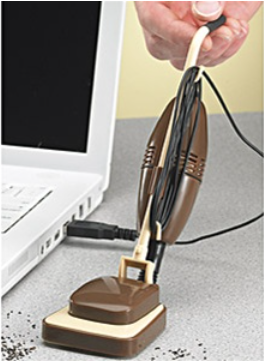 It's an adorable miniature cleaning machine will keep your work area spotless. This tiny vacuum is powered by your USB port, so never worry about finding a power source or recharging the battery. Just plug it in and easily take care of those pizza crumbs cluttering your desk and keyboard.
9. Leaf Wi-Fi Smart Air Purifier
To go with your newly cleaned home, you'll need some purified air. This sleek air purifier can be controlled from you phone or tablet to keep the air inside your home free of allergens, smoke and other contaminants. You can set it to an air quality standard (like the one issued by the World Health Organization, for example) or set your own, and the top-of-the-line filter adjusts to achieve it. It even sends data back to your smartphone so you can keep an eye on the concentration of particulates room by room.