The stakes are higher, so consent is more important," said the president of CV (Conversio Virium), Columbia University's official student group devoted to the 21st-century version of S & M—BDSM (bondage and dominance, discipline and submission, and sadism and masochism) or kink at ConsentAware. Held on November 15 in Lerner Hall on the Morningside Heights campus, ConsentAware was CV's first-ever conference open to the public.
The president, a short sophomore with delicate features and straight, shoulder-length hair, who emigrated from Eastern Europe last year, meant that consent among kinky people is more important than it is for the vanilla (non-kinky) version because the acts themselves can be higher risk. The president did not consent to be identified by name but specified a preferred pronoun ("They"). They explained that ConsentAware was conceived to be more vanilla-friendly than the meetings held every Monday night for kinky students and members of the kinky community.
Who are these students? Like others born in the 1990s, the president entered college in an era in which Internet porn, sexting and hook-up culture are everywhere. An era in which gay marriage is legal and transgender people have TV shows devoted to them. But also an era in which bullying, sexual assault, rape, and perhaps, even gang rape, are rampant on campus, or at least garnering more attention than ever before.
When these students graduate, they can look forward to a world in which celebrity comics and athletes are being outed for violence against women at a faster rate than ever, sometimes for decades-long sprees.
Still, the new popularity of kink on campus is surprising. Even more surprising is how much the popularity of kinks has risen at elite universities since 2012, when a bunch of Harvard students formed Harvard Munch, Harvard's kinky club.
A half-dozen official kink clubs have popped up at schools including Cornell and Stanford. Around two-dozen colleges and universities now fund official kink clubs and there are many more underground or semi-underground, with clandestine Facebook pages or pages on the kinky Facebook, Fetlife. "We are in a social moment … where it's easier to communicate about sexual interests," explained the creator of the Harvard club, a 2013 graduate who wished to be identified as Mystery von Mystery.
Founded in 1994, Columbia University's Conversio Virium is the oldest official kink club in the country. To CV'ers, the timing—just as the Fifty Shades book phenomenon was to flower into the Fifty Shades movie phenomenon—seemed right for a public event in which they could share their ideas about kink and consent with a broader audience. A few weeks earlier, Emma Sulkowicz had become a meme, dragging a mattress around campus to remind everyone that she had been allegedly sexually assaulted. In September, California passed its "yes means yes" or "affirmative consent" law requiring that students verbalize "an affirmative, unambiguous and conscious decision" before having sex.
For kinky people, "yes means yes" is just the beginning. To the uninitiated, kinky consent, often a lengthy, ongoing negotiation, seems more dissertation defense than hot sex.
But a reporter had another first impression. Although the turnstile at Lerner Hall, the stunning steel and glass building where ConsentAware took place, recalled the old Times Square peep shows, the event at times resembled an AA meeting or episode of Oprah. No names used, no photos taken and confession was the lingua franca.
The reporter also wondered whether by hewing to a hush-hush vibe, more pre-Stonewall than selfie, CV is behind the times. Last year at Stanford, Lily Z became president of Kardinal Kink as it lobbied to become an official student group. She may have beat back the administration's reservations in part by opening up the conversation to the media. Ms. Z, class of '17, now writes a column about kink for The Stanford Daily. Her identity is well known on campus. She is one of a few semi-out kinky students in the country.
And yet it is not hard to see why in our doxxing-happy age, students stay in the kinky closet. Across the country, these clubs' new visibility has led to skirmishes as colleges worry about Title IX violations, sexual abuse scandals and other happenings of our age.
---

A dark-haired Columbia graduate wished that when he first came out kinky he had been less ardent in "making everyone a victim of my enthusiasm."

---
In the spring of 2014, Dickinson College closed its kinky club, SPANKK (Students Promoting an Active Network to Kinky Knowledge), after their insurer, United Educators, said that such a club threatened the institution's insurability.
"If you're teaching someone how to safely asphyxiate someone you cannot insure it," explained Dickinson general counsel Dana Scaduto.
No Dickinson students responded to emails requesting interviews.
In August, The College Fix reported that the University of Chicago student government had a few months earlier unanimously approved $300 for the school's kink club, RACK (Risk Aware and Consensual Kink), for trial memberships at a local dungeon. The president of RACK declined to say whether the university ultimately released the money.
So maybe the members of CV, who seem at times to take cues from Edward Snowden, have a point. CV has come under fire many times. In 2006, after a reporter at the New York Daily News went undercover to expose CV, Ann Coulter appeared on Fox News to condemn it. "Someone who needs to join a club at college to find a way to have sex, probably not your lookers," she said.
But since 2012, CV has raised its profile, said the previous president, a 2014 graduate who wanted to be identified as Holli: "Before the last couple of years CV was more discrete."
Asked what problems she encountered while president, Holli said: "One class where someone was teaching wrestling and grappling, there was a little blood drawn."
The reporter did not see any blood at the conference that evening, just six students and three unpaid guests in a circle in a brightly lit room. They included alumni, undergraduates, graduate students, cis men and women, transgender, African-Americans, Asians, and whites. Some were regulars. Others were newbies.
"I don't care if only one person shows up. If we help that person, then I am happy," the president said, adding that around 25 people attend CV's weekly meetings and there are more than 100 on the email list.
Could the heavier attendance be related to the sensational subjects discussed at CV's weekly meetings (to which the reporter was not invited) including breath play, fire play, Poly 101, knife play and "messing around with rope"?
"Those meetings are the same as ConsentAware," the president said, later explaining that they meant that both forums provided a safe place for kinky students.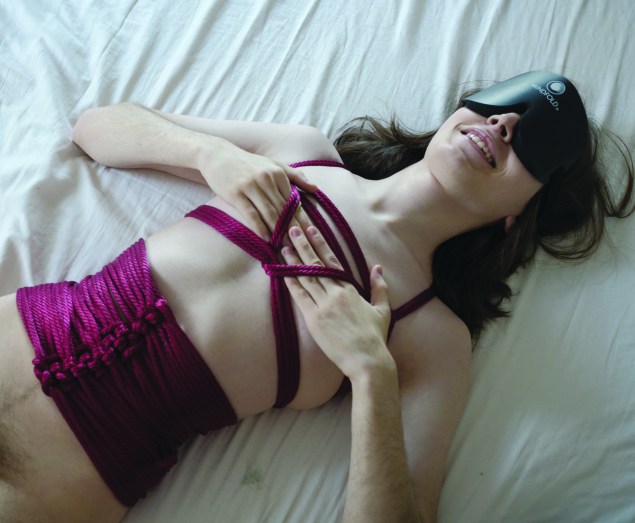 The president ran through CV rules. First, anonymity. "If you meet someone on the street, don't say you saw them at the kink club." Second, beware of con artists and abusers: "Some people project consent positive but they're not."
The first presentation of the evening was supposed to be a panel discussion on LGBT and kink discrimination. But there had been some illnesses. So the president read the first-person account of a kinky friend who had been taken advantage of in a kinky setting. Then they read a personal statement about coming out as transgender person.
"There is no word for transgender in my country," concluded the president, adding that they feared for their safety when they returned to Eastern Europe.
Then around the circle so the kinksters could share their ideas about consent: A pretty, longhaired female graduate student wearing a green silk mini-dress declared passionately that "consent should be ongoing and asked throughout" any sexual experience, although she did not explain how that would work.
A dark-haired Columbia graduate wished that when he first came out kinky he had been less ardent in "making everyone a victim of my enthusiasm."
A guy who looked like Adrien Brody wanted "to see what happened."
The first guest speakers, Lucky Sevven and slave athena, (lowercase a because she is a slave), set up their chairs in the middle of the circle to model what the three-page program described as the "positive benefits of deep consent." One of those benefits was immediately evident. Mr. Sevven, a portly, bald 50-year-old, kissed slave athena, a gorgeous 27-year-old woman in a tight black dress.
The couple met on Reddit personals when slave athena was getting divorced. Mr. Sevven gave her an assignment: Read his blog post explaining how to say no so that when she said yes, she would mean it. He was the model of support, encouraging her to take a self-defense class and to date other men, not all of whom had read his "know no before you say yes" post.
One of these ne'er do wells touched athena harder than she would have liked. He did so so hard that she had to use her safe word, she told the audience, outraged at the memory of his indifference. [Note to reader: This convoluted syntax regarding light touching and "so so hard" is deployed because I had to avoid using the word "tickled" for reasons I can only explain over drinks.] But athena, who identifies as a feminist, also said her grandma didn't understand why she left her husband, a good provider who didn't cheat or abuse her.
"That's like saying, 'Your pizza has spiders on it. You should eat it,' " said the evening's final speaker, Andy Izenson, a genderqueer lawyer from the firm of Diana Adams Law and Mediation, a Brooklyn-based firm focusing on family law for non-traditional families. Mr. Izenson, who graduated from Skidmore College in 2009, and wore earrings like the ones Rooney Mara wore in The Girl With The Dragon Tattoo, began his spiel with a warning: Kinky people had to be more vigilant about policing abusers: "Everyone is afraid to make BDSM look bad," he said, adding that bad things do happen there, just like everywhere.
Mr. Izenson was there to teach a theater improv he invented, "Yes, and/No, but," the point of which was to model how students could "collaborate," as he put it, on consent in their sex lives. Students stood up and solemnly paired off to practice the "Yes, and" part, like square dancers doing a kinky do-si-do. The president tapped his partner's hand, forearms, shoulders, knees. "No erogenous zones were touched," they later said.
After about five minutes, everyone sat down. Mr. Izenson repeated the evening's mantra—that kink's intensity made consent even more important than it was for vanilla people: "If someone hogties me without my consent I will not be able to advocate for myself," he observed.
Then he lightened the mood: "Your eyebrows are stunning," he shouted across the room to the president, who had recently plucked theirs.
Consent informed every decision these students made. Asked if she would speak to a reporter, an undergraduate in a black T-shirt had to ask her "people." She would not consent without her master's consent.
Rachel Shteir is the author of The Steal: A Cultural History of Shoplifting