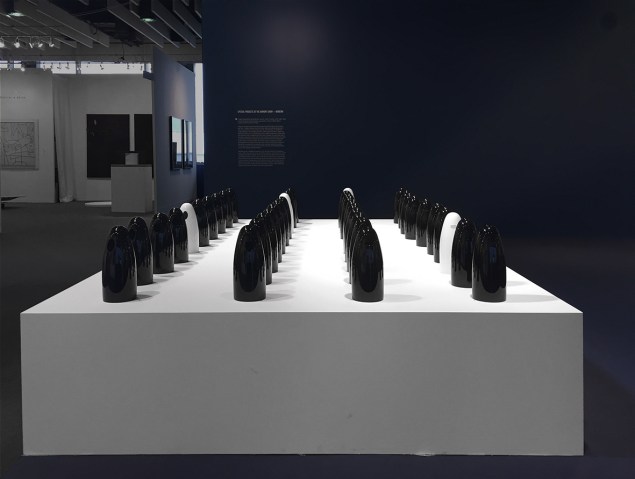 Looking like painted artillery shells from a distance, forty sleek, black and white forms displayed on a stark white plinth in the middle of the Armory Show Modern take on a more innocent appearance when seen up close. Modeled after veiled women in the Middle East by Lebanese designer Carlo Massoud, Arab Dolls: Maya, Zeina, Racha and Yara is the first design project to be featured at The Armory Show.
"I wanted to show the beauty of the veil from a different perspective," Massoud told the Observer. "I wanted to represent it in a very slick and modern way—making the fabric solid and long lasting."
Lathed from wood and lacquered with either black or white paint, the dolls have varied openings in their forms that reflect the different types of veils worn by Arab women. In strict religious countries less of the woman's face is visible while in more liberal societies less of the face is covered.
"People tell me that they look like bullets, but I wanted to show that women are getting more power in the Middle East," Massoud said. They look like an elegant female army rising in strength while gaining more rights."
The white dolls, which represent a type of white veil worn in some Arab tribes, have gold leaf inside to symbolize the beauty that's hidden. There are fifteen series of the black dolls, which sell for $995, and five series of the white ones, that are priced at $1,990.
"It's very striking and controversial in the way that it speaks to women's rights in the Middle East, but it's very light in its presentation," Italian design professional Maria Cristina Didero, the guest curator for the project, told us. "The interpretation of the veiled woman as a container symbolizes that while she might look the same as others on the outside, internally each women is different."