Visitors to the Armory Show who stop by Ronald Feldman Fine Arts' booth will no doubt have the pleasure of viewing some of the most engaging work at the fair. But they'll also be confronted by the harsh reality that a mass extinction of species from our planet is well under way.
Artist, biologist, and environmental activist Brandon Ballengée collects original historic prints (such as works by famed ornithologist and painter John James Audubon) and delicately cuts away the images of animal species now extinct. His series "The Frameworks of Absence," includes prints that date from 1660 to the present (the oldest, he said, is a print of the Dodo), displayed in an assortment of wooden and gilded frames on the booth's painted crimson red walls. Each is paired with a placard that provides information about the print, including the artist, publication, and date it was printed, and background on the species, most importantly the year (and in some cases month) it ceased to exist.
The placards are titled as effigies; RIP Easter Wood Bison: After Mark Catesby, is a work by Mr. Catesby that dates to 1755 from the book Natural History of Carolina, Florida and the Bahama Islands. The Eastern Bison he so carefully rendered under a blossoming pink branch was nearly wiped out in the mid-1700s, but remained until the last one was shot near Charleston, West Virginia in 1825.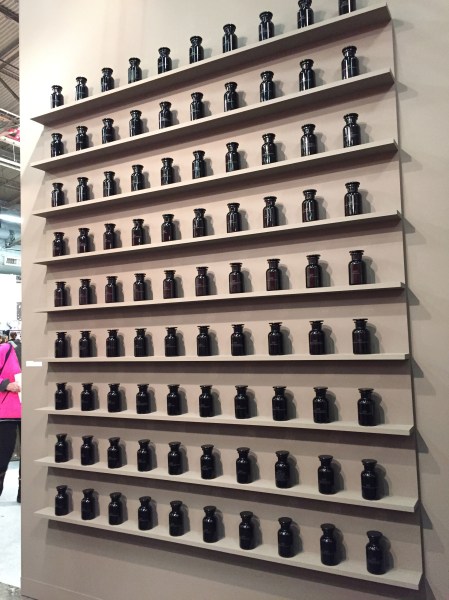 Once the image of a species is removed, Mr. Ballengée burns the cut out and bottles the ashes. Collectors who buy a print will also receive the ashes of the related species and are asked to scatter them. The works range in price from $6,000 to $15,000 each.
At first, Mr. Ballengée only blackened out the images of each animal, inspired by works such as Robert Rauschenberg's Erased de Kooning Drawing (1953), but "the image still remained a positive," he told the Observer. And there's no ambiguity left by cutting away the image, leaving only the negative space of an empty silhouette.
In his work as a biologist, Mr. Ballengée specializes in amphibians. He pointed out the most recently extinct species in the series during our visit. There is only Rabb's fringe-limbed treefrog left in existence (a death sentence for any species), and he lives at the Atlanta Botanical Garden. "I can't keep up with the number of frogs that are dying," he said.
See more images of the booth and Mr. Ballengée's work below: