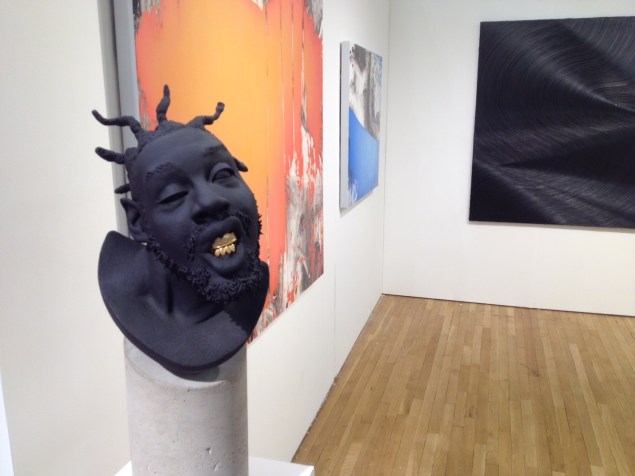 Dozens of buzzing VIP collectors and guests milled around the entrance to this year's edition of Pulse New York before its opening preview on Thursday, though it was unclear whether unbridled enthusiasm or the desire to get out of the snowy cataclysm outside was the culprit. By the time the doors opened at 10 a.m., lines for everything from coat check to brunch and (of course) selfies formed almost immediately.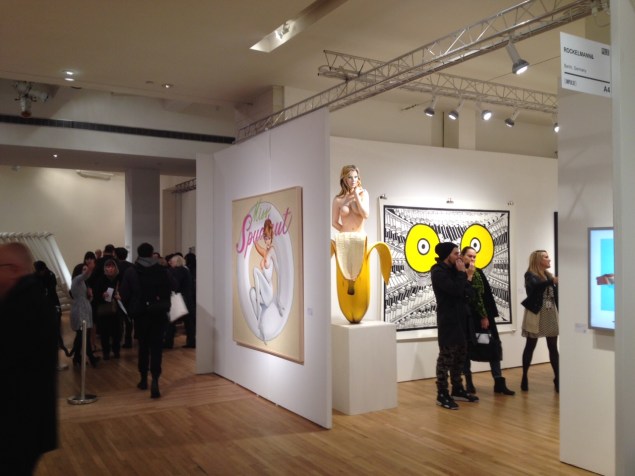 The Observer skipped the brunch line in favor of taking an early lap of the mercifully empty booths, and it's fair to say (get it? "Fair?") There were kitschy suitcase terrariums at Berlin's ROCKELMANN & Gallery and piles of knitted balls of yarn at Philadelphia's Inliquid gallery, but Brooklyn artist Osamu Kobayashi's serene, inviting color-block oils on canvas stood out at Mindy Solomon as a welcome reprieve. The artist creates warmth with thoughtful color juxtapositions that belie his arduous brushwork leaving a rippling effect on the canvas, explained gallerist Mindy Solomon.
"He's fighting with the paint," she told the Observer. They're going for $950 to $12,000 a pop.
Nearby, a clay Greco-Roman bust of deceased hip-hop artist Ol' Dirty Bastard drew lots of interest (and poorly staged smartphone photos). Artist Jeff Muhs went to great lengths to make the bust realistic, according to Deanne Shashoua, director of Lyons Wier Gallery, which represents the artist. Mr. Muhs even contacted ODB's dentist to get an exact mold of the rapper's teeth in order to create the sculpture's gold-leaf grill. It's bizarre, unlike Mr. Muhs' other work exhibited at Pulse, and totally different from anything else at the fair. It's priced at $19,000.
Pictura Gallery of Bloomington, Indiana had an apparent hit with its series of photographs by David Magnusson depicting fathers posing with their daughters, all of whom have pledged to stay virgins until marriage. Mr. Magnusson's series, titled Purity, took him to purity balls in Colorado, Arizona, and Louisiana. But the unsung hero of Pictura's booth is Joe Johnson, whose Two Homes is a simple, affecting image of darkened houses beyond tall grasses. His Tracks in Field is a blown-out white landscape with faint tire tracks running through the center, and the two presented together are lovely. Most of Pictura's images are priced at $3,200 each.