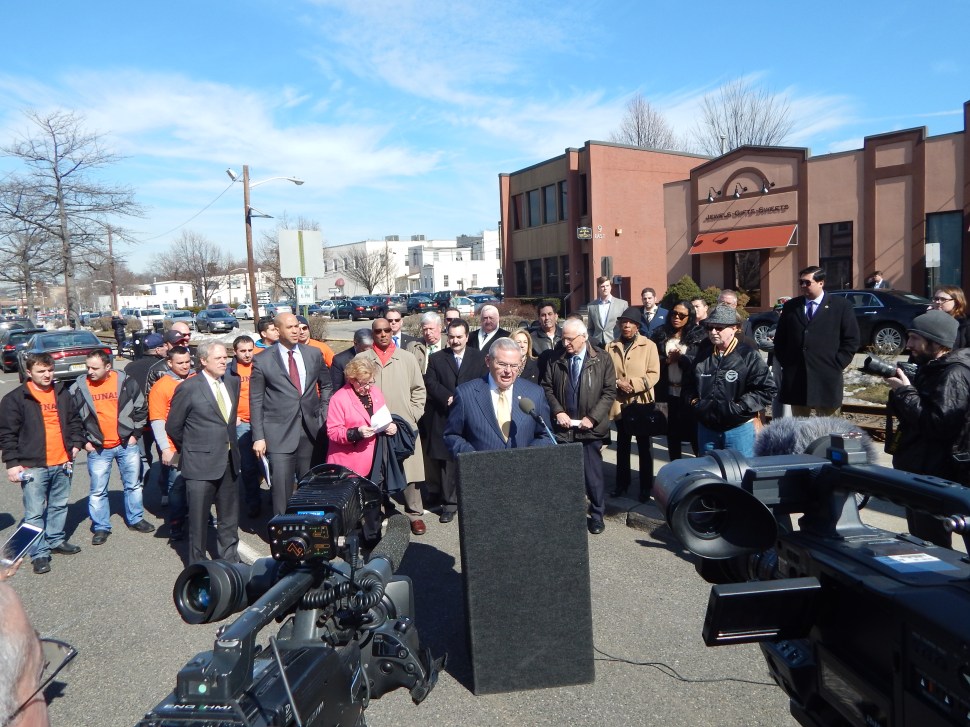 ENGLEWOOD — Voice projecting confidently over the noisy workday traffic, surrounded by a scrum of federal and state officials bearing chilly wind on a cold March afternoon, it was almost as if U.S. Senator Bob Menendez (D-NJ) wasn't a man days away from criminal indictment by the Department of Justice over allegations that he used his seat in Washington to illegally aid a personal friend.
And yet he is.
Allegedly.
A week ago, information leaked that federal prosecutors were preparing to smack Menendez, a ranking Democrat in Washington, with criminal corruption charges as part of a years-long investigation into his relationship with Florida optometrist Salomon Melgen. The news sent reporters and politicians into a frenzy, looking ahead to all the ways such an indictment might impact by proxy a whole host of other issues, from 2017's gubernatorial race to who might be selected as his replacement should the senator be forced to step down. Meanwhile, Menendez stood defiant, by all indications determined not to let the allegations get in the way of him going about business as usual.
Those charges have yet to drop, though (indeed, there is growing skepticism among many insiders as to whether there was any truth to them in the first place.) And in their absence, lawmakers in Trenton and Menendez's closest allies in places like Hudson County spent much of the last week pledging tentative allegiance to the embattled Democrat, or in some cases standing firm alongside him. Jersey City Mayor Steve Fulop, who long ago tied his fate to the Hudson County senator in a statewide race for the governor's seat in 2017, told PolitickerNJ that "anyone who is making assumptions about Bob Menendez based on a news story, clearly doesn't know the Senator."
That they've doubled-down on that support in the days since the initial news broke seemed the central underlying message of today's press conference, held off main street in this bustling North Jersey borough. Outwardly, it was meant to rouse support for a much-anticipated extension of the Hudson-Bergen Light Rail, north to Englewood and west to Route 44 in Jersey City, beyond where it now stops in North Bergen. But it was hard to ignore the obvious signals: that Menendez and his steadfast supporters won't be bullied by rumor, gossip, or, least of all, a scandal-mongering media.
"I have to say that when I was a mayor, and the challenges that I faced, Bob Menendez was my go-to guy," was the first thing fellow U.S. Senator Cory Booker (D-NJ) said upon stepping up to the podium, before laying it on thick. "I tell people all the time: the roads you're driving on, the schools down in Newark, the police department — every time we needed a new grant, needed new resources, Bob Menedez was there, appearing left and right to make sure he supported me.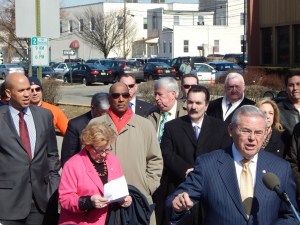 "I am honored now to be serving as his partner down in Washington D.C. I am the Robin to his Batman, the Starsky to his Hutch — on the bad days I'm the Laverne to his Shirley. But the bottom line is right now, I'm proud to fight with him for the people of New Jersey," he added.
With a crowd that featured the full roster of Hudson and Bergen County heavyweights, Menendez called on congress to approve long-term funding to repair and upgrade infrastructure across the country, specifically by passing legislation to replenish a depleted Highway Trust Fund, set to go bankrupt this summer. On the state level, other officials present — including Fulop, Booker, Bergen County Executive Jim Tedesco, Hudson County Executive Tom DeGise, Assemblywoman Valerie Vanerie Huttle (D-37) and Assemblyman Gordon Johnson (D-37) and Assembly Speaker Vinnie Prieto (D-32) — called on legislators in Trenton to pass funding for the state's Transportation Trust Fund, likewise set to go bankrupt this summer.
Menendez promised to appeal funding for the light rail project through congress' "New Start" program, which would match one to one with federal funds all money the state puts towards its construction. State Senator Loretta Weinberg (D-37) said Senate President Steve Sweeney (D-3) has committed to funding the project once the legislature, currently in the throes of debate around the issue, agrees to a sustainable funding fix for the TTF.
All, meanwhile, vented frustrations — some more loudly than others — over the dragging of feet among lawmakers in Washington and the state that is preventing either from meeting their transportation obligations.
"Are we waiting for our bridges to fall down while we're driving over them?" asked U.S. Rep. Bill Pascrell (D-9). "The fact of the matter is our transportation system is broken."
Later, asked about the timing of the event, Menendez said now is an opportune moment to "agitate" for the project, as both the federal government and the state are fast approaching funding deadlines for passing legislation to pay for transportation infrastructure upgrades. It was a refusal, perhaps, to acknowledge the obvious implication that the presser was also taking place just days after a DOJ leak surfaced with his name on it. Today was the first time Menendez has appeared publicly in New Jersey since his damage-control press conference last week.
Others approached on the topic were similarly unwilling to talk about the allegations.
"[The charges] aren't behind me and they're not in front of me," Weinberg said. "He hasn't been charged with anything."
It was, at the very least, a sensitive issue, exemplified by the back-and-forth Menendez had with one brave reporter who ventured to ask an off-topic question: has the senator been subpoenaed?
"Have you been supbeoned?" Menendez barked back. "Then I haven't either."