The Japanese are masters of taking elements of American culture and reimagining them, often to be even better than they once were. Focusing on the pursuit of perfection by the Japanese has resulted in many improved American cultural artifacts such as denim workwear, preppy style, jazz music, cocktails and even Wonder Bread, which the Japanese have breathed brighter, whiter, fluffier life into via a bread called shokupan.
So it's no wonder that in recent years, the characteristically Japanese focus on mastery has gained even more fans;  I'll be the first to proudly raise my hand and admit that I am one of this city's growing number of Japan-o-philes.
New York City's obsession with Japanese culture spreads far beyond just food and drink – it's the aesthetics as well. Take for example the recently opened Nalata Nalata store in the East Village, which sells a curated selection of Japanese home wares and has attracted a slew of hip lifestyle influencers Instagramming their way through the store. And ask any American denim designer worth their salt in the vintage Americana space and they'll tell you Japan is the market for inspiration trips – I've even heard it argued that the hipster style synonymous with Brooklyn was actually born in Japan and came full circle back to its inspirational birthplace.
Inspired by that obsession with Japan that I clearly share with others in this city, I decided that NYC's Japan-o-philes needed a way to celebrate the best of contemporary Japanese culture here in New York. Armed with an idea and blessed with the support of Sosh (a concierge app that picks out restaurants, bars and things to do for selective New Yorkers) I got the opportunity to curate and create Sosharu – The Japanese word for Social and a Japanese lunch series set inside a NoMad loft that would be totally transformed into a contemporary Japanese garden.
For this to be a true Melting Butter experience, I knew the focus would need to be squarely on curation – meaning the creative collaborators chosen would have to look and feel like an extraordinary all-star Japanese cast (remember it takes a lot to impress a New Yorker). I'm rather proud to report that this was definitely achieved!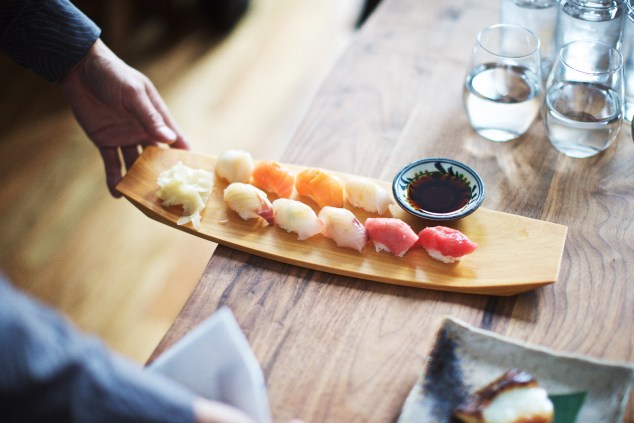 Sushi Yasuda, New York City's temple of sushi, gladly took the opportunity to present the restaurant in an unexpected environment and show us what real omakase is. This Japanese word has no literal translation but it means trusting in the sushi chef to present the finest and freshest of what he has on offer that day, combined with his instincts for what clients would most enjoy. If you've been to Sushi Yasuda before you'll know what sushi nirvana is but there's more to the restaurant than just eye-rollingly good sushi. There's a quiet emphasis that the restaurant puts on educating the next generation of sushi chefs and eaters alike. Those who are up to date with the restaurant biz in NYC know that Yasuda-san had rigorously trained his disciple Mitsu-san to take over as Master Sushi Chef, and Mitsu is of course paying it forward. But they also take pretty serious steps to gently educate diners about the traditions of eating sushi and how to get the most from their unique (to New York) style of omakase that moves beyond the usual "prix fixe" menu by taking consultation between chef and diner to tailor the ideal sequence of sushi.
So at Sosharu, we encouraged guests to interact with Chef Mitsu and the Sushi Yasuda staff to discuss their preferences and customize their omakase experience accordingly. Gentle, elegant sake pairings from Tengumai were expertly selected by sake sommelier Chizuko Niikawa (ex-Sakagura) to match Sushi Yasuda's distinctive rice style.
Then there was the visually arresting Japanese garden. I'd discovered cult plant artist Satoshi Kawamoto of Green Fingers New York and I knew immediately that we had to get his take on a contemporary Japanese garden – of course it would be perfectly wabi sabi and infused with his signature hand drawn typeface style. The result was even more transformative and striking than we had ever planned.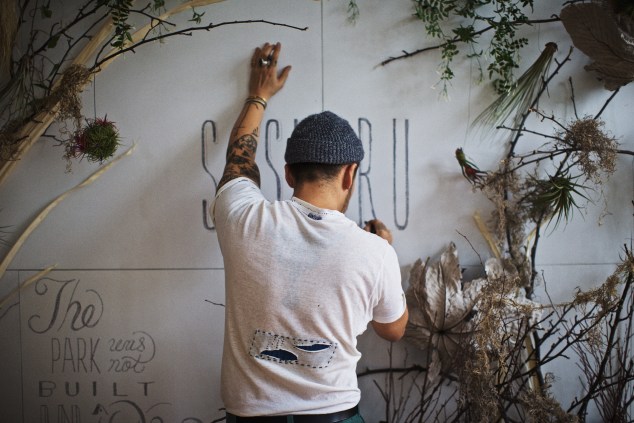 Tickets to Sosharu were available for purchase on Sosh and I also had the opportunity to invite the people who make up my ultimate garden party guest list. When fellow Japan-o-philes from indie magazines I worship like Cherry Bombe, Gather Journal, Trendland and Monocle came with food folks I've always admired (Peter Meehan, Camille Becerra) and mixed with inspiring Instagram folks like Alice Gao, Nicole Franzen and Jewels of New York, I was elated to say the least. Perhaps they had a similar reaction after a few sips of our picture perfect shiso leaf, cinnamon and cucumber cocktail which had been lovingly custom developed by 13th Street Cocktails.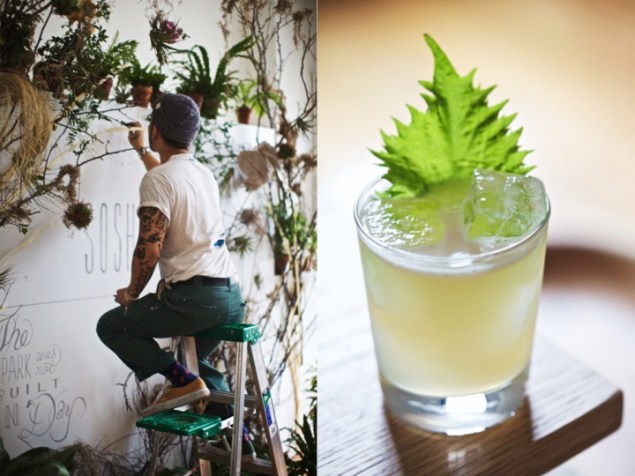 Japan-o-philes in NYC will rejoice at the news that this won't be the last event celebrating the best of contemporary Japan in New York. So if Sosharu whets your appetite for the flavors and aesthetics of Japan then be sure to get ready for our next event announcement.
Jenny Nguyen-Barron is founding editor of Melting Butter, a site that curates travel hotspots for the aesthetically inclined
SOSHARU ソーシャル Launch Event Time Lapse from Jenny Nguyen-Barron on Vimeo.