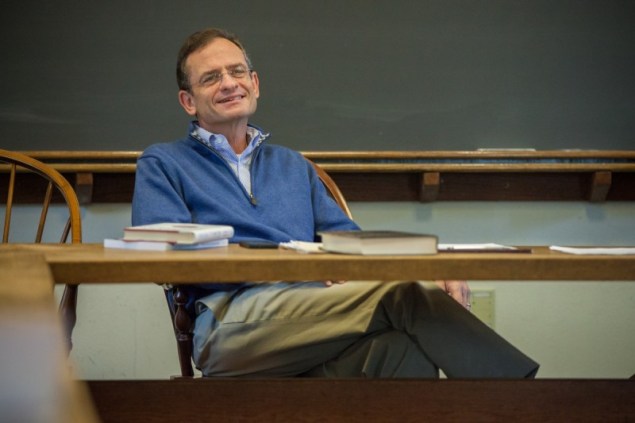 So, who is Daniel H. Weiss and what is he going to do to, or for, the Metropolitan Museum of Art?
The initial picture that is emerging of Mr. Weiss, from a couple of interviews he's done, and talks with people who've worked with him, is of a thoughtful, canny academic with a genuine love of art and learning, armed with a likable smile, a calculator, an agenda, and a perhaps a far-too-rosy outlook on how much he may be able to change the Met Museum culture in his new job as its president .
Museum blogger CultureGrrl (aka veteran Lee Rosenbaum) got the first in-depth interview with the new Met president following the March 10 announcement in the New York Times of his appointment. In it, he dances around a bit on goals, noting quite correctly it's premature —  he's continuing as president of Haverford College for some weeks — but does make a point that "In my career, I've done a lot of work around financial management, developing ways to deal with difficult, constrained budgets and doing deficit-reduction work."
The bottom line for the Met is, apparently, the bottom line: With a massive capital project planned that will, insiders fret, take years and cost hundreds of millions, a new building to staff, fill and bring up to Met specifications (The Breuer on Madison Avenue, being leased from the Whitney Museum of American Art) and simple operating expenses, even the tastily wealthy Met is going to be in need of funds.
Mr. Weiss said to Ms. Rosenbaum, for example, he is seeking a scenario in which "the financial people are working more closely with the curatorial people and the facilities people, to develop a greater shared sense of things." Well, good luck changing that century-old culture.
The former president's job seems not so much fund-raising (they will be hiring someone else for that) as smart, even perhaps ruthless, budgeting, working in tandem of course with Met director (and his boss) Tom Campbell.
How deep might he cut?
One might become quite queasy when he explains his solution—and how proud he is of it—to a problem he faced in his current job as Haverford president. The institution cut financial aid to its 1,180-student body, despite an annual cost, counting tuition, room and board and fees, of over $64,000. (A horrific total, but, to be fair, it's a pretty average one in the selective-college community). His arguably drop-in-the-bucket solution was to create an "endowed fund for debt relief [that] will provide resources for 30 or 40 graduates" who decide to go into non-profit world or cannot pay back their loans.
Of course, no victory, in this case Ms. Rosenbaum's journalistic one, is without controversy, and Michael M. Thomas, ex-Lehman banker, former Met curator, author and, for many years, a beloved columnist at the New York Observer, notes on Facebook "Quite entertaining to watch Lee Rosenbaum, aka Culturegrrl, softsoaping the Met's newly-named president Daniel Weiss in what some might interpret as a pretty transparent effort to establish herself as a go-to media outlet."
He thoughtfully concludes however "Good for her."
And Mr. Weiss' conclusion? "All of the things I've done relate to the ways in which one can develop and implement professional administrative standards in institutions that are mission-driven."
Which just goes to show he's already got the jargon down.