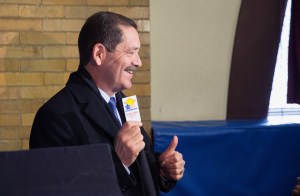 The runoff election for mayor of Chicago between incumbent Rahm Emanuel and challenger Jesus "Chuy" Garcia is a reminder of why it is so important for Hillary Clinton to have no serious opponent in the Democratic Primary for President. Ms. Clinton and Mr. Emanuel are not exactly similar candidates, and they are running in different kinds of races. Mr. Emanuel is a divisive incumbent who has had a very controversial first term, while Ms. Clinton currently holds no elective office and was generally seen, particularly within the Democratic Party, as very successful in the last job she held.
There are, however, some interesting similarities too. Both are party insiders, deeply aligned with the establishment wing of their party. Mr. Emanuel is one of the few Democratic politicians who has spent close to as much time as Ms. Clinton strolling the corridors of Democratic power. Before getting elected Mayor of Chicago in 2011, he worked in the first Clinton campaign for President, held a series of high-level jobs in Bill Clinton's administration and served as Chief of Staff to President Obama for several years. He also found time to make a small fortune working as an investment banker between his time in the Clinton White House and Congress. Mr. Emanuel and Ms. Clinton are both extremely prolific fundraisers.
But Mr. Emanuel's résumé, political connections, money and even campaign events with President Obama could not get him to 50 percent of the vote, the figure needed to avoid a runoff, in the first round of Chicago's nonpartisan electoral system last month. There are many possible explanations: Mr. Emanuel's combative personal and political style, racial politics in Chicago or his decisions to, among other things, close 50 schools that had heavily African-American and Latino student bodies. However, a more accurate explanation for Mr. Emanuel's failure to win in the first round is that he was too conservative for a left-of-center urban electorate like the one in Chicago. This dynamic cannot be too unfamiliar for anybody that can remember the collapse of Christine Quinn's campaign to become New York City's mayor, in the face of a challenge from the left, in 2013. Although Andrew Cuomo withstood a spirited primary challenge last fall from lefty Zephyr Teachout, he is a similar kind of candidate.
It would be wrong to read Ms. Quinn's defeat, Mr. Emanuel's inability to avoid a runoff and Mr. Cuomo's failure to drub an obscure candidate with no money as part of a political pattern that threatens Ms. Clinton, but it would also be wrong to ignore these events altogether when thinking about her campaign. All three of these politicians, like Ms. Clinton, are centrist establishment Democrats who have been political, and party, insiders for at least a quarter of a century.
Over the last several decades, the Democratic Party may have moved towards the left as conservative southern factions, represented most notably by Bill Clinton in the 1990s, have receded, but Ms. Clinton has also moved rightward, particularly on foreign policy. Fortunately for Ms. Clinton there is no apparent equivalent of Jesus Garcia. For Ms. Clinton, the lesson from Chicago is the same one she learned in 2008, if a dynamic progressive candidate can put a campaign together, superior fundraising and connections cannot make up for being out of synch with the base.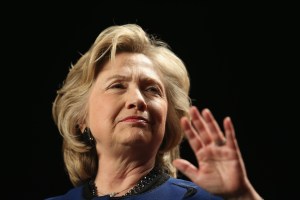 Mr. Garcia has not yet won the runoff, and unseating an incumbent, particularly one who is as skilled as Mr. Emanuel at using all of the tools available to him, is not easy. Mayor Emanuel, according to the most recent polls, will most likely keep his job, just as Gov. Cuomo kept his; and Mr. Garcia, like Ms. Teachout, could prove unable to take down a powerful political insider with extremely deep pockets. That is probably the fate that will await whatever Democrat decides to challenge Ms. Clinton for the party's nomination.
In the longer term, however, the prospects for centrist establishment Democrats like Mr. Cuomo, Mr. Emanuel and Ms. Clinton are different. The same demographic changes that are hurting the Republicans nationally make it harder for Democrats who are decades removed from working in the communities they hope to serve to win. It is no accident that Mr. Garcia is Latino, a community that a few decades ago was all but irrelevant in Chicago politics, or that Ms. Teachout seemed to resonate better with younger voters. For candidates whose base of support skews older and whiter, regardless of party, this is not good news. The evolving story from Chicago is a reminder not that Ms. Clinton will lose, but that if Hillary Clinton becomes president, something that is not terribly unlikely, her victory will be a triumph for the Democratic past, not a harbinger of the Democratic future.
Opinion: Hillary Clinton Needs a Reverse Sister Soujah Moment
Lincoln Mitchell is national political correspondent at the Observer. Follow him on Twitter @LincolnMitchell.