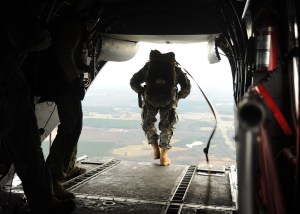 When I think about the power of fear, I often remember the Goon Squad.
Anyone who's been through SEAL training knows about the Goon Squad. In training, they'd make us run for miles—over the sand berm, down the beach, back again. After a few miles, an instructor would plant himself on the course of the run, raise his arm over his head, and let it hold there like some kind of guillotine. If you made it past the instructor before he dropped his arm, you were fine—but if his arm dropped before you reached him, you were in the Goon Squad.
We did not want to be in the Goon Squad. While the rest of the class jogged in a circle, the Goon Squad would do fireman carry drills up and down the beach, squats, push-ups in the sand. They'd crab crawl up and over the sand berm and back again.
I remember one run; I was feeling weak and dehydrated, and I was running behind where I would have otherwise been. I wanted to be a leader, I wanted to be a top-of-the pack trainee. I wanted to be a guy who pushed myself. None of those thoughts helped. I was smashed. But then one of the instructors mentioned the Goon Squad and I took off. I passed one guy, two, three. I remember thinking, "Fear works."
Fear can make human beings do amazing things. Fear can help us see our world clearly in a way that we never have before. And there are times in our lives when it is absolutely right that we should be afraid.
---

Imagine hardship. And then, imagine how you'll make it through. When you do this often enough, you will begin to build resilience.

---
A good teacher will not only want his students to succeed: he will fear that he might fail them. A good doctor will not only want her surgery to succeed: she will fear that she might fail. If you take responsibility for anything in your life, know that you'll feel fear. That fear will manifest itself it many ways: fear of failure, fear of embarrassment, fear that you won't be able to achieve results, fear of…
Don't run from those fears—recognize them as proof that you've chosen work worth doing.
On the other hand, if you come across a person or a team without fear, there is a good chance that you've run into ignorance or apathy. You've run into someone who doesn't know enough to be afraid or doesn't care enough to be afraid. In a culture that prescribes pills by the millions to reduce anxiety, we should remember: someone who has entirely lost his or her fear has also lost his or her sense of responsibility.
I much prefer the thinking of Viktor Frankl, the great psychiatrist who survived slave labor in Auschwitz and came to see that his anxiety played a major role in keeping him alive: "Mental health," he wrote, "is based on a certain degree of tension, the tension between what one has already achieved and what one still ought to accomplish, or the gap between what one is and what one should be."
That's healthy fear: it's a fear that we embrace and use. Of course, there's also destructive fear: the fear that clouds our vision and drives us to do stupid things. I've found that one way to control destructive fear, to put fear to work, is through a practice the Stoics called the "premeditation of evils."
Try this:
Take a look at what's making you anxious, and
Then multiply it by ten—imagine the very worst that can happen.
Now, imagine how you are going to make it through hardship to success.
In the SEAL teams, this is called contingency planning. What will we do if we hit a landmine? What will we do if we take a casualty? What will we do if the target house looks like it's been abandoned?
What will you do if you get up to speak and can't find your notes? What will you do if you lose a customer? What will you do if an investment falls through?
Fear, used well, can help you to prepare. Fear, used well, can sharpen your mind. Fear, used well, makes you better, because you become ready to face whatever comes, because you've already been there before.
---

You're afraid? That's good. You should be. It means you're doing something hard that you care about. Use your fear well.

---
Next time you find your mind running in circles of fear, don't try to push the fear away. Engage with it productively. Don't imagine yourself stuck in your worst-case scenario, panicking and flailing in an endless loop of disaster. Imagine hardship. And then, imagine how you'll make it through.
When you do this often enough, you will begin to build resilience. I've worked in some of the world's worst situations—with refugees who survived genocide, with children who lost limbs to landmines, with veterans who've lost limbs and—temporarily lost hope. Not everyone makes it through such hardship, but many do. You can make it through. But to do so, you need resilience.
The premeditation of evils isn't a self-indulgent fit of worry. It's a controlled examination. And when we do this, we often find that many evils are hugely inflated by our fear. We realize that we can face and defeat them. And when evils meet us—which they will—we can meet them not in a state of shock, but with practiced readiness.

Both a panicked mind and a resilient mind will engage with fearful, anxious thoughts. What makes the resilient mind different is its ability to direct those thoughts productively. The aim in life is not to avoid struggles, but to have the right ones—not to avoid worry, but to care about the right things—not to live without fear, but to confront worthy fears with force and passion.
You're afraid? That's good. You should be. It means you're doing something hard that you care about. Use your fear well.
Your Own Frontline: A Navy SEAL's Guide to Building Resilience
Eric Greitens is a Navy SEAL, Rhodes Scholar, boxing champion, and humanitarian leader. This piece is drawn from his recently published book, Resilience. The founder of The Mission Continues and the author of the New York Times best-seller The Heart and the Fist, Eric was named by Time Magazine as one of the 100 most influential people.