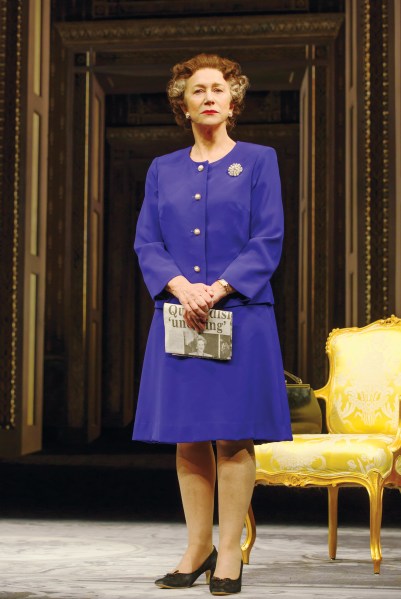 The week's new Broadway openings run the gamut from A (The Audience) to F (Fish in the Dark). First, the glorious Helen Mirren is nothing less than majestic, once again, as Queen Elizabeth II in the triumphant transfer from London of the disarming award-winning play by Peter Morgan, who also wrote The Queen, a film that won the star a coveted Academy Award in 2007. Can a Tony award be far behind? It won't take Merlin to predict that kind of magic.
Already laden with awards across the pond, The Audience takes us candidly behind the scenes of Buckingham Palace for an exhilarating view of the Queen's famous, informal weekly teas with her exalted prime ministers, 12 of them in all in the 63 years since she was crowned. I might have missed something because I only counted 10. No Edward Heath or Alec Douglas-Home, and only a brief visit from Tony Blair that is almost a walk-on. (He was not one of her favorites, and she wasn't always diplomatic about it.) 
But the others arrive, in no particular order. The play never bothers with chronology. They're all over the place, skipping decades, but from Mr. Morgan's astute writing and Stephen Daldry's lively, keenly observant direction, we learn a lot about England's affairs of state from them all. Each prime minister is introduced by a starchy Equerry (Geoffrey Beevers) who also administers to Her Majesty's personal needs and turns his head whenever she is undressed and readjusted according to age, wig and gown by her ladies in waiting. He sets the tone, maintains order and serves the biscuits.
Unlike Mr. Morgan's great play Frost/Nixon, the private audiences between Elizabeth and her PMs have never been recorded, so we can only marvel at the mixture of accuracy and speculation that makes the playwright's dialogue so riveting (and funny). In 1995, when John Major (a perfectly dowdy Dylan Baker) expresses sadness over his lack of personal magnetism ("When I walk into a room, heads fail to turn") the Queen says, "How wonderful!" showing a rare sense of humor about the luxury of anonymity. A moment later, in a younger hairstyle and slimmer waistline, she is learning discipline from one of the first audiences in her monarchy with none other than Winston Churchill (doughy Dakin Matthews). Through it all, we now know that what she carries around in that purse that seems permanently attached to her arm is not a ham sandwich, as Joan Rivers always joked, but a hankie for an occasionally weepy prime minister.
It is obvious that her favorite was Labour Party leader Harold Wilson (an excellent Richard McCabe), a simple Oxford don who eschewed all semblance of pageantry and never hid his intimidation by palace luxury. He insulted the Queen by insisting the ruling class was outdated, then asked her to pose for photographs taken with his Polaroid camera. His wife hated her new life in London, but the Wilsons were among the few people the Queen ever honored by inviting herself to dinner at 10 Downing Street.
She falls asleep when the boring David Cameron (Rufus Wright) drones on about Barack Obama. She shows remorse for bombastic Gordon Brown (Rod McLachlan) whose power was weakened by bouts of serious depression. Did she really plead with arch, pretentious Anthony Eden (an aristocratic Michael Elwyn) not to go to war over the Suez Canal? Did she demonstrate liberal leanings by toning down Tony Blair's passion for declaring war on Iraq? Despite the author's questionable liberties, the years of her relationships with her prime ministers reflect a portrait of the growth of her monarchy through the heart of a decent woman born to protect her subjects above and beyond the call of duty. During intermission, the footmen even stand at attention, like the guards at Buckingham Palace.
In Act Two, Lilibet (Churchill's nickname for her) moves to Balmoral, her country estate in Scotland, where the heat from the open fireplace is supplemented by an electric heater purchased from Woolworth. Here, in the cold and rain, we meet a more casual monarch in her kilt, red cardigan and sensible shoes, walking her corgis and playing solitaire. We see her photographed by Cecil Beaton. We are invited guests at her coronation. We see her nursing a nasty cold with a hot toddy, outraged by Princess Diana's public criticism of the monarchy as "outdated" and baffled by the public demand that the royal family pay income tax. ("But that would make us like everyone else!")
And finally, we see her invaded by a thorny Margaret Thatcher, played by a thickly, prickly Judith Ivey in a scene that crackles with vitriol and leaves you breathless. Two great actors who thrust and parry with so much flame and force are double jeopardy. From start to finish, Helen Mirren explores every subtlety, every physical change, from young and svelte to elderly and thick, changing through wigs and waistlines, sometimes in full view of the audience. There are two audiences here—the prime ministers and the customers. Ms. Mirren gives them their money's worth, with plenty of change left over. She is miraculous, and The Audience is a royal evening indeed.
*** *** ***
Larry David, the alleged comic, actor and writer is to me one of the unexplained artifacts of show business. I used to stare blankly at his scowling, grumbling curmudgeon act on TV's Curb Your Enthusiasm and wonder if the world had gone mad, or was it just me? The popularity grew into a cult following marketed for the residents of assistant living institutions. Now he's on record grousing about how much he hates the theater, and with a new Broadway horror called Fish in the Dark, he proves it. This senile playwriting debut, a poor and embarrassing excuse for the kind of Jewish humor that went out of fashion with Gertrude Berg, arrives at the Cort bursting at the moldy seams with embalming fluid.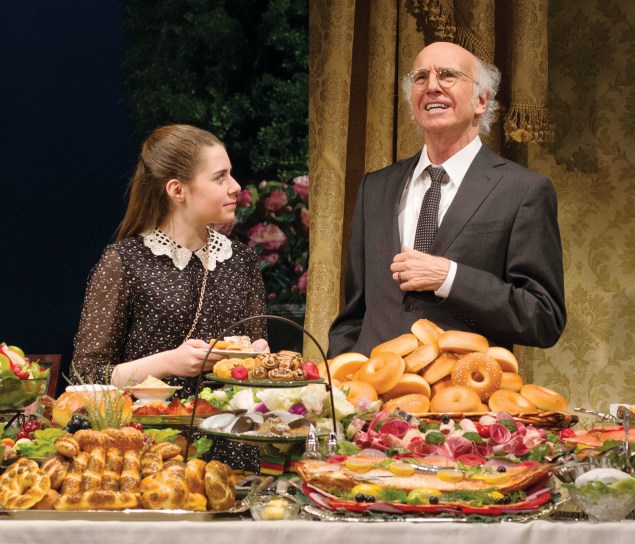 His 85-year-old father has a stroke and a Los Angeles urinal salesman named Norman Drexel (impersonated by Mr. David) tells his wife Brenda (a hopelessly misdirected and woefully misguided Rita Wilson) he's not really upset but there's only one thing that will make him go back to sleep. She says, "Shall I leave the room or just turn my back?" These are the jokes and there are more, none of them worth repeating. It's a vehicle, so it fits Mr. David's acerbic, grating personality perfectly. He can confess he has "zero ventilator experience" and the audience falls apart.
The old man is not expected to live, so the whole family shows up at the hospital and makes as many jokes about dying they can think of. Before kicking the bucket, the old geezer demands that his two sons ask their mother, Gloria Drexel (hefty and usually hilarious Jayne Houdyshell), to move in. Younger brother Arthur Drexel (Ben Shenkman) is appalled. His peroxided bimbo girlfriend Michelle (Jenn Lyon) threatens to move out. His daughter Jessica Drexel competes with her Uncle Norman to write the eulogy. The funeral and California groaning board full of indigestible fried food separates Norman and Brenda's daughter, Natalie Drexel (Molly Ranson), who speaks in a cockney accent because she's preparing to play Eliza Doolittle in community theater, and her hippie boyfriend (a wasted Jonny Orsini, who was so good in The Nance in better days).
Meanwhile, there's Grandpa's brother Stewie Drexel (Lewis J. Stadlen), Grandpa's sister Rose (Marylouise Burke) and her husband Harry (Kenneth Tigar), who wants Grandpa's Rolex watch, as well as a Puerto Rican maid named Fabiana (Rosie Perez) who claims the dead Drexel patriarch was the father of her illegitimate son Diego (Jake Cannavale). Those Drexels are a dreary lot, so ruthless and hateful they even hire Diego to pretend he's Grandpa so he can bed the widowed Gloria and give her a fatal heart attack, thus solving the housing problem. It's as funny as a case of syphilis in a monastery.
Directed by Anna D. Shapiro as though she's lobotomized, Fish in the Dark is bereft of energy, and so is the star. As a bogus playwright, he doesn't have the wit of Woody Allen or the inescapable clever punch lines of Neil Simon. As an actor, he seems tentative, with a faltering voice that fails to project beyond the first row of the orchestra. Sometimes he laughs at his own dialogue. But for audiences who expect nothing more from a night out than a few ossified jokes rescued from the garbage cans at Grossinger's, willing to settle for a few nibbles instead of a full menu (at these prices!), Fish in the Dark is asinine enough to satisfy.