Amanda Filipacchi believes "beauty is a deadly weapon." In The Unfortunate Importance of Beauty, published by W. W. Norton & Company last month, she writes: "You must treat [beauty] like a personal handgun—keep it hidden, handle it with care, and never point it at people, not even in jest, unless you intend to use it."
Part murder mystery, part satire, part meditation, Ms. Filipacchi's book has also been called a modern fairy tale.
In fairy tales, witches are disguised as beauties, beautiful queens dress as hags, and an ugly toad might be a kiss away from transforming into a handsome prince. Ms. Filipacchi poetically plays with the beguiling themes of transformation, desire and disguise, all in the name of love.
Her drop-dead gorgeous narrator, Barb, the name plucked from Mattel's Barbie, makes herself grotesque with a fat suit and wig to see if men will like her for her personality. "It is much more difficult to make yourself beautiful than to make yourself ugly," Ms. Filipacchi told the Observer in a recent interview. "To make yourself beautiful, you need something more powerful than a disguise; you need transformation, and preferably of the supernatural kind." Barb's best friend Lily, a hopelessly homely pianist, composes manipulative mood music that has the supernatural power not only to create desire, but the illusion of extreme beauty.
"Even though a real, life-size Barbie doll might actually be ludicrously proportioned, my Barb is a 'perfect Barbie doll' come to life," said Ms. Filipacchi, who added that Barbarella was her other visual reference. "Female beauty, in movies at least, seems to cast a sort of spell on men … On a subconscious level I think my novel had to have been inspired at least in part by my favorite French fairy tale, Peau d'Âne (Donkey Skin). Perhaps it's because of this fairy tale that I've always loved the idea of great beauty hidden in ugliness."
Ms. Filipacchi explained that it's the story of a beautiful princess (played by Catherine Deneuve in the 1970 movie) who disguises herself with the skin of a donkey to mask her beauty to avoid an unwanted marriage.
Although Barb is using her off-putting costume to weed out the shallow guys, it's ultimately her looks, at first anyway, that get the man.
"Plenty of people have committed suicide over unrequited love—love that was undoubtedly often based in large part on looks," said Ms. Filipacchi, who wore glasses and no makeup in her new author photo as if to defy the adage, Boys don't make passes at girls who wear glasses.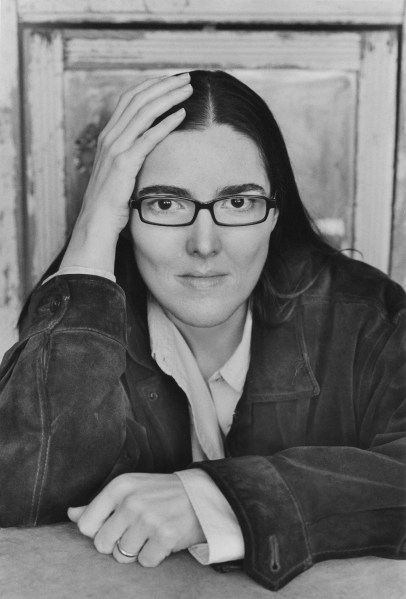 "My goal was to look like Jonathan Franzen," she said. "The cover of my book is very, very beautiful, a little more beautiful than I would have ideally liked." She told her editor, half joking, that she was going to march into the studio of Marion Ettlinger, the photographer famous for portraits of some of the world's most literary authors from Truman Capote to Raymond Carver and say, "Please make me look like a nun. Make me look like the opposite of this cover."
This is a whimsical conceit in light of the fact that her mother is Sondra Peterson, a former Ford model who appeared with other top mannequins such as Veruschka von Lehndorff and Jean Shimpton in the 1950s and 1960s. One of three new Ford models presented to a young photographer from Paris, it was ultimately her photo that attracted and landed her husband, even before she'd appeared on the covers of Vogue, Elle and Harper's Bazaar and been photographed by the world's most glamorous photographers from Irving Penn to Richard Avedon.
Did having a top model mom influence the book?
"My mother was a model, and Barb's mother was a model, and Barb is very beautiful and I'm not. That's all," said Ms. Filipacchi, who reflected on beauty in a candid essay, "The Looks You're Born with and the Looks You're Given" that appeared in The New Yorker last December. Here, she revealed that her mother suggested she have surgery to correct the eye that drifted inward when she was tired or daydreaming, and later advised her to have four of her permanent teeth removed when an orthodontist convinced them both that it would improve her jawline.
"It must be hard to have a mother who's that beautiful," an insensitive suitor once quipped. Needless to say, he did not turn out to be her soulmate. 
"I admire beauty, both the straightforward kind—possessed by my mother—and the more subtle, magical kind that is hidden in ugliness and emerges slowly, but only to some eyes," she wrote. "I've often been able to see great beauty in physical ugliness and have not understood why not everyone could."
Ms. Filipacchi said she had given up on ever finding love when she wrote her third novel Love Creeps (St. Martin's Press, 2005), which her agent initially found too dark. "My single friends loved it. The pessimism in the book regarding love was formed by my very negative experiences and relationships," she said. "The message of the book was 'love doesn't exist. It's a scam.' It was meant to be funny, a comfort for people who were in my shoes. I was 34 and because I'd been so unlucky in love, I was starting to lose hope. I imagine that beautiful women have men all over them, constantly courting them but I was not hugely popular with men. I don't have the easiest personality, I'm 5'10" and have a slightly unusual face," she said. Ironically, it was because of this book that Ms. Filipacchi found her Prince Charming, Richard Hine, whom she'd first met at a literary reading and only became intimate with him years later when she invited him to join the writing group she started while critiquing her love-despairing novel, Love Creeps.
"A big part of whether or not you find real love is luck. It was a complete miracle," she said of her 13-year romance. "It's like winning the lottery."
One of the things that made her feel most loved involved aesthetics.
"Richard was trying to decide which side of my face he preferred. 'You probably prefer the left side, but the right side is amazing, I love the right side,' " she recalled him saying. "The side that he preferred is actually the side with the bad eye that I don't use. It's slightly more closed than the other one."
One of her favorite photos is her avatar on Facebook, which was taken by Mr. Hine "at three in the morning in Paris reflected in a mirror window." The luminous image, with its unapologetic, love-filled gaze, has a dramatic femme-fatale sort of beauty, but Ms. Filipacchi credits any appeal to a trick of the light.
"I thought it would be my author photo," she said of Mr. Hine's portrait. "But because of the feminine book cover, I needed my author picture to counteract it. Also, it's really embarrassing to choose a fantastic author photo and then you show up at readings and people are shocked."
Finally, is the importance we place on physical beauty really unfortunate?
Ms. Filipacchi knows all too well. "What's unfortunate is both how much time we spend on our own beauty—time we could be spending far more interestingly and productively—and how much time we waste pursuing relationships with beautiful people, even if they have few other qualities that will make us happy."