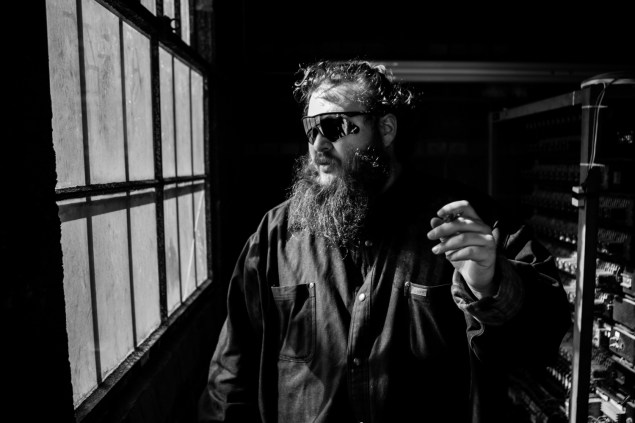 On the roof of Shady Records, a throwback to a grittier lower Manhattan with graffiti on the ledges and ventilation systems, Action Bronson inhales a blunt and jokes with his cohorts as though business is never work. He's relaxed—looking forward to a late lunch in the neighborhood—and his blue eyes are unaffected by the day so far when he takes his sunglasses off.
"I live in the moment and I reflect later," the man of the hour says when asked about the impact of the past few years. "When you're in the middle of doing something it's hard to reflect. But I've had time to look back at what I've done already and my thirst hasn't been quenched."
It's an unconventional success story, to say the least. The half-Albanian, half-Jewish vocalist, who was fired from his job as a New York Mets chef before pursuing an independent music and cooking career, is becoming one of the most talked about rappers on the East Coast. Since Bronson made a name for himself almost exactly four years ago, his lyrics have become increasingly sharp, his look (biiiig, bearded and orange) has become all the more untamed, and his tough public persona has turned, surprisingly, carefree.
---

'I've had time to look back at what I've done already and my thirst hasn't been quenched.'

---
The Flushing, Queens, native, who released his debut major-label album Mr. Wonderful on Monday, while continuing to host his popular online food show Fuck, That's Delicious, says he's thankful for the support of a record label and sponsors that allow him to do things his way. When it comes to recording and performing music, he says it's all about knowing which cooks to work with; rather than worrying about having too many cooks in the kitchen.
"There are a lot of ways to mess up if you're doing a big project with the wrong people," the 31-year-old rapper, known by family and friends as Ariyan Arslani, says. "I have a damn good staff with me. The premier pitching staff in the game in my eyes."
The well-endorsed Mr. Wonderful features production from many of the beat makers Bronson built his celebrity status with—the New York production duo Party Supplies, The Alchemist and Statik Selektah among them. The 13-track album's guest vocalists are all industry comrades, if not old friends, but at the end of the day no rapper on the roster is bigger than Bronson.
As expected, there's no shortage of media interest with Billboard, Pitchfork, and a buffet of hip-hop websites and magazines lined up to talk. Bronson appeared on ESPN's Highly Questionable in early March to promote his new album. His blunt and sarcastic responses resonated as always with fans, and the response on Twitter and Facebook made you wonder who benefited more—Bronson or the ESPN sports talk show. (Bronson has more than four times as many followers on Twitter at 235,000 and rising.)
It's a warm Monday afternoon less than a week later and Shady Records co-founder Paul Rosenberg, who now manages Bronson, as well as Eminem and the pop-punk band Blink-182, quietly walks into his office on the sixth floor of 151 Lafayette Street. Across the street, at eye level, is a several-story sign that reads: "Detroit Now Hiring."
Mr. Rosenberg, a Motor City-native known as one of the most powerful figures in hip-hop as of late, took Bronson under his wing one year after the Queens-bred rapper popped up. Bronson, who came out of left field with the raw independent release Dr. Lecter in March 2011, signed a deal with Warner Bros. Records' VICE Records imprint in the summer of 2012 with Mr. Rosenberg's help. Due to internal label politics, he soon moved over to Atlantic Records while staying under VICE.
---

'…I don't follow trends and I don't follow crowds. Having a record label increases my ability to reach new fans that appreciate that. Alone, I worked at reaching new people very diligently, but the label has access to that many more people.'

---
Inside Shady Records' headquarters, the security guard keeps to himself, and Bes, Bronson's everyday sidekick—on and off record and camera—gives a warm welcome. One of Mr. Rosenberg's staff members does the same, while Bronson heads up to the roof to get some fresh air.
Mr. Wonderful, his eighth or ninth release counting prior albums, EPs and mixtapes, is a project he calls a musical that evokes a similar feeling to watching Les Misérables. "It's captured moments," he says. "You get your trials and tribulations, your ups and downs."
To suit a more dynamic approach to making a hip-hop album, the LP features live instrumentation, including piano, drums and guitar, and a more melodious sound than his previous releases. The heftily built rap artist, in an unexpected move towards something different, sings on several tracks.
While Bronson has been showered with media attention over the past few years, his previous albums never garnered the big numbers that some of his industry peers have seen. Bronson's last release, the seven-song EP Saaab Stories with producer Harry Fraud, saw first-week sales of 7,600 copies in the U.S., putting it at No. 63 on Nielsen SoundScan's Top 200. For better or worse, those kinds of figures do not affect his drive, he says.
"I could never change the overall feel of my music," Bronson tells the Observer. "That's why people like me—I don't follow trends and I don't follow crowds. Having a record label increases my ability to reach new fans that appreciate that. Alone, I worked at reaching new people very diligently, but the label has access to that many more people."
The rising rap star has become a bigger presence overseas due to his continued success in the states. Bronson mentions recording for a stint in Copenhagen and entertains the idea of spending more time overseas in the future.
"I like London a lot and I like Paris a lot, too," he says when asked where he would record his next album if the world were an open venue.
"I want us to do a whole album in Albania," Bes chimes in.
"Who knows? Maybe Latvia," Bronson adds with a genuine laugh void of sarcasm. "It fuels deep, ethnic writing."
"There's something about Latvia in the spring," he starts to sing.
***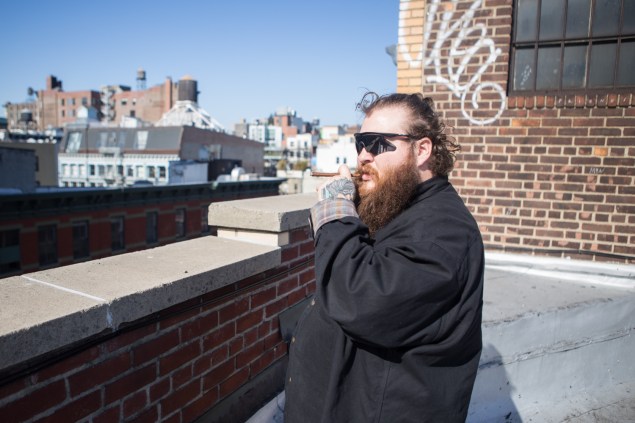 The Observer: What's Mr. Wonderful about?
Action Bronson: It's a musical. It's captured moments. In ways, it's like sitting down to watch Les Misérables. You get your trials and tribulations, your ups and downs. It starts off with a beautiful number that's driven by piano, guitar and heavy drums, from the onset letting you know I'm here and that daddy's got a brand new car.
This is your eighth music release if my math is right. What can fans expect to be different this time around?
This one is totally upgraded. There's a lot on it that's the total opposite of what I've done on previous releases. I think it'll be a pleasant surprise for those who are expecting more of what they heard before.
How long did Mr. Wonderful take you from start to finish?
I don't know exactly, but I've been working on it for about a year and a half. As far as putting it all together after I finished recording, that took six days.
What's your favorite song on the album?
"Terry." It just makes me feel good when I hear it. It makes me feel good when I perform it, too.
Your video for "Actin Crazy" is hilarious. What was the reason for showing the green screen?
Thanks man. We wanted to go in and out of it, kind of like the movie Cool World.
What kind of impact do you want the album to have?
The same thing every artist wants on any release. I want it to be the No. 1 album in the world. I want every song to be a major hit, even the ones with no hooks. You know, unrealistic shit.
I noticed that there aren't a lot of cameos from other big rappers and most of the features on Mr. Wonderful are people you've recorded with before. Was that just how it turned out or was that something you planned for?
I like to do things on my own with a tight-knit squad behind me. It's hard to go out on the road and perform an album with 30 people on it. It doesn't really work out.
Too many cooks in the kitchen?
It's more of an issue that not every cook can be in the kitchen at the same time. You have to know the right people to pick.
You're on Atlantic Records' imprint VICE Records now. Is that a long-term gig?
I'm signed up for this album and I guess they have a couple of other options that they could exercise, so we'll just have to see what happens. Maybe after this I'll be a free agent, who knows?
You used to be a chef for the Mets and now host a culinary web series called Fuck That's Delicious. What's the best thing you've ever cooked?
Some oxtails that I made one night. Fire oxtails for about seven people I know. I make good rice, too.
Do you think you'll always be tapped into that world of food?
Always. That's the world I wanted to be in from the beginning. Somehow I left my job as a chef and made it back into that world through music. And I'm not leaving.
You reference Queens in your music a lot. Do you worry about Queens losing some of its culture with what's been happening in parts of Brooklyn in recent years?
Queens is a very familiar place to me. Some parts of it are being touched. Other parts of it won't be affected as much, because they're rural and farther away from the hip places where people want to live. My area's pretty much safe in that regard. But New York changes every day. You've just got to adapt and change with it, or stay the same and be good at it. There are ways to be yourself and still adapt.
When you look at other hip-hop artists from their beginning to now, who do you still look up to in 2015?
Kool G Rap for sure. He never loses it. He might not get as much recognition among rap fans nowadays, but he delivers top-notch performances constantly. Method Man always gets better with age. Raekwon, too. His raps just get crazier and crazier.
What kind of music do you listen to the most right now?
I listen to a lot of rock—foreign rock, old rock, psychedelic shit.
Do you play any instruments?
In my mind I do.
[youtube https://www.youtube.com/watch?v=debIyWS6Byc&w=560&h=315]