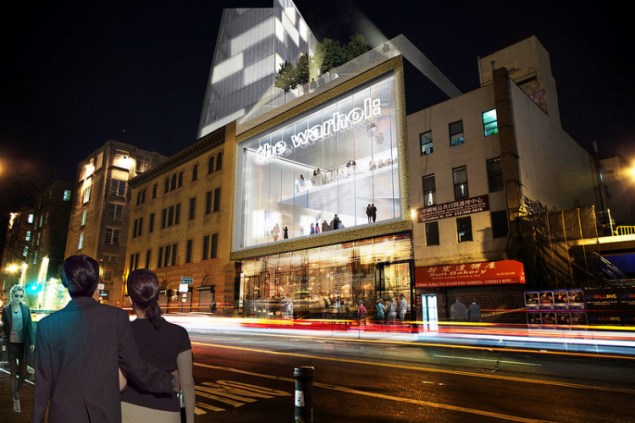 Sorry, fans of Warhol, and anyone who was trying to make bank off a flashy new museum coming to a gentrifying neighborhood. Nearly two years after announcing its plans to erect an outpost at Essex Crossing, the massive development that's set to take over a few vacant lots on the Lower East Side, Warhol Museum director Eric Shiner said the Warhol Museum's expansion to New York has been abruptly canceled. He was pretty vague about why plans for a 10,000-square-foot institution just disappeared.
""The Andy Warhol Museum, which had been exploring its participation in the Essex Crossing development in lower Manhattan, has determined that it will not proceed with the project," he said in a statement. "Despite the efforts of both the museum and the developers, an internal study of business and other operational considerations led the museum to this decision."
Mr. Shiner spilled the beans about the failed branch to the Pittsburgh Post-Gazette March 20, but because it takes news a week to travel from the dead steel town of Pittsburgh to the shiny tomorrowland of Manhattan, the art world just started to pick up the item today. So yeah, missed that one. Sorry, I'm not in the habit of reading Pittsburgh newspapers every morning. Don't care about the score of the Penguins game or whatever's fit to print over there.
All this is strange, because the museum's director has given every indication that this was totally still happening. At a dinner in Miami in December, he told a colleague that plans were "taking off," and discussed the museum in such a rapturous way, he inspired a headline that talked about "a Bilbao on the Bowery." But it was not "taking off"—it was, in fact, crash landing.
And overall, it's kind of a bummer, mostly because the plans were a legitimate factor in the shift of the gallery scene to the Lower East Side. Dealers would often cite the impending branch when discussing why they opened an east side outpost. But, ultimately, the museum would have been pretty disconnected from the small scrappy galleries surrounding it. Perhaps it would have stolen their thunder. I guess we'll never know.