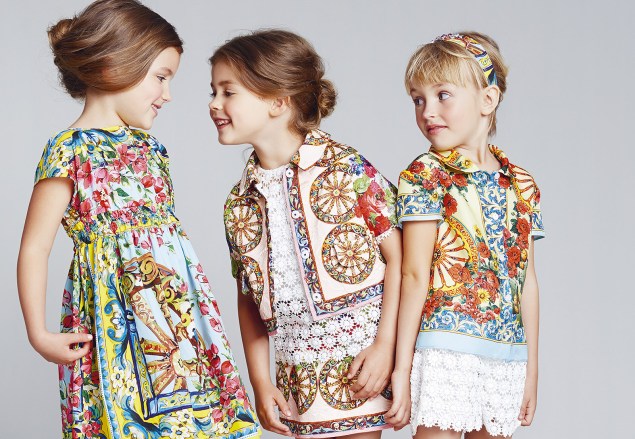 Twice a year, Rebecca Bernfeld lines up with hundreds of fellow New York parents for a sample sale held by Bonpoint, the French luxury children's brand. Thanks to an insider, Ms. Bernfeld is able to score VIP access and attend the sale one day early alongside notable New York mothers, such as fashion designer Rebecca Minkoff and socialite Julia Restoin Roitfeld.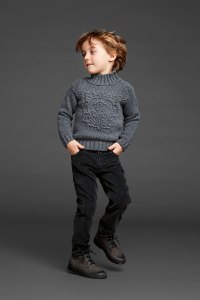 "Getting an invite is a bit of a 'situation,' but I Google the date of the sale three weeks in advance and then I make sure my name is on the list," said Ms. Bernfeld, who works in construction management and is an avid shopper both for herself and two young sons.
Even at 50 percent off, Bonpoint fetches almost $100 for children's dress shirts and pants and more for darling floral dresses, bloomers and cashmere sweaters. Ms. Bernfeld claims the level of craftsmanship, fabric and detail justify the dollars spent. She is not alone. The Bonpoint sale has become something of a local social event. It's a who's who of stylish city parents casually exchanging air kisses and credit cards as they fill shopping bags with Parisian-inspired wares for the next round of birthday parties and playdates. "Our customers are very sensitive to the mystery of 'French chic,' which Bonpoint really incarnated in French children's style," Sabine Brunner, the brand's chief executive officer, told the Observer. "It's not easy to copy."
---

Within the last month alone, designers Margherita Missoni and Karl Lagerfeld joined Stella McCartney, Gucci and Marc Jacobs in launching pint-sized collections that are trend-driven and cool.

---
Bonpoint is just one of the many brands offering high-end children's wear, and for good reason. Parents are spending a great deal of time and money elevating their children's wardrobes to match their own. Particularly in today's social media era, where North West and Blue Ivy Carter are documented sitting front row during fashion week in mini-me Lanvin and Alexander Wang, and where Instagram accounts like @FashionKids and @MonicaRoseStyle showcase the sartorial aspirations of the playground set, parents are more focused on their children's style than ever before. And the market is following suite. Within the last month alone, designers Margherita Missoni and Karl Lagerfeld joined Stella McCartney, Gucci and Marc Jacobs in launching pint-sized collections that are trend-driven and cool—a far cry from the onesies of yesterday.
"The business has completely changed," said Andrew Mandell, vice president of decorative home and children's wear at Bergdorf Goodman. "Almost all of our designers have amazing kids collections that we sell really well, which didn't exist before. For designers, it's an untapped market. From our point of view, people always spend on kids. It's recession-proof."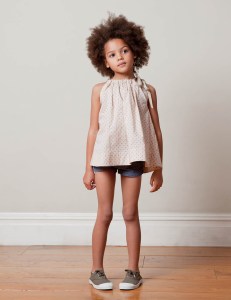 Bergdorf's top sellers include pieces from Oscar de la Renta, Milly, Dolce and Gabbana—whose dresses can climb into the $2,000 range—and puffer coats by Moncler and Canada Goose. "Children's wear used to be conservative, sweet and traditional," said Mr. Mandell. "We try to provide unique items that are sophisticated but still childlike."
For parents seeking the ultimate in fashion cloning, all they have to do is walk up Madison Avenue to find youth collections by heritage fashion brands like Ralph Lauren and Armani mixed with European labels like Jacadi and Bonpoint. Newer brands are also getting into the mix. British label Caramel Baby and Child touched down in New York in 2012 with the hope of becoming the next must-have label at Chapin and Sacred Heart. Isabel Mendoza launched ChildrenChic.com last April as a way to bring brands from her native Spain to the New York kids market. Not only does Ms. Mendoza sell head-to-toe looks on the site, but she also functions as a stylist for busy parents seeking something unique for trips to the playground.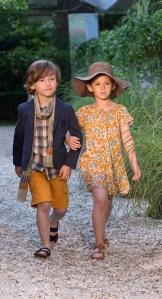 However, many parents who desire fit and quality balk at the idea of spending more than $60 on shirt that a toddler will soil within two minutes. Samantha Benson, a former fashion executive, launched her line Sammy & Nat last March on the premise that few brands cater to the in-between customer: Those who won't spend hundreds but don't want to sort through the dredge at buybuy Baby. "Baby collections were either really expensive or lacked the quality and simplicity I was looking for," said Ms. Benson, whose line features traditional styles like onesies and rompers made of Peruvian pima cotton that range from $22 to $60.
Savvy New Yorkers know they need not take out a second mortgage so their kids can look cool at recess. Even at mid-priced retailers, like Gap, Zara and J.Crew, "trend" is the new buzzword. "The juvenile products market is traditionally behind in terms of trend, but at today's trade shows, you hear brands talk about fashion and trend assortment," said Rachel Blumenthal, founder of online parent product hub Cricket's Circle. "I do think some parents view their kid's style is a representation of their own, but it can certainly be