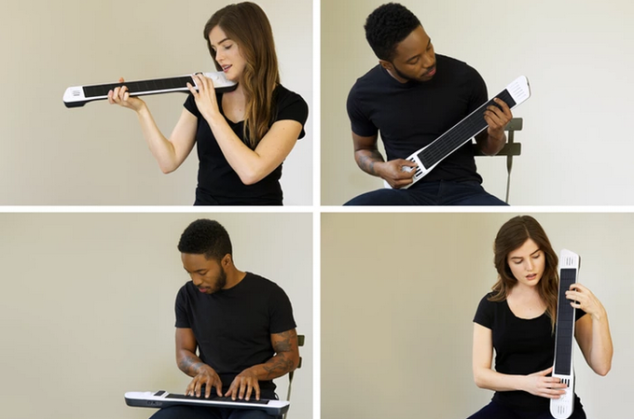 It's a guitar, a violin, a ukulele, a cello and a full drum set. It's also a clarinet, a flute and high tech DJ equipment. It can switch between a banjo and a piano in an instant, and if you want to strum but hear the sounds of cymbals instead, well, you can do that too.
INSTRUMENT 1, by a company called Artiphon, launched Saturday on Kickstarter. Within only six hours, the all-inclusive instrument was funded. To date, it's raised more than $599,000 (about eight times its goal) with 32 days still to go, already making INSTRUMENT 1 the most crowdfunded musical instrument in history.
"Eight percent of people play music regularly, but 80 percent of people want to," Artiphon founder and CEO Mike Butera told The Observer. "This is an instrument for everyday life."
INSTRUMENT 1 has everyone buzzing, so we chatted with Mr. Butera to hear the story behind all of the excitement.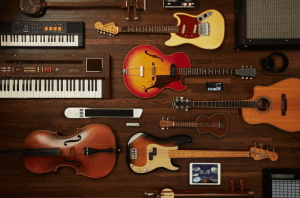 You have already raised almost eight times your goal, and with 32 days left. You must be over the moon.
This has been four years in the making. We've shown some prototypes over the years, but we've kind of been in secret mode, so going into the campaign, we didn't know how people would respond. We wanted it to be something that people could get behind and get inspired by, and I think that's what's happening, and now we're inspired.
How did you come up with the idea for the Artiphon INSTRUMENT 1?
I have a PhD in sound studies, and I did a lot of research in consumption: things like speakers, headphones, and Spotify—how people access music that's already out there. But I'm a musician, and I started thinking about what we can do to really innovate the idea of a musical instrument. Basically, the idea of traditional instruments is that you play them a certain way and they make a certain sounds, so there's a direct relationship between mastering an instrument and making specific sounds. I grew up playing violin, so it was years of trying to conform to the way the violin should be played. So the concept here is: what if we make an instrument that isn't just one thing—an instrument that could adapt to you and how you want to play on a whim.
Which instruments do you play?
Violin. As many string instruments as I can get my hands on. A little piano. I've been a touring musician. I like kind of dabbling, which was a lot of the inspiration for this.
Who will use this? Is it for children, someone who wants to learn to play several different instruments or is it for musicians?
I'm trying to build this as universal as we can. We've only been on Kickstarter for a week, but the feedback we've gotten from people is so inspiring. Kids who don't play, people who haven't played in decades, people who want to write songs, so it has actually been full spectrum. We've done testing with musicians and non-musicians and people approach it in their own way.
I don't know how to play any instruments. I could pick this up and make sounds that resemble a decent song?
If you know how to play, you can pick it up and strum a chord. If you don't, trying to play without being limited to a particular technique means you can explore different sounds. It's not necessarily about learning a particular technique or practicing scales; it's actually about just making music. It's about your intentions being translated into sounds.
The multi-use aspect is what makes this product amazing, but how will people react to the fact that it just isn't like holding a classic guitar or pressing piano keys? It's kind of like how I like the paper pages of a book and that's why I haven't bought a Kindle.
I do have a strong stance on that, actually. It does not take the place of any actual instrument. This is a new approach, and while it participates in traditional forms of instruments, it's a different way of playing.
What affect do you think the INSTRUMENT 1 will have on musicians, learners, the commercial music industry and music itself? Do you think this product has the potential to revolutionize music?
It's not about the product itself. We're actually doing this to make more music in the world. In the next couple of years, I think we'll see a lot of shift in the industry where people are encouraged to make what ever music they want to. And if that's no longer limited to labels and such, it can be immediate. We want that immediacy so people can make music for themselves. And if more people are doing that, new and different styles could emerge.