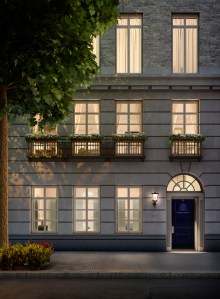 The drawbacks of living in a single-family townhouse in New York City are admittedly few: Creaky stairs, perhaps; or no skyline views; maybe the occasional odd draft. Yet, while they are long on charm, they can also be a bit short on convenience, an issue that developer Myles Horn ran into when he resided in a townhome years ago on East 71st Street with his wife and small children. "The one problem I had at the time was that we didn't have anybody to take care of the place," he said. "No doorman to leave deliveries with, no nothing."
Short of hiring live-in staff, there was no easy solution. But now more than a dozen completed and still-in-the-pipeline developments in Manhattan and Brooklyn offer an elegant way for townhouse dwellers to access the amenities of a full-service apartment building without surrendering their cherished privacy. The new-build, ground-up townhomes are physically linked to larger buildings—often in clusters, either adjacent to them or built in at their base, which some developers call "maisonettes"—rendering it easy for their residents to utilize the same services as the neighbors up in the 34th-floor penthouse.
To be sure, there have been a sprinkling of such developments over the years: The Loft at 30 Crosby in 2000, with three maisonette duplexes featuring private entrances along with 10 condo units; the Hubert at 7 Hubert Street, with its two three-story townhouses, as well as three maisonettes to go along with 28 lofts, to name just two.
But as demand for traditional townhouses has increased and supply has remained static, new-build townhouses are getting a second look from both developers and buyers.
"It [a townhouse linked to a full-service building] affords some luxuries that townhouse people yearn for," said Tom Wexler, director of townhouses at Corcoran, "like a doorman, a roof deck, a gym, garage services, and many types of amenities. One specific appeal for townhouse owners is that normally you don't have a handyman or someone who can watch over it while you're away."
Since this type of townhome makes up a tiny sliver of the already small townhouse market, new ones that emerge are very much in demand, something that Ed Baquero, the developer behind the Loft and the Element—a 35-story, glass tower complex at 555 West 59th Street that includes a row of five townhouses—discovered when he put them up for sale.
The latest venture from Baquero's firm, Corigin Real Estate Group, is 20 East End Avenue, a Robert A.M. Stern-designed 43-unit condominium with three townhouses at its base. (Baquero calls them "townhouses" rather than "maisonettes.") The building's sundry amenities include a wine cellar, game room, 24-hour doorman, attended motor court, and a fitness center and spa, while the 5,000-square-foot, four-bedroom duplexes with private entrances feature central staircases, airy rooms with ceilings over 12 feet, fireplaces and spacious landscaped backyards. The first one was recently listed for $12 million with Corcoran Sunshine and the other two will follow this spring. All will be completed by summer 2016.
While much new construction allows for street-level retail, Mr. Baquero opined that populating the bottom level of the 20 East End building with retail and banks would detract from its exquisite detailing: Handset limestone, midnight blue wooden doors and a granite water table along the bottom edge.
"We started looking at how to repurpose the lower levels without compromising the architecture," he said, as had also been done at 30 Crosby. Mr. Baquero noted that in the latter case, the marketing team originally recommended against street-level residential because, well, retail is valuable—and it was thought that no one would want to live on street level, anyway. "But in fact, those were the first three [units] to sell," Mr. Baquero recalled. "You're adding value to the overall environment of the building as opposed to having transient retail operations."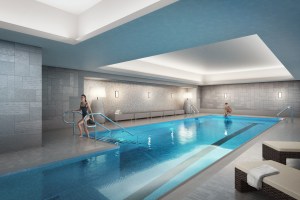 Of course, new-build construction often (though not always) means fewer size constraints. Witness Extell's 10,000-square-foot ultra-luxury townhouse on East 61st Street. The five-story, 35-foot-wide structure with a limestone façade sits next to the Carlton House building, which was converted from a hotel to a 68-unit cooperative (including the townhouse) last year. (The spot where the townhouse went up was originally a drive-through to a backdoor entrance.) Due to landmarking constraints regulating construction in the area, this turned out to be the perfect way to maximize the space, explained Elida Jacobsen Justo, director of sales at the Carlton House.
Listed at $65 million, it went on the market last year and is offered white box. "Most people in this price range have their own designers," said Ms. Jacobsen Justo on a recent afternoon while giving a tour. "They have specific tastes, as they should."
There are terraces on three levels, comprising more than 2,700 square feet of outdoor space; inside, a circular staircase winds its way up through the spacious high-ceilinged rooms where light floods in through floor-to-ceiling windows adorned with Juliet balconies. Some of the main building's amenities include a heated saltwater swimming pool, a fitness center and an on-site luxury attaché lifestyle consultant, not to mention a resident manager and full building staff.
The hybrid development model has also popped up in Brooklyn. A warehouse conversion at 51 Jay Street in Dumbo, by Slate Property Group and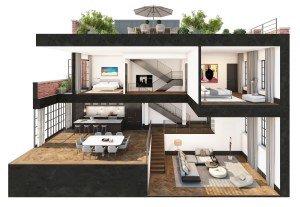 Adam America Real Estate, features a townhouse with a private entrance on Water Street in a 74-unit building with the usual array of amenities: 24-hour concierge, fitness and yoga room, children's playroom, lounge, rooftop terrace with outdoor kitchen. Managed by Halstead Property Development Marketing, the three-story, three-bedroom townhouse will go on the market by the end of the summer. And in Carroll Gardens, a group of 11 townhouses developed in association with 32 apartments at Sackett Union Condominium were delivered two years ago, and one of them—the three-story, five-bedroom townhouse at 294A Sackett Street, with an interior of over 4,000 square feet and a private rooftop terrace with a view of lower Manhattan—was recently listed by Sotheby's International Realty for $5 million.
Another unlikely site—an old gas station and car wash in Soho—is the site of 10 Sullivan, a future 16-story luxury condo tower adjacent a 100-foot row of four new townhouses designed to mirror the other townhouses on the quiet, tree-lined street, explained Kevin Maloney, founder of the firm behind it, Property Markets Group (working in partnership with Madison Equities). Modern but classically influenced, their features will include oil-rubbed Danish oak floors, backyard gardens and rooftop terraces, gyms and swimming pools in the English basements, as well as the tower's services, like a concierge, doorman and garage. The first of the four-story townhomes will be delivered late this year, with an asking price of around $16 million, represented by Douglas Elliman.
Though such townhouses come with maintenance fees akin to those of condo units—20 East End Avenue, for instance, will run its owner $5,720 per month for 5,201 square feet—it's still likely to be cheaper than hiring staff.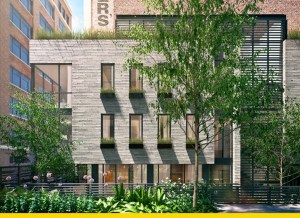 "In that respect, it's less expensive," said Mr. Maloney of 10 Sullivan, "but you have to take into account that someone who's spending $20 million for a townhouse is probably not that cost sensitive."
Which brings us back to Myles Horn. Along with Belvedere Capital and Angelo Gordon, he's developing the Printing House at 421 Hudson Street, featuring two new townhouses: The eight-story building now has a total of 140 units (60 owned and renovated by Horn). The 4,200-square-foot, five-story townhouses, which will be listed for $12 and $14 million, will have elevators, rooftop terraces and floor-to-ceiling windows. They will sit behind the main building—a converted condo tower that used to house printing presses on each floor, built in 1910—on private landscaped mews with a gated entrance, facing three duplex maisonettes. The first townhouse will go on the market in May, represented by Corcoran Sunshine, and will be completed toward the end of the year.
"I would like to live in one of these townhouses," noted Mr. Horn, "if only I could persuade my wife."