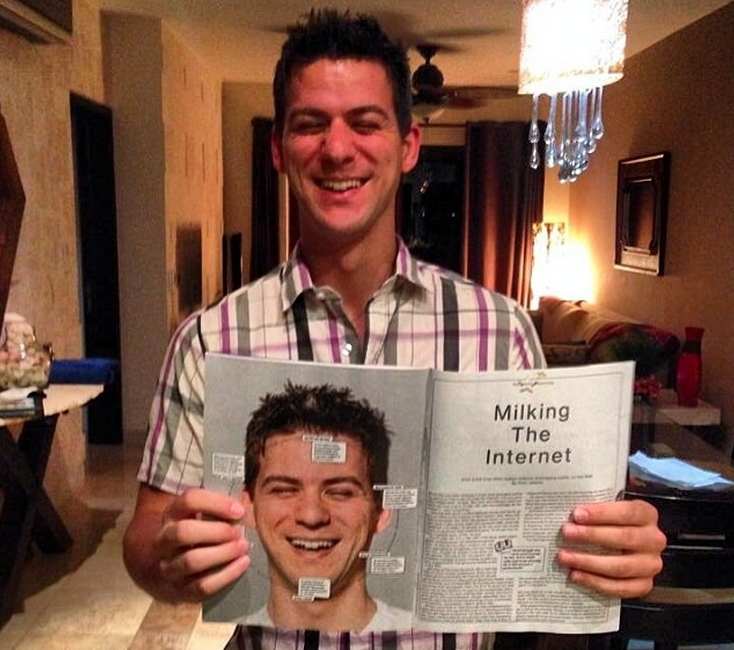 Click here for the fully annotated interview.
A look at today's media environment does not lend itself to an immediate favorable impression. There's the clickbait, inaccuracies, sensationalism, scandals and weak reporting and on and on. When taken in context to the massive rounds of funds and exits—founders building shoddy businesses for multi-million dollar exists, writers being poached for bigger salaries from competing media companies—it honestly begins to feel like there is a deliberate effort to deceive and profit.
But the reality is that this is not the case. One would expect to find dozens of Nick Denton's—that is seemingly amoral but incredibly shrewd publishers—but instead finds something much different. It calls to mind Peter Thiel's line about the NSA being less of a big brother and more Keystone Cops. Unfortunately, I would argue that the impact on our culture is hardly funny.
Case in point, is the interview I conducted below via email with Scott DeLong, founder of ViralNova, after being contacted by a publicist. The website, which is in the same caliber as Upworthy and BuzzFeed, launched in May 2013 and exploded in popularity thanks to the now standard prescription for viral sites of writing content high in emotional valence that is designed and rigorously optimized to get you to click and share.
After an initial disappointment with the superficial answers, I decided I would respond and annotate the conversation with the help of our friends over at Genius.com:
What do you think is behind the sudden explosion of viral news sites in the last few years?
The emergence of Facebook as an integral part of everyone's lives. It has revolutionized sharing with friends and family, allowing for great content to spread at a much faster and larger scale than ever before. Facebook was uniquely powerful because of the relationships that underpin the network. You're sharing great content with the people you know and that serves as a powerful force.
You mentioned knowing the difference between clickbait and legitimate viral news. Where is the line and how does Viral Nova define it?
Headlines are valuable real estate. As writers, we want our stories to be read. Positioning an article to be read at the highest rate possible is a centuries-old practice. Today, we're able to accurately measure it now by monitoring analytics and insights. Writing engaging headlines is a good thing. The problem arises when content fails to deliver on the promise of its headline.
At ViralNova we are committed to telling stories that deliver the promise of every headline. Our real goal is to create incredible content that our audience loves and wants to share with their friends. Our team of 15 writers and editors come in every day to work with content creators – from unknown artists to well-known celebrities – on a delivering articles that will resonate with readers.
So much of what goes viral is high in valence–it's really funny, sad, awesome, angering, cute, etc. What do you think this effect this has on culture? How do we see the nuance, even banality in the world around us?
I've always kept my own mom in mind when creating content. We're from rural Ohio where the 10 o'clock news is everything – and everything on the 10 o'clock news is negative. I've always set out to create positive, inspiring, fun content and now – with social media exploding – it has billions of eyeballs, including my mom's.
ViralNova aims to make people feel happier and even smarter. We don't claim or try to be a scientific journal, but if we can present facts about space in a fun, easily digestible way, that information reaches audiences it otherwise never would have. I think the impact on culture is a positive one as long as we—as an industry—maintain standards of integrity and truth.
If a story goes viral and turns out to be untrue or embellished or partially mistaken, what mechanisms are there to correct it, recall it or follow up with the truth?
Fortunately, in the digital world, mistakes can be corrected more easily. This is both good and bad -stories get rushed out to audiences before full fact checking takes place, but it also allows for on-the-fly updates and even corrections when necessary.
We do not consider ViralNova to be a news site, and our content is not in competition with traditional outlets that must break the latest story. We pride ourselves on discovering little known artists and content creators that wouldn't otherwise have a voice or reach our audience of over 100M monthly visitors. By working directly with them, we can ensure there are no mistakes and also take our time to take the piece live.
Viral Nova is followed closely behind by several clones with notoriously low standards. How do you see that competition? How do you see impacting the industry as a whole? For instance, Facebook or even users lumping all the good and bad actors in together?
We are constantly evolving. ViralNova is more today than it was a year ago, and what it will be in a year from now is different from what it is today. We've gone from content curation to a more active role in content creation and discovery. For example, a man by the name Andres Amador had 5,000 Facebook fans for his beach art that he would create with a single rake. We covered his little known art, and it changed his life forever. He now has over 200,000 Facebook fans and has told us multiple times that he was ready to give up before ViralNova covered it. That's what makes us excited, and that's what we will continue to do more of.
The clones are clones for a reason – they're unoriginal. While a few still exist and have adapted, most are actually no longer in existence or getting negligible amounts of traffic. We work incredibly hard every day to make sure that we continue to be original and interesting so we can provide great content for our readers. We care about quality and, with that, we know the clicks will come.
What sites do you read regularly–that you trust and rely on to inform you as entrepreneurs, writers, citizens?
I read many other social publishers to see what they're covering and how – BuzzFeed, EliteDaily, Mashable, etc. We don't consider ourselves direct competitors to any of these, but I've found it important to keep up with what others in the social publishing space are doing. In fact, I think it's an incredible sign for the strength of our sector that so many amazing publishers are thriving by emphasizing their own unique perspective. Seeing the great work they do only inspires us to keep on pushing the envelope and striving to do better ourselves. I don't read a lot of business-oriented publications. Being self-funded, a lot of it simply doesn't apply. I would rather spend my time finding innovative ways to take ViralNova to the next level.
When I was offered this interview I was excited but the actual product left me rather disappointed. Then again, that experience is pretty standard when it comes to the clickbait that ViralNova and the rest of the sites in this space traffic in.
He's also put together this list of 15 books that you've probably never heard of that will alter your worldview, help you excel at your career and teach you how to live a better life.