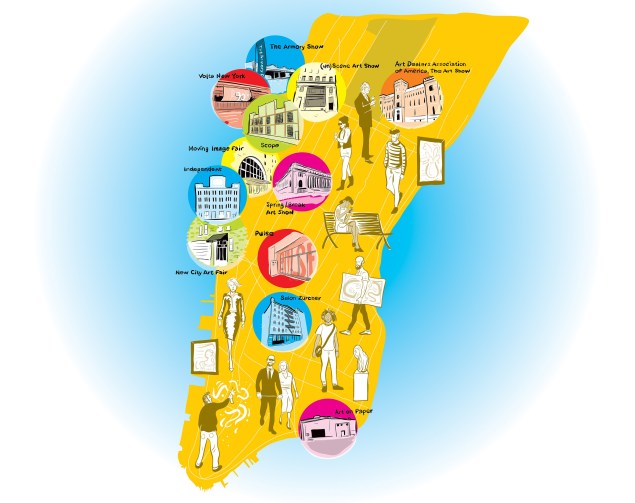 Don your Prada and grab your sunglasses, the art world is coming. Over the next few days, you won't be able to walk around Manhattan without stumbling into an art fair. A dozen of them showcase their wares through March 8, in neighborhoods all over town.
Here's our guide:
Art Dealers Association of America:  The Art Show
Now in its 27th year, this jewel box of a show on the Upper East Side is one of the first of the  week to open, and it features a curated slate of 70 veteran powerhouse galleries like Acquavella, 303 and Brooke Alexander. There's some fine young art here, but, at its core, this elegant fair offers blue-chip art for blue bloods.
Park Avenue Armory
Park Avenue at 67th Street
Open March 4-8; VIP preview March 3
Wednesday-Friday 12 p.m.-8 p.m.; Saturday 12 p.m.-7 p.m.; Sunday 12 p.m.-5 p.m.
$25
The Armory Show
The largest Modern and Contemporary art fair in New York, and one of the largest in the world, this year's edition boasts big-time galleries like David Zwirner and Victoria Miro as well as a host of hot young spaces like Various Small Fires and Bischoff Projects. You'll spot all the big collectors  (Eli Broad, David Geffen), the alleged-but-beloved art flippers (Aby Rosen, Peter Grant) and the MoMA folks (director Glenn Lowry, drawing followers like the Pied Piper), all shopping a century's worth of paintings and sculpture—plus a conga line of art advisors.
Piers 92 & 94
12th Avenue at 55th Street
Open March 5-8; VIP preview March 4
Thursday-Saturday 12 p.m.-7 p.m.
$45
Art on Paper
Brought to you by the team behind the  popular Miami Project, the inaugural Art on Paper Fair just south of the Williamsburg Bridge provides a mix of drawings, photographs and prints, so there may be bargains. The opening night party benefits the Brooklyn Museum.
Pier 36
299 South Street on the East River
Open March 6-8; VIP party March 5
Friday-Saturday, 11 a.m.-7 p.m.; Sunday 11 a.m. -6 p.m.
$25
Independent
Usually one of the more interesting fairs, this one for cutting-edge heavy-hitters (Gavin Brown, Balice Hertling) opens the old Dia Center space up to well-considered installations rather than sales booths (or so they say). If past is a predictor, expect big crowds and bigger sales at the Independent's last appearance in this historic space.
548 West 22nd Street
Open March 6-8;  vernissage March 5
Friday-Saturday 12 p.m.-7 p.m.; Sunday 12 p.m.-6 p.m.
$20
New City Art Fair
And now for something completely different: New York's only fair for Contemporary Japanese art, now in its fourth year, will bring a tight-knit group of Tokyo, Sapporo and Nagoya galleries from their island to ours.
529 West 20th Street
Open March 5-8
Thursday-Saturday 12 p.m.-7 p.m.; Sunday 12 p.m.-6 p.m.
Free
Pulse
Still lively and experimental in its 15th year, this fair bills itself as a venue for "the discovery and acquisition of cutting-edge Contemporary art." Its preview brunch on Thursday is among the more crowded see-and-be-seen events of the week.
The Metropolitan Pavilion
125 West 18th Street
Open March 5-8; preview brunch March 5
Thursday 1 p.m.-6 p.m.; Friday-Saturday 11 a.m.-8 p.m.; Sunday 11 a.m.-5 p.m.
$25
Scope
This well-established satellite fair, which was showcasing emerging and performance art before some of its rivals were even paying attention, moves to a new and convenient location this year not far from the blockbuster Armory Show.
Scope Pavilion
639 West 46th Street
Open March 6-8;  preview March 6
Friday 6 p.m.-10 p.m.; Saturday-Sunday 11 a.m.-8 p.m.
$30
Spring/Break Art Show
If an art fair can inspire affection, this scrappy, sometimes delightful and often inexpensive one, with a "hang it on the wall and see what sticks aesthetic," can be said to be loved. Here, curators choose the art, not galleries, which results in some of the week's most interesting projects.
Skylight at Moynihan Station
Northwest Corner, West 31st Street & 8th Avenue
Open March 4-8; preview March 3
Wednesday-Sunday 12 p.m.-8 p.m.
$10
Moving Image Fair
Here, video art is taken seriously by those who know and love it. This critically acclaimed fair is back with the promise of "allowing moving image-based artworks to be understood and appreciated on their own terms." This fair is a good, thoughtful, even restful, choice when the sales buzz of its rivals overwhelms you.
Waterfront New York Tunnel
269 11th Avenue between 27th and 28th Street
Open March 5-8; opening reception March 5
Thursday-Saturday 11 a.m.-8 p.m.; Sunday 11 a.m.-4 p.m.
Free
Volta New York
Now on Pier 90, snuggled up next to its corporate big brother the Armory Show, this is a generally smart and particularly thoughtful invitational fair of solo artist presentations. (Carribbean artists are particularly strong this year.) Shoppers take their time here, and the "Volta Salon" also generally offers a good lecture/panel program.
Pier 90
West 50th Street at 12th Avenue
Open March 5-8; vernissage for the public March 5
Thursday 6 p.m.-8 p.m.; Friday-Saturday 12 p.m.-8 p.m.; Sunday 12 p.m.-7 p.m.
$25
Salon Zürcher
Possibly the smallest fair you'll go to this week (six galleries), this LES salon actually takes place within the gallery space of one of its exhibitors, Galerie Zürcher. If you're someone who gets easily overwhelmed, then this might be the place for you.
33 Bleecker Street
Open March 2-8; Opening March 2
Monday 5 p.m.-8 p.m; Tuesday-Saturday 12 p.m.-8 p.m., Sunday 12 p.m.-5 p.m.
Free
(un)Scene Art Show
There are many ways to draw attention to your art fair, but free ice cream is perhaps the most laudable. That's what the folks behind this event did at their last venture (the unFair), and this time they promise a "happening."
549 West 52nd Street
Open March 4-8
Wednesday-Sunday 11 a.m.-8 p.m.
Free