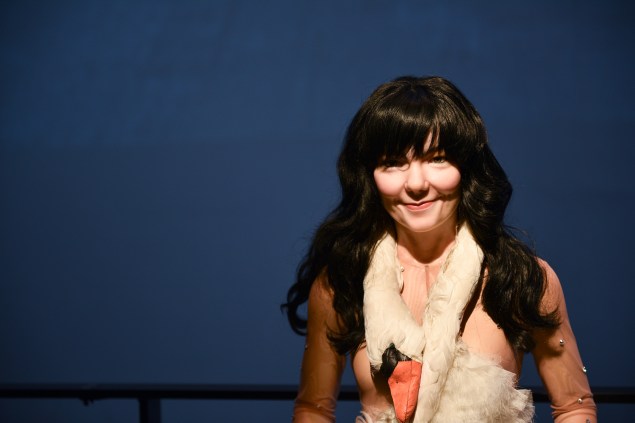 About two hours into the reception for "Bjork," the new show at the Museum of Modern Art curated by Klaus Biesenbach, I started hearing it compared to Planet Hollywood. There was a reference to Hard Rock Cafe in there, too. The booze at these things tends to amplify emotions, as MoMA kindly provides enough Bulleit Bourbon to keep Kentucky wet for weeks—the echo chamber of praise during the reception for "Matisse: The Cut Outs" allowed for skinny museum kids to make some rather lofty proclamations about God and Country. But it's hard to recall this kind of reaction to a show. I mean, Planet Hollywood.
Actually, let's talk about Planet Hollywood for a second. The flagship location of the globe-conquering franchise of kitschy temples of film memorabilia used to stand just blocks away from MoMA, on 57th Street. It swung open its big glitzy doors in 1991 with a gigantic, breathtaking $750,000 party, and your average, sane New Yorkers were there en masse screaming for a glimpse of Demi or Bruce or Arnold as the owners rolled out a red carpet on opening day. And unlike real red carpets, this one stayed, and for years average, sane New Yorkers would come to the place in droves, trying to get a taste of fame. There were lines down the block, and by the end of the decade, the company had built hundreds around the world. The company was valued at $3.5 billion.
Now, our perspective is such that we can look with mirth upon this era of New York. It's now gone. The Planet Hollywood franchise is cut down to just a few locations, and movie stars have been replaced by reality stars. The taste for fame can be whetted by an iPhone app. And just as we look upon the rampant popularity of Planet Hollywood as some 90s eccentricity, so we may look upon the inevitable popularity of "Bjork" at the Museum of Modern Art.
Now, look, a warbling, taboo-bursting Icelandic chanteuse is a far cry from Demi Moore. And acting in a Lars von Trier musical hardly makes one a movie star. But the similarities between the faux-Tinseltown purveyor of tasteless chicken and the show at the world's foremost institute of modern art are there. There are odd reproductions of the singer in glass boxes. There are dresses she wore to awards shows—and not just the "swan dress" from the Oscars. There are three more dresses. And then to fill in the cracks there is a lot of flash-bang, explosions, and robots.
Before arriving at MoMA there was a quick spin through the gala for ADAA's The Art Show, the fair that takes over the Park Avenue Armory and attracts your austere Upper East Side folk—not exactly the type who would join Hood By Air-clad kids at MoMA for a show celebrating an avant-pop icon. And the discontent was already rising.
"I'm upset," said one friend, referring to the Bjork show that she would not be going to. "I'm upset because I love museums."
But there were a few other writers intent on witnessing the passion of the Bjork, so we braved the slush and snow and pushed through the crowd, thicker than ever before, as the DJ played Drake songs. The consensus seemed to be forming.
"I'm going to go home and get stoned and watch Bjork videos and it'll be better than this," said one friend.
"I'm team Matthew Barney," said another.
(The artist and Bjork split after a decade together. Bjork detailed the breakup in her most recent album, Vulnicura. Mr. Barney—who has yet to get a MoMA retrospective of his own—is now dating the singer Sheryl Crow.)
Re-upping on bourbon, I spotted a curator I know and his friend at the bar, both in matching technicolor caftans.
"We're superfans," he said, but when I asked about the show, he said he was a bit disappointed.
"There was no educational component," he said. "There wasn't even a wall text!"
He also said it "seemed like a fetish show," which perhaps may have been Mr. Biesenbach's intent. I pondered that for a second, and then went upstairs, to witness a great and massive line that engorged the entire second floor. I was told that those getting in line may not get to the show before the reception ended (there was an hour and a half to go in the reception) and so I strolled through the show of works from the permanent collection, walked to the main hall to see a Tesla coil buzz and spark to adoring coos from the crowd, and eventually spotted the performance artist Ryan McNamara, who was standing by the entrance to the show, where all of Bjork's album covers had been lined up and captioned like the Stations of the Cross.
"You know, I'm just here, chilling with my girl Bjork," Mr. McNamara said.
"Have you seen the show?" I asked.
"Oh, no," he said. "Who could deal with all these lines. I've just been standing here."
So, wait, who exactly did get in to see this show? Clearly, there are a ton of people–just look at the lines. And, come to think of it, each and every time I walk by Planet Hollywood in Times Square, there are lines there, too.