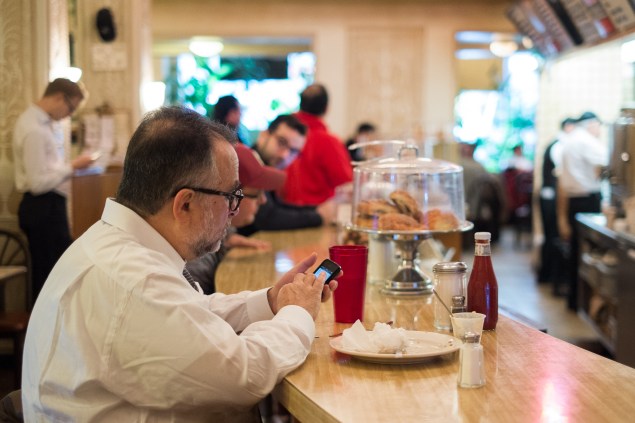 The diner attraction of a $5 milkshake and Big Kahuna burger are long gone. Not even Pulp Fiction's Hawthorne Grill, the famous Los Angeles restaurant where the Quentin Tarantino classic was filmed, has survived, so will New York City's diners stand a chance?
Sadly, recent closures suggest they are sinking under. Since last year, Cafe Edison, La Parisienne, the Upper West Side's Three Star and Midtown's Starlight Restaurant and Diner have all closed their doors, according to DNAinfo.
In July, Gothamist reported that Chat 'N Chew on East 16th St. had also shut down after 20 years, even after trying to rebrand with a trendier menu a year earlier. Although in this case, the closure may have been due to a 37 violation point deduction by the Health Department which included live roaches, filth flies and mice.
Jeremiah Moss, the blogger behind Vanishing New York, told the Observer that the diminishing number of diners in New York City is an issue that has been going on for the past five to 10 years.
"It seems like there's a hunger for anything new and the new has to be of a high-end," he said. "The coffee shop has been looked down upon. Everyone wants everything to be exclusive. Anyone can go to a coffee shop and now we have a New York that's not for everyone."
John Meadow, founder of LDV Hospitality Group, told the Daily Meal that the disappearance of diners in New York City is not necessarily due to a changing culture but rising prices of building rentals. "This has been the story of New York forever," he said. "The markers go up and down, and the reality is, the market is what someone is willing to pay. But right now, restaurants are getting priced out. They can't compete with other industries."
And while many argue landmarking diners could be the solution, in reality landmark status is not necessarily a fix or even an option.
Damaris Olivo, director of communications at The Landmarks Preservation Commission, told the Observer that diners or restaurants cannot be individually landmarked. In other words, even if the entire building that held the eatery was given landmark status–which requires a review by the commission and a passing vote by both a public hearing and the commission itself–the preservation commission would still be unable tell the owner of the building what to do with the space. Either way, the diner could still be lost in the end.
"We can't landmark a diner because it's a diner, we can only landmark a building, but we can't regulate the use (of the building)," Mr. Olivo explained.
Some of the city's best known landmarks range from Central Park to the Chrysler Building and The MoMA.
So what does it take to become a landmark? According to the National Park Service, the building must be associated with a significant person or event in history, represent a great idea of the American people, embody some sort of architecture that may be significant in studying a period of time, embody something that may be artistically, individually or culturally significant, or may yield information for future scientific discoveries, among other requirements.
As for the fate of our diners, the Daily News wrote that it does not have much hope that many will survive, warning: "Eat there while you still can!"
Michael Patch, manager of The Diner in Hell's Kitchen, has no concerns, despite this negative viewpoint. "They're busy on the weekends … everything seems fine," Mr. Patch said.
Mike Sabry, manager of Utopia Restaurant, 267 Amsterdam Ave., also has faith his diner will not close. "We've been here 33 years, we have people here all the time," he said. "Nothing like this (rental price hikes, lack of business) has happened so far."