SEA ISLE — Silhouetted by the waning light of a sun setting red over the bay at the organization's annual convention Wednesday night, Cape May County Republican Chairman Mike Donohue sounded relief at the prospect of holding court over a nomination process that, for the first time in a long time, would not be a contentious one.
"This is the first time we haven't had opposition," Donohue told a crowd gathered in the Yacht Club of Sea Isle. "But we're still going to vote on it."
He called on a local committee woman seated in the audience, who came up to the front of the room where a mock voting booth was set up. She went in. Then she came out.
And with that, the first proverbial vote of the 2015 election season for the county's Republican party was cast.
For Donohue and his maturing Republican organization, now in its third year holding conventions such as this one, the lack of competition was a good thing (as was the sunset coloring the horizon outside, if you take the old "red light at night, sailor's delight" rhyme bestowing good luck on the sea-faring type and apply it instead to a scrum of eager politicians.) Republicans in Cape May are preparing for election season in November, putting up four different candidates all at various levels of government. And with two of them in a battleground first legislative district that is expected to play host to one of the most hard-fought contests of 2015, they'll need all the help they can get.
"Call us the Big Four," cracked Len Desiderio, vice director of the county freeholder board and mayor of this small seaside town. "The Democrats have never run into a team like this."
Desiderio is one of the candidates on the party's ticket in November, looking to stake out another year on the board that he's occupied since 2002. Joining him will be incumbent County Clerk Rita Marie Fulginiti, also hoping to keep her office. And heading up the ticket will be incumbent Assemblyman Sam Fiocchi (R-1) and his new running mate, Cumberland County Freeholder Jim Sauro.
All four took turns at the mic, thanking the audience — made up family, friends, and other local officials — and laying out the strategy for attaining their goals in November, which they said will involve lots of door-to-door politicking.
"It's going to be all about the shoe leather and asphalt," Desiderio said.
While Desiderio and Fulginiti's campaigns are likely to be easy lifts — Cape May has become a GOP stronghold over the years, with many Republican mayors and an all Republican freeholder board — it's with Fiocchi and Sauro that Republicans in the county and district will face the real challenge. The two businessman from Vineland are going up against Fiocchi's district-mate, Democratic Assemblyman Bob Andrzejczak (D-1), and his own recently-declared running-mate, a little-known Vietnam veteran named Bob Land. Land and Andrzejczak, if their own campaign kickoff event earlier this month was any indication, will be running under the banner of state Senator Jeff Van Drew (though Van Drew himself, it should be stressed, isn't actually on the ticket this year.)
It will be Fiocchi's second real test since being elected to the Assembly in 2013, when he wrested the seat from former Assemblyman Nelson Albano (D-1). But it's also likely to be significantly harder this time around. Albano, insider's note, had been almost fatally weakened by scandal over a speeding ticket, effectively lending Fiocchi a handicap advantage against an otherwise formidable incumbent. He now faces Andrzejczak, tapped to replace retiring Assemblyman Matt Milam just before Fiocchi ousted Albano that year, who will have Van Drew and the ranking Democrats' cultivated political clout at his side.
It will also be Sauro's first attempt at the Assembly. The owner of a local plumbing and heating company and radio personality in his home Cumberland County, Sauro began serving on the freeholder board there in 2002, and won another three year term last year. He jumped into the Assembly race earlier this month, saying Trenton needs more "real world business experience" and people who "speak their minds."
Captaining the ship, the "Great CapeGOP," will again this year be Donohue. Despite the obvious challenges — which include, almost inevitably, a sizable injection of PAC money from South Jersey Democrats to bankroll Land and Andrzejczak– Donohue said Republicans in South Jersey are encouraged this year not just but the candidates themselves, but by the fact that 2015 is an Assembly year. That means low turnout at the polls, and Donohue said he's hoping to turn that into an advantage for Fiocchi and Sauro in LD1 by energizing the district's Republican base and deploying a strong ground game.
The race will be interesting, no doubt. Uniquely, three of the four candidates (Fiocchi, Land and Sauro) hail from the Cumberland County side of the district, which tends to lean more Democratic than its Cape May portion. But Donohue said that was a calculated move, too, and was one of the reasons the organization went with Sauro as Fiocchi's runningmate: he was the top vote-getter out of Cumberland in 2014, including out of towns like Fairfield and Bridgeton, which particularly tends to favor Democrats. Putting him on a ticket with Fiocchi, who's also performed well in Cumberland, could improve the ticket's chances there.
There's also the chance to feed off other energies in Cumblerland — namely those sparked by the fledgling Republican organization run by Vineland Attorney Mike Testa. Donohue said Cumberland County's GOP will be "fire up" and looking to take control of the freeholder board this yea, which could bode well for the Assembly race.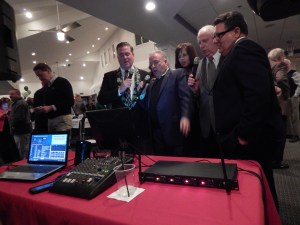 "It's going to be dogfight. They'll spend a ton of money, they'll get a super PAC in here, they'll all complain about Citizens United when a super PAC is spending a million dollars for their candidates," he said. "But we've been outspent before. We've got two proven vote getters in Cumberland county."
Van Drew and Andrzejczak, for their part, will likely be looking to play up the ticket's war veteran appeal — both Andrzejczak and Land are combat vets, Andrzejczakof the Iraq War and Land, as noted, of the Vietnam War. Political observers note that Van Drew relied heavily on that card to get Andrzejczakelected in 2013, touting his overseas record and experiences at campaign stops across the district. Asked if he think it will still play as well this year as it did then, Donohue said Van Drew will have to offer more.
"I think it does, but I think people are to the point where they want to hear more. People appreciate their service, they're proud of their service, but they want to hear more about what they're going to do to lower taxes, to reduce regulatory burden on businesses, to do all those things that this district wants to have happen," Donohue said.
Sauro, who wooed the crowd during a lengthy speech at the podium, agreed.
"It's going to be issues. We want to talk about issues," he told PolitickerNJ. "Let's face it, we want to bring jobs back to New Jersey."
Of course, sings of the impending struggle were mostly non-existent at Wednesday's convention, which was lighthearted in mood as some 100 local officials and committee members mulling about over food and drink in a room colored appropriately with St. Patrick's Day-themed decor. Donohue presided of the affair clad in a suit coat with a four leaf clover-patterned lapel, betraying nothing but confidence at the prospect of landing another candidate in Trenton this year.
"They said we couldn't do it," he said, referring to Fiocchi's victory in 2013, when he became the only Republican that year to oust a sitting Democrat from office, despite being outspent five-to-one. "They always say we can't do these things. And yet we do."
One committeeman echoed the charge.
"Onward to victory," he cried.