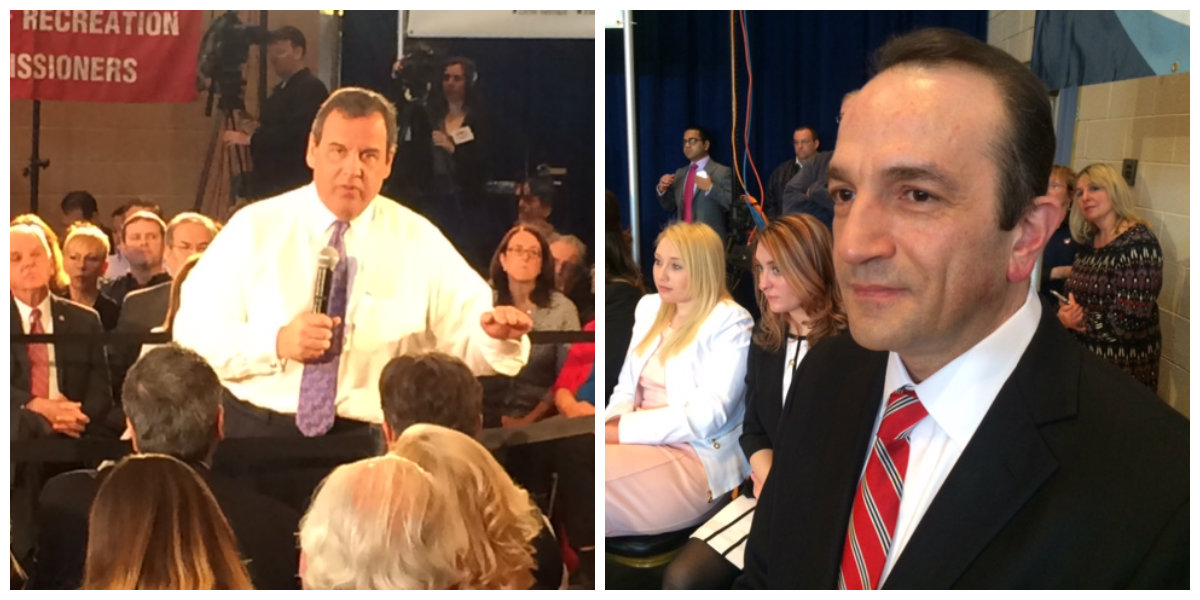 HANOVER TOWNSHIP – At his 132nd town hall meeting, New Jersey Governor Chris Christie spoke about familiar themes, such as his $33.8 billion state budget proposal and plans to further overhaul the state's pension and benefit system. But while Christie did not mention it by name, another key issue loomed just under the surface: the state's proposed settlement with Exxon Mobil regarding pollution at several New Jersey sites.
Christie spoke at the community center of Hanover Township, a Morris County municipality which is included in the state 27th Legislative District. One of the two Democratic incumbent LD 27 Assembly members running for reelection is Assemblyman John McKeon (D-27).
McKeon, the chair of the Assembly Judiciary committee, has been a particularly harsh critic of the state's proposed $225 million settlement pertaining to lawsuits first brought by the state against Exxon in 2004 for natural resource damages at Linden, Bayonne and other New Jersey oil refineries and sites. The settlement number is far short of the original target goal of $8.9 billion in environmental damages.
Christie has defended the agreement as a "good settlement," including at another town hall held earlier this month. The governor has also pointed out the lack of a cap on the cleanup payment amount, as well as that the proposed $225 million settlement is the largest national resource damages payment by a single corporate defendant in New Jersey history.
But McKeon, in further castigating the agreement, said last week while pushing additional legislation related to the issue that he would "rather lose" any such settlement with an oil company accused of polluting the environment "than ratify the behavior of a bad actor who stonewalled, given the chance many, many times to do the right thing by the people of New Jersey."
McKeon was not present in the crowd of more than 350 people at Tuesday's town hall event to face Christie directly, but one of his rivals was: Tayfun Selen, one of the Republican Assembly candidates in LD 27.
"The settlement also included that Exxon must restore the areas impacted. That may costs billions of dollars. It's an open-ended settlement," said Selen, 44, of Chatham Township, who is running with fellow Republican Kyu Rim. "Mr. McKeon should have waited before raising the flag and talking about it."
Morris County Republican Chairman John Sette, a staunch Christie ally, specifically targeted former Department of Environmental Protection (DEP) Commissioner Bradley Campbell, who suggested in a recent New York Times op-ed piece that Christie's chief counsel was the driving force behind the settlement.
"Where was John McKeon when Bradley Campbell had 257 claims filed against Exxon and only got $29 million out of them?" said Sette in a phone interview. "Exxon now has unlimited liability in this case, and they've added on 15 more sites to clean up. So should we keep spending money on lawyers, or clean the sites up?"
Christie, a potential 2016 Republican presidential nomination candidate, said he would make a final decision about a possible White House bid by the late spring or early summer. In the meantime, Christie pointed to the calendar to make a point.
"I've got two-and-a-half years left," Christie said. "This is it. I want to fix [the issues facing New Jersey] on my watch."