As we've known for a while, dealer Gavin Brown will soon be forced to vacate the Greenwich Street digs he's occupied for over a decade. The show that opens this Saturday—"Karl Holmqvist: HERE'S GOOD LOOKING @U, KID" along with a video work by Rirkrit Tiravanija that shows Mr. Holmqvist reading and performing his works—will be one of the last.
And it appears the dealer has found a solution to his problems, a new home for the enterprise. At the press preview for Independent earlier today, we stopped by his booth, which displayed a few wonderful works by Silke Otto-Knapp, on sale for $1,600 to $40,000, depending on the size (last we checked, two had sold.)
After some pleasantries, we returned to a topic that we've discussed before, most recently on email and prior to that at his satelliete gallery in Chinatown: where will the new space be? We've heard a variety of rumors too unverified to print, but we have yet to have anything confirmed from the man in charge. Until now!
"It's pretty much ready," he told us. "It's coming to a conclusion. I'm signing a lease in about a month."
So, breathe, GBe will stay in NYC. But wherever will it be going?
"Oh, I'm not going to tell you that," he said.
(So, I didn't tell you I knew where the new space was, OK?)
After pressing him for details, he did admit that he's rather fond of the mystery space.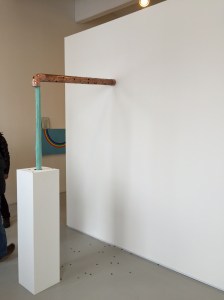 "It's the most beautiful space I've ever seen in New York," he said
"What did you do, lease Grand Central?" I wondered, aloud.
"Ha!—Well it doesn't have the pomposity of Grand Central," he said.
And that was all we got. We were charmed to see, however, that the artist had editions of his own work (he was an artist in another life) at the White Columns booth. The two on display were installations of a hand extended from a mirror. Also for sale at the White Columns booth: a shirt by Bob Nickas with the iconic image of Joan Didion leaning out of the car window—but the Joy Division logo atop it. Badass. Twenty bucks. A must buy.
Elsewhere at Independent, there are some great works by Mike Cloud at Thomas Erben Gallery where he takes dead aim at Annie Leibovitz—he cuts up photos from one of her works and writes ANNIE LEIBOVITZ all over—and there was some great Jory Rabinovitz penny-based installations at Martos Gallery, plus Maurizio Cattalan was walking around all over the place, so what are you doing, get on over to Independent! The vernissage is tonight from 6:00 to 8:00.