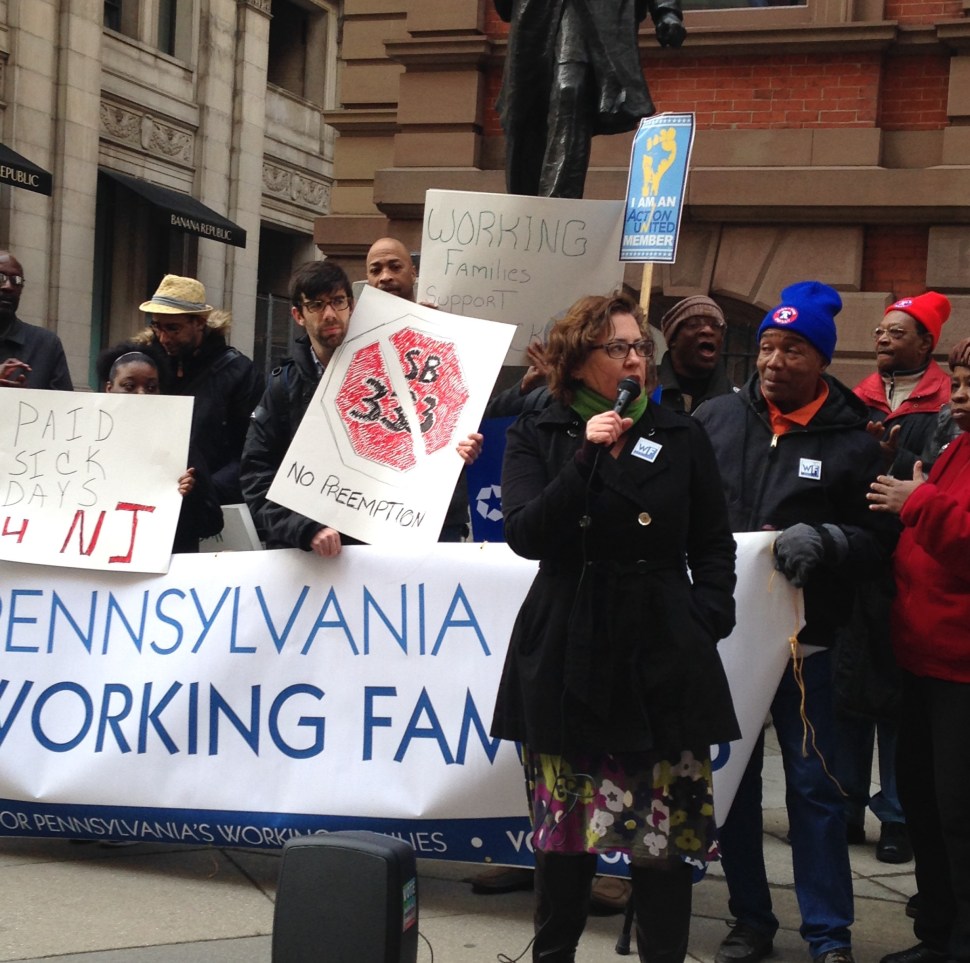 PHILADELPHIA — With Gov. Chris Christie scheduled to appear here just a few hours later, a small scrum of activists and elected officials gathered outside the brick-and-brownstone headquarters of the Union League this morning to protest paid sick leave policies on both sides of the Delaware.
"Governor Christie wishes he had the same polling numbers as paid sick days," said Analilia Mejia, executive director of New Jersey Working Families, over the din of nearby traffic. "This issue outpolls the governor in every state he would need in a presidential bid. Voters across the political spectrum know that earned sick days matter for America's families, and that no one should be forced to choose between their job and taking care of themselves or their families when they're sick."
Christie is expected to arrive here this afternoon, when he'll talk presidential politics with potential donors and supporters inside the League's Second Empire architecture-style building, which houses the private club and serves an exclusive watering-hole for the city's elite. He'll make the trip in the capacity of chairman of his recently-established Leadership Matters for America, a leadership political action committee he's using to further lay the groundwork of a possible campaign for the Republican nomination in 2016.
It's the first stop in a round of visits Christie is making this week with the PAC. On Thursday, they'll take a fundraising jaunt through Houston and Dallas, Texas — the home of the first now-official GOP presidential candidate in 2016, Senator Ted Cruz.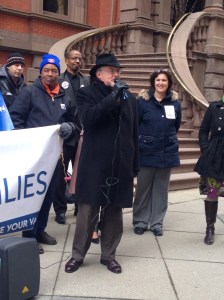 While the press conference, held near a set of twin circular staircases that extend dramatically off the front of the building in the city's downtown, was over almost as quick as it began, the group nevertheless managed to get their message out. Speakers who took to the mic — including workers, elected officials, and advocates from New Jersey and Pennsylvania's Working Families organizations   — blasted Christie for refusing to support paid sick leave for employees statewide, as Philadelphia's city council recently did.
Nine New Jersey municipalities have recently passed earned sick days laws covering nearly 150,000 workers, including Jersey City, Newark, Paterson, and Passaic City, they pointed out, while a statewide earned sick days bill has been approved by two committees in the  Assembly, with a floor vote pending.
In February, the Philadelphia passed their local earned sick days law by an 14 to 1 margin.
"Philadelphia just guaranteed paid sick days for nearly all its workers, and voters here have no appetite for a candidate who would take them backward," said Kati Sipp, executive director of Pennsylvania Working Families. "Governor Christie is coming here to court wealthy donors, but his misguided opposition to this common sense policy puts him on the wrong side of our state's voters and the wrong side of history."
Only three states — California, Connecticut, and, more recently, Massachusetts — have laws on the books that require paid sick time for all workers. Christie, along with business leaders and many Republican lawmakers in Trenton, has said he has "grave concerns" about the measure, which opponents argue would kill job growth and unreasonably burden businesses in the state.