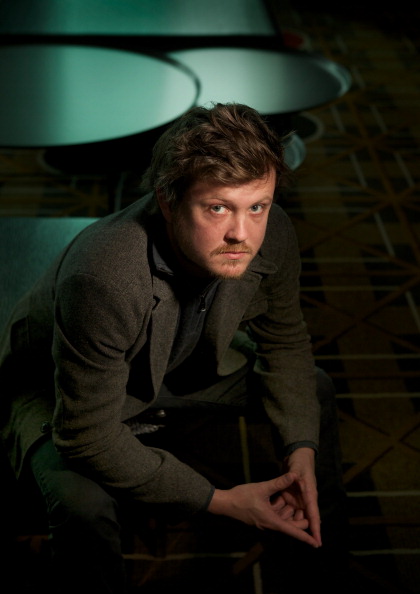 It was almost dusk at the Flatbush Reformed Dutch Church—not to be confused with the nearby Flatlands Dutch Reformed Church, also created by Peter Stuyvesant nearly 100 years before the Revolutionary War—and six feet below us were the remains of some of Brooklyn's colonizing Dutch families. And while it's not exactly the cheeriest place to spend a Saturday afternoon, especially with snow blanketing the ground, Beau Willimon, the 37-year-old creator of House of Cards, had a surprisingly upbeat take on it all.
"Just think of the snow as several more inches separating us from an eternal place of rest," he said, sounding exactly like a character created by Beau Willimon.
The pithy, high-minded, ruthless and morbid bon mot is indeed something that could be uttered on his show, the pop culture phenomenon that saw its entire third season unleashed on Netflix early Friday.
Let's examine this dinnertime exchange between the president of Russia and first lady Claire Underwood. She opens with Pushkin: "A deception that elevates us is dearer than a host of low truths." He offers a toast: "To Leo Tolstoy, who said, 'If you want to be happy, be!' "
For many, myself included, this is one of the show's more frustrating tropes—come on, I think, no one walks around with erudite quotes from the Russians lying in their back pocket.
Well, except for Mr. Willimon. He's a guy who, when he happens to be strolling through an ancient graveyard, effortlessly pulls out some Yeats: "Under bare Ben Bulben's head / In Drumcliff churchyard Yeats is laid. / An ancestor was rector there / Long years ago, a church stands near, / By the road an ancient cross."
(That's the sixth verse of "Under Ben Bulben," in case you forgot.)
The last line of that poem also serves as the inscription on Yeats' headstone: "Cast a cold eye / On life, on death. / Horseman, pass by!" The man had written his own memorial. It's a preemption that seems very natural for President Underwood, especially this season, as he's concerned not with longevity but legacy—man's only obtainable version of immortality.
Now installed in the White House, the Underwoods have nowhere to go but down, and their unraveling both as a couple and as a political force has given House of Cards permission to be more over the top than ever. Like the specters haunting Richard III on the eve of The Battle of Bosworth Field (the show is based on the Bard's telling) theological questions begin to plague President Underwood. Cracks begin to show. For the first time, his inner monologue (addressed to the camera, with a touch of high camp) can be heard, at times, by other characters. Which begs the question: Perhaps the president isn't actually an omniscient narrator—taking control of his own fate, writing his own gravestone—but just muttering to himself like crazy old Reagan?
To that end, Mr. Willimon has upped the references to death's inevitable arrival. It's no coincidence we decided to meet at a graveyard: In the first scene of the season, Francis pisses on the grave of his father. A little on the nose, sure, but Francis Underwood (much like his creator) doesn't see the need to nod much to subtlety.
Luckily, Mr. Willimon himself was more deferential as he wiped the snow off a particularly old headstone, which turned out to belong to Maria Lefferts, of Lefferts Boulevard, whose descendent Gertrude Lefferts Vanderbilt exists as the junction for two of America's oldest and most powerful names. The gravestone, however, is in Dutch.
"Overleden—does that mean 'over life?' " the showrunner asked, his iPhone materializing in his hand like a magic trick.
Unsurprisingly, he was correct.
"That's an intense word for death, he said. "'Over life.' "
We began to move to the next stone, but Mr. Willimon stopped short. A lightning bolt, an epiphany!
"Operation Overleden," he intoned. "We are conducting an operation called 'Operation Overleden.' And we will all succeed."
He then points out that Maria had died in 1735—or, as he sees it, "41 years before the American Revolutionary War."
Sure, that sounded about right, and anyway, contesting Mr. Willimon's encyclopedic knowledge of history, literature, politics, arts or culture is a fool's errand. His life goal is simply to know everything that ever happened in the spot where he happens to be. How else could you explain Mr. Willimon's first summer in Brooklyn, 12 years ago: Unemployed, he decided to focus on learning everything there was to know about the city, putting himself on an intense regimen where he would spend every night researching a different neighborhood.
"The next day I would go out and do a four- or five-hour walking tour," he told me, and over the course of a summer, he had visited all 80 neighborhoods in Brooklyn: Brownsville, East New York, Canarsie, Bay Ridge, Dyker Heights.
"The whole thing," he announced proudly.
His goal was eventually to create a six-hour tour of the F Line.
"There would have been two versions of it," he said, "a three-hour tour and a six-hour one. Wouldn't you have paid $25 to do that?"
Well, six hours on the subway isn't actually my ideal day, but if it's with Mr. Willimon in professor mode, sure! There's little doubt his enthusiasms could fill the train car. Like, for instance—on the way to the graveyard, he told me he once tried to teach himself trumpet while driving to school every day.
"Wasn't that dangerous?" I asked. "Driving while playing trumpet?"
"It's possible to play the trumpet with one hand," he said. "The problem is, it's not possible to play it well."
Which, for Mr. Willimon, is the equivalent of not playing at all.