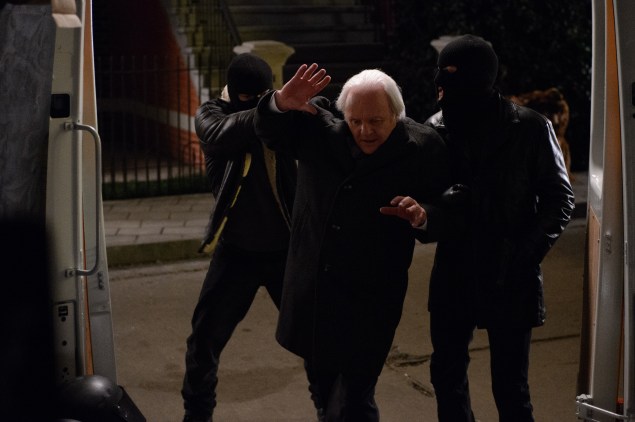 A Dutch film in English with a superb cast of actors from England, the U.S. and the Netherlands, Kidnapping Mr. Heineken is a true story about the 1983 abduction of Alfred "Freddy" Heineken in Amsterdam. Yes, that Mr. Heineken, as in beer in a green bottle. Anthony Hopkins plays the king of the hops, and he is excellent. So is the rest of the movie, a sober, no-frills account about the highest ransom ever collected up to that time—$10 million and counting.
The story, based on a book by the reporter who covered the case from beginning to end and even traced one of the kidnappers to his hideout in Paraguay, is more about the five blokes who masterminded the crime than Mr. Heineken himself. Everyone involved played an integral part in the elaborate scheme, and they are all profiled, if sometimes too sketchily.
---

KIDNAPPING MR. HEINEKEN ★★★
(3/4 stars)

Written by: William Brookfield
Directed by: Daniel Alfredson
Starring: Sam Worthington, Anthony Hopkins and Jim Sturgess
Running time: 94 min.

---
They were five Dutch blokes grasping at ideas to stay afloat who found themselves broke and unable to get a loan. So they decided to go for broke, launching an elaborate scheme to kidnap the beer tycoon and his chauffeur. They had more brawn than brains, but to the amazement of the chroniclers of crime, they made impossible ideas work. First, to finance the job, they robbed a bank. Then they built a soundproof secret room in a shed on the outskirts of Amsterdam. Then came the easy part—kidnapping Mr. Heineken himself. And the hard part—pulling it off without getting caught.
They clearly didn't know their prisoner. Arrogant and cool as winter, he hated the music they piped through his cell. He demanded a robe, pajamas and shaving supplies. And he hated ham sandwiches, requesting Chinese chicken with chili sauce. Were they stupid, brilliant, or both? Records show they were certainly bold, even leaving off the ransom note at police headquarters twice! When they actually got away with the scheme, the press concluded they were well organized, highly disciplined professionals and definitely foreign.
In truth, they were total amateurs with wives, families, children and balls of brass. The movie catalogues their internal arguments, their fights to balance constantly flagging morale, their narrow escapes, and their invigorating chases through Amsterdam's warren of canals and streets on a variety of cars, buses, vans and dirt bikes. How the scheme goes right—and how it goes wrong—makes for a great story and a better than average crime caper that keeps you nailed to your seat. When the trust erodes, so does the enterprise.
Meanwhile, the actors are so superbly grafted onto their roles, the characters are so colorful, and their ideas so goofy, that you can't help rooting for them. Most compelling are Jim Sturgess, unrecognizable with blonde Dutch poster-boy hair, and Sam Worthington, fresh from his standout role opposite Jennifer Aniston in Cake, as his sidekick. (A sidebar notes that those two buddies later became kingpins of crime known as the godfathers of the Netherlands.)
For American audiences, there might not be enough blood, sex and violence to satisfy the lust for carnage. Nobody gets killed, raped or mutilated, and the film is oddly but refreshingly devoid of Hollywood's requisite gasp factors. With five protagonists, character development is difficult, and the film's biggest drawback is that we never really get to know many details in the five kidnappers' personal lives. It doesn't achieve—or even aim for—the documentary style of John Huston's The Asphalt Jungle.
Still, Kidnapping Mr. Heineken is tightly written by William Brookfield and directed with enough unfailing attention to detail by Daniel Alfredson to be a taut, realistic caper film that is also entertaining.