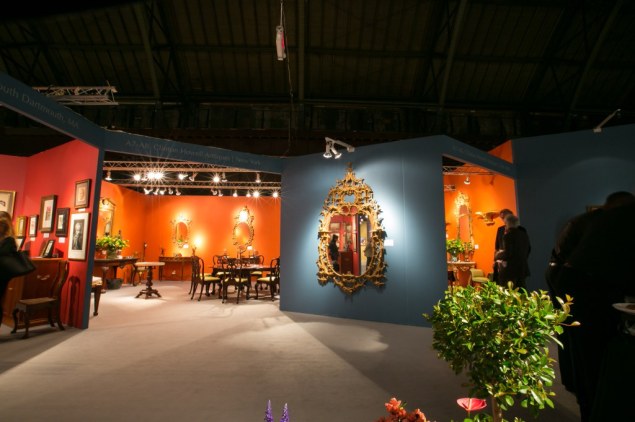 I know, it feels like we just went to a fair at the Park Avenue Armory. That's because, well, we did! But that doesn't mean there won't be another reason to hit up the giant Upper East Side space soon enough, and look, here we are—Spring Masters arrives at the Park Avenue Armory May 8 and runs through May 12, to coincide with the auctions, Frieze New York, and approximately a million other things happening that week.
It's only the second year of the fair, which is a classy operation specializing in, according to the Spring Masters website, "art and design from Antiquity through the 21st century." That really narrows it down.
OK, without further ado, here's the list!
SPRING MASTERS NEW YORK 2015
Armand Bartos Fine Art | New York
Avery Galleries | Bryn Mawr, PA
Bernard Goldberg Fine Arts | New York
Betty Krulik Fine Art | New York
Bowman Sculpture | London
Browse & Darby | London
Caretto & Cartategui Fine Art | Madrid
Clinton Howell Antiques | New York
Coll & Cortés | London & Madrid
Conner • Rosenkranz LLC | New York
David Findlay Jr. Gallery | New York
David Richard Gallery | Santa Fe, NM
Didier Ltd. | London
Dolan/Maxwell | Philadelphia, PA
Drucker Antiques | Mount Kisco, NY
Forum Gallery | New York
Galerie Valerie Danenberg | Paris
Heather James | Palm Desert, CA
Historical Design | New York
Jeffrey Henkel | Pennington, NJ
Jerald Melberg Gallery | Charlotte, NC
John Martin Gallery | London
Lillian Nassau | New York
Long-Sharp Gallery | Indianapolis, IN
Lost City Arts | New York
Macklowe Gallery | New York
Martin du Louvre | Paris
Michael Goedhuis Gallery | London
Michael Pashby Antiques | New York
Moeller Fine Art | New York
Opera Gallery | London
Osborne Samuel Gallery | London
Phoenix Ancient Art | New York
Portland Gallery | London
Primavera Gallery | New York
Robert Simon Fine Art | New York
Ronald Phillips LTD | London
Salon 94 | New York
Schillay Fine Art | New York
Simon Teakle | Greenwich, CT
Sylvia Powell Decorative Arts | London
The Silver Fund | Palm Beach, FL
Todd Merrill Studio Contemporary | New York
Tomasso Brothers Fine Art | Leeds
Urban Archaeology | New York
Vojtech Blau | New York
Waterhouse & Dodd | New York
William Siegal Gallery | Santa Fe, NM