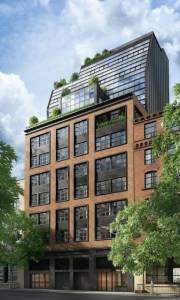 Richard Cantor, a principle in the real estate marketing firm of Cantor-Pecorella, considers that the best of Village life consists of "very luxurious" apartments that incorporate the "open expanse" of loft-style living with the communal intimacy of townhouse residency. How serendipitous that Mr. Cantor's firm should happen to be marketing the new(ish) eight-unit development at 12 East 13th Street co-engineered by DHA Capital and Continental Properties, which, he recently told the Observer, evinces just these same qualities! You know what they say, it's always easier to sell a product that you truly believe in.
Certain longtime denizens of the Village, of course, would no-doubt quarrel with the tenets of Mr. Cantor's appraisal, but his luck on East 13th Street has been pretty good so far. He reports that the development has made its first sale, of the full-floor Residence #4, which, he said, went for just shy of its $11.25 million asking price. The buyers, he said, were a young-ish family already living in the area and pleased indeed to find a place of this size–four bedrooms, 4,816 square feet–so near the heart of the neighborhood. The patriarch, naturally, is in finance.
But surely it was not size alone that lured the new owners; there is also, for example, the very luxurious open expanse of the condo's townhouse-like intimacy to consider. The building, which was converted from a parking garage, retains a trace of automotive functionality, offering private parking spaces gratis for residents via a state-of-the-art robotic system. More creaturely comforts include high ceilings and big windows for plentiful light and air, custom Italian cabinetry, and bathrooms with generous portions of slab marble and Italian limestone.
Mr. Cantor said that he expects several more closures in the coming weeks, and occupancy no later than this summer. But for all you big spenders out there, the glass-sheathed triplex penthouse, we were given to understand, remains available. All you need to move in is $30.5 million, which seems eminently reasonable, for the very best of Village living.